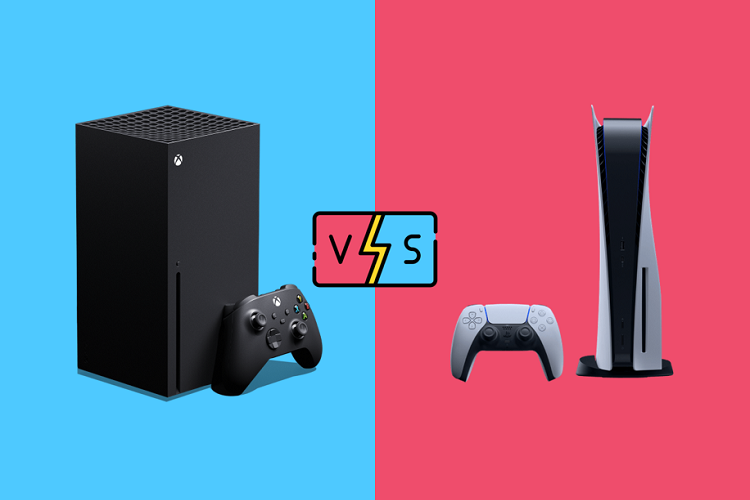 Today we are going to answer the most commonly asked question: which is the Best Next-Gen Console, Xbox Series X vs PS5? We will guide you to decide which one to buy. We are providing you with the great insight of both Xbox Series X and Play Station 5 (PS5).
The next-generation gaming consoles from Sony and Microsoft, both of them offer more challenging and visually stunning gaming capabilities continually. Before we get into a deep discussion about the specification, graphics, or prices of each console, we need to discuss a notable problem which is stock shortages.
It is the key issue that we must know about the Play Station 5 (PS5) and Xbox Series X. It is always hard to console one from both of them because each has its own pros and cons. In this tech blog, have a look at both of them and choose the best next-gen console. Also check out about: reset network settings iPhone
Xbox Series X vs PS5 – Comparison
Both Play Station (PS5) and Xbox Series X are best capable of 4k gaming at 120 frames per second. It also supports ray tracing, and it has the fastest load time. In that way, it is clear that the console is amazingly powerful, and both of them are more likely similar to each other in many aspects. There is much more to love about both of the consoles as Demon's Souls and Returnal are on PS5 while other best quality specifications like Quick Resume. On the other hand, there are many differences between both of them that we need to understand before we choose any one of them.
When it comes to identifying the specifications of both Play Station (PS5) and Xbox Series X have the same specifications, and some of them are different, which makes them unique from a user's point of view. PS5 has a customer-built version from the third generation AMD Ryzen Chipset, and it has Navi graphics. Its CPU runs at 3.5GHz. It offers 10.28TFLOPs, and its GPU offers 36 compute units that run at the speed of 2.23GHz. These features specify ray tracing, which is an intensive lighting technique. It offers you up to 8K screen resolutions that are far higher than the standard ones.
The refreshing rate is 120Hz which allows the users to make incredibly fast and smooth movements during games. PS5 supports 3D audio when you are using the headset. As it is custom-built hardware that results in exceptional fast load times that help the developers to overcome the issues of streaming. The PS5 Dual Sense regulator also has adjustable triggers, which let game designers customize the triggers' opposition to more closely simulate actions.
Let's move towards the specifications of Xbox Series X, which is also exceptional. It uses Zen 2 and RDNA 2 architecture with custom AMD internals, which makes it more powerful. With 3328 shaders distributed over 52 compute units, the Xbox Series X GPU boasts 12 teraflops of computing command. It functions at a fixed 1,825GHz and, in contrast to most GPUs, doesn't switch between speeds.
Therefore, it maintains the same clock speed regardless of your game or the unit's temperature. Xbox series X also offers you with 8K resolution, and the refresh rate is 4K. It is similar to Play station 5(PS5) as it has ray tracing capability. The Xbox Series X comes with 16GB of standard GDDR6 RAM, which is a welcome boost from the Xbox One X's 12GB GDDR5. These numbers indicate that the Xbox Series X outperforms the PS5 somewhat in terms of raw performance.
It is backward compatible, which means you don't need to go for new pads or new headsets. It has other mind-blowing features, such as textured bumpers, dedicated share buttons, and triggers. Smart delivery is another nifty feature of Xbox Series X that can make your game upgrade to the best version. Quick Resume is the new feature of Xbox, which suspends various games at a time in which you can play something else and then rush back to the previous one within seconds. These features are extraordinarily useful. The use of solid-state drive and NVME technology helps to support expansion cards.
So, talking about the Xbox Series X vs PS5 specs, PS5 has both sides curved with the color combination of white and black. The system can stand up in a vertical direction, but you can place it on its sides as well. It is a disc-based version and slightly smaller in size. It is all up to your choice as you can swap the side colors with blue, pink, or purple instead of white. On the other hand, Xbox Series X much more resembles a PC tower, and its size is larger than the previous variants of the Xbox series. But the power button and disc drive is located on its front side. This can be placed horizontally.
While looking at Xbox Series X vs PS5 graphics. The PS5 has a significantly quicker solid-state drive, and the Xbox has a slightly faster processor and graphics card. That basically means that the Xbox will look a little bit better, but the PlayStation will have substantially lower load times. That won't always be the case, though; a faster SSD might make it possible to transmit textures at higher resolutions. Xbox Series X has made no compromise in terms of its graphics and level of performance­.
The AMD RDNA 2 GPU in the Xbox Series X is equivalent to an NVIDIA RTX 2070 Super. The console may offer 4K resolution gameplay and high-fidelity graphics. Additionally, it is a unique CPU built on the Zen 2 architecture. The console can now deliver fluid and responsive gameplay thanks to this. The console also includes a built-in 4K Blu-ray player, so you can watch your preferred 4K movies and TV shows.
PS 5 graphical features are pretty amazing as it supports 8k graphics resolution at the refresh rate of 120Hz. The user can expect the best realistic visuals and sound system that can make your gaming experience more representative, genuine, and better.
When we talk about play station 5 and Xbox series X, it is also essential to discuss their controllers. As they are equally essential for the users. Dual Sense is known as the controller of PS5.  As an example, resistance in the analog sticks when you are walking on a rough surface is made possible by the new technology they are deploying, which enables more detailed responses in games.
Additionally, the triggers have adjustable resistance, simulating actions like drawing back a bowstring. The battery used in the controllers is packed by a higher capacity. Coming towards the color of the controller comes up with a combination of black and white. But you are allowed to purchase it in the colors you like. It comes with the same basic buttons that are already used by the PS series. But there are some minor changes that include a share button.
Xbox Series X vs PS5 controllers is important to consider when making the purchase decision. When discussing the controller of Xbox Series X, which is not drastically unique from the Xbox One. There is a new share button placed on it and a directional base pad. It is cross-generational compatible with the features such as a USB C charging port rather than a Micro USB that was used in the previous versions of Xbox.
Last but not the least, we will be taking you towards the most awaited question, which is Pricing. Look, pricing is the most important factor; whenever we are going to make any purchase, we are more interested to know the price. Everyone has their own buying power, so understanding the price level is significant for us all.  Xbox Series X vs. PS5 price is not that different from each other. Both have great power, neat design structure and high potential to fulfill the needs of users. The price of Xbox Series X is $499 and this machine delivers 4K gaming. PS5 also costs $499. But some of them have their own features. Some of them are similar to each other and some of them are unique.
Conclusion
We had made the entire discussion about Xbox Series X vs PS5 performance, specifications, graphics, controller, and pricing. Both of them have enough significant features that can justify a purchase. But on the same side, it has some downfalls that we all should know and be aware of.
To conclude about choosing the Best Next-Gen Console is difficult because both of them have improved graphics that provide the users with the best gaming experience you have ever had. You guys have surely seen big games like Marvel Spider Man Miles Morales on PlayStation 5(PS5) and the game Halo Infinite on Xbox Series X.
The two consoles couldn't be more dissimilar in terms of design. Both are incredibly powerful and operate quietly, but the PS5 is much larger. Although the Xbox Series X is smaller, not everyone will appreciate its boxy form, especially when the console is put horizontally. When you buy, you need to consider your budget and preference as Xbox Series X can hit higher frame rates, like up to 120 fps, and it also provides you with great visual fidelity. It has Quick Resume and FPS Boost features that are totally amazing. PS5 has a faster SSD and an excellent controller with a fresh user interface. Both of them have extremely powerful features and fantastic backward compatibility support.
Thus to make a decision to purchase any of them, it would be more appropriate to go for PS5 as it has more enhanced features.