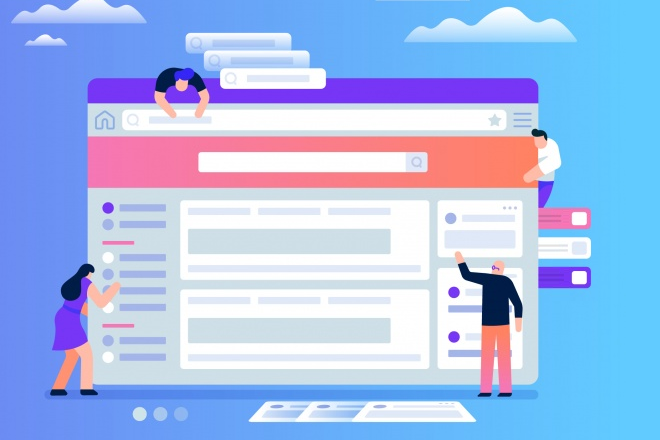 Look at some unique web design trends for 2021 that will help designer to follow best practices in the modern age to improve user's experience over the website.  
It takes a fine mix of efficiency and style to build a website. You may have seen all sorts of web design patterns go by since the advent of the internet in the 90s. Some get overlooked, while others are here to stay.
10 Modern Web Design Trends
---
Here are some of the most cutting-edge developments in website design for 2021.
The architecture of a web page establishes the template on the graphic features you can use to build a web page. While the safer decision is symmetry because order and continuity maintain a functioning location, design is a craft, and you don't necessarily go the safe path. There are also other benefits to asymmetric designs: the effect is a more complex and demanding website, allowing more flexibility of design for innovative people.
A broad number of smartphone and laptop devices are rising on the market, as you know.  Whether it is a mobile device or laptop, it comes with different screen sizes or proportions. The responsive web design or design of adapted devices is a set of design and programming techniques that enable a website to customize its structure and scale to every mobile device or desktop display, improving its access to the website.
3
Minimalist or Maximalist Extremes
Website design experts believe that the industry will have extremes of all types in 2021. On various occasions, you may have seen loaded minimalist web pages shine, but this year it seems like you're going to see both patterns sharing stardom. Minimalism, with a simple style and few components, lets simplicity show. With less, remember, this style's purpose is to make an impression: less is enough.
Floating features have come to linger in web design, and you have undoubtedly already begun to see them. It is about making designs that flow in several columns or across the numerous web elements (texts, pictures, etc.). A kind of moving influence is the product, albeit in a static way. However, only an experienced and professional agency can pull it off. So, if you want this pattern, hire specialists.
5
Mix of Photography with Graphics
Another development in web design for 2021 is the blend of images and illustrations, where a very innovative and futuristic outcome is created by mixing the two forms of content.
The buttons' size would need to increase with the growth of users surfing through tablets and cell phones. This makes tapping on them on a touch screen smoother for the user.
7
Videos as Design Elements
In web design, videos have been an essential characteristic. If you have sales videos or quality videos, introducing them to your website would help keep your visitors amused and dynamically and forcefully convey valuable facts. Videos have moved from being informative components to becoming part of the design itself in recent years, being one of the most vital web design developments this year.
8
Fun Animations and Effects
On websites with greater fluidity, movement and animation are very successful. The trick here is to allow proper use of diagrams, gifs, or effects such that what we truly want to notice is illustrated by this dynamism to achieve constructive change on the part of the user.
Particularly in e-commerce and apparel shops, micro animations would have a more effective implementation, where you will see how the clothes they offer match graphically and with movement.
Another trend for 2021 getting the most strength is the sticky effect component (sticky). When the user browses a site and hits a certain point, it is about setting some feature (buttons, pictures, forms, menus, etc.) by positioning. That is, at a certain point on the screen, the element remains trapped or set.
Another of the most used modern site design patterns is splitting the screen into two easily separated sections. This choice provides several rather fascinating possibilities, such as adding each side of the screen to a particular action. Note that you still need to lead the consumer to a lucrative destination in web design, and this trend is really successful, appealing, and visually modern.
What Design Mistakes to Avoid?
---
One of the significant programming flaws is the website's obligatory tone. It was a once used tool before, but visiting a website and listening to music in a forced fashion is irritating nowadays.
Bad Organization Of The Elements
First of all, a template must be intuitive and orderly because making a bad layout of the website's components will alienate users. The architecture must reflect on the measures to be taken by a visitor and arrange the site's features such that navigation is fluid.
Broken links offer a gloomy picture and generate the idea that the website is not well looked after. Thus, you must ensure to prevent it.
Wrapping Up
Whether you are thinking about building a website or already have one and are updating it, work only with a specialized agency. Hope this list of web design trends for 2021 helps you.