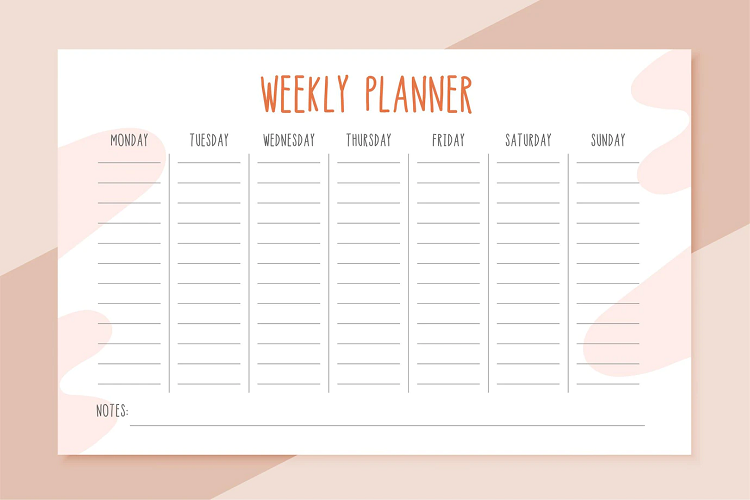 With a new year just beginning, you may be left with an old weekly planner that is no longer useful or relevant. Or is it? Before throwing that old planner away, consider the possibility that you could recycle it in some way. Even if the planner you have isn't an eco-friendly weekly planner, there may still be some ways you can reduce waste, reuse, or recycle it.
Ways You Can Recycle an Old Weekly Planner
With a little creativity and insight, there are some great ways to recycle an old weekly planner for future use, or for use as something completely new. Take a look at a few of our favorite ways to bring new life to an old planner.
Sadly, not all weekly planners come undated. Furthermore, you may use a pen or marker to fill in the dates, which makes it difficult to reuse the planner for another year. A great solution? Cover the dates! You can readily find number stickers, or apply dots that you can pencil in new dates depending on the year. Covering the dates on blank pages allows you to customize those weeks to your current week or month, and you are reusing that planner, which is a simple way to be a bit more eco-friendly.
Expired planners can still be useful if the dates and/or days don't match up with the current month or year. You can easily alter those pages to use them for meal planning. This is a great option for pages that are larger or can't be placed in another notebook or planner. Meal plans are often kept in the kitchen or on the refrigerator for quick reference.
Another great way to repurpose those planner pages is to use them as a journal, or for planning in smaller increments. If the pages can be removed or torn out, you can add them to other notebooks or journals.
4
Recycle Individual Portions
If you don't want to repurpose an old planner, the next best way to be eco-friendly is by recycling it. You may need to dismantle the planner first in order to recycle it properly:
Cover: Planner covers are typically made from polymers and/or plastic. Plastic covers are recyclable, but polymers are not. You can recycle your plastic cover at most local recycling facilities.
Wire: If your planner has wire binding, you can pull the wire from the binding and recycle it with other metal items.
Paper: Once the paper is free from the cover and binder, you can recycle it at a local facility in a mixed paper bin.
Once you pull apart the planner, you can also get creative and use the components for other purposes or projects. Paper pages can be cut down to make note-size paper, or could be used for crafting, such as paper mache. Wire bindings can be used for kids' school projects or to bind other loose papers. Plastic covers can be reused, melted down, or cut down for mosaics, projects, or art.
Embrace Eco-Friendly Planning and Organization
To further reduce your carbon footprint, consider investing in an eco-friendly weekly planner next time you need one. One of the great things about an eco-friendly weekly planner is that you can reduce, reuse, and recycle with confidence.