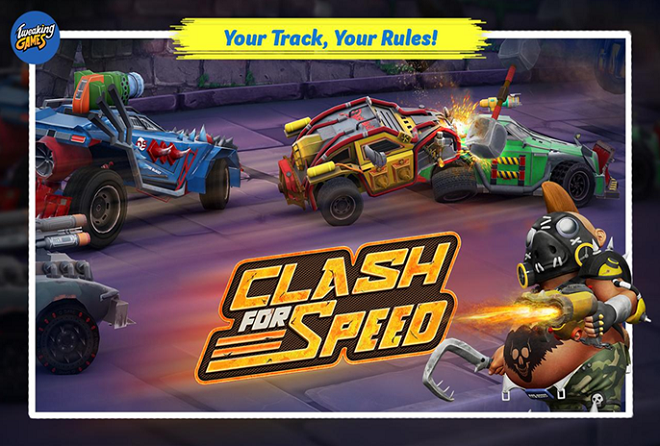 Clash for Speed – Your Track, Your Rules! Clash for Speed welcomes you to the world of extreme combat car racing games. Here, you get a chance to shoot and take down rival cars in high-speed chase to become an intergalactic racing champion. This mighty game brings you to that ruthless arena of power car racing where you get a chance to upgrade cars and weapons.
This game is commanded by ruthless warthog dictator named "Speed Hog". Here, you will experience some of the best car racing stunts with heavily armored monster cars with nitrous power. Further, it offers the best racing & shooting car game features that are designed to entice users who love extreme combat car racing.
Highlights of the Game
---
It offers 5 unique 3D game environments that start with Green Valley and ends with Sci-Fi Gravity.
It offers 8 upgradable battle cars options.
Here, you will have access to 10 types of deadly weapons with different levels.
It includes 5 on-road obstacles and 8 off-road traps to make the tracks more complexed.
Further, you get 20 upgradable tires and 10 original car stickers (decals) options.
You get chance to race on 15 pre-defined tracks with the different attacking rate for the fast racing experience.
Features of Clash for Speed Game
---
Create Your Own 3D Track
This is one of the best and unique features of the game where you get the freedom to race on your own design rack. The game allows you to design your own 3D track using 3D track builder option. To make the game more enthralling, you are allowed to add on-road obstacles and set off-road traps to make the track more complexed.

Remember, the complexed track will help you earn more trophies that you can use to unlock multiple advanced features and levels while playing the game. During the game, you get well-developed car physics to enjoy every bit of the game. To design 3D track all you need to do is to move your finger on the screen while using 3D track builder option. Using this option, you can draw simplest to toughest tracks easily.
Explore New Levels
As you win the races during the game, you will get an opportunity to win and collect the bounty. You can use this bounty to unlock and explore other features and levels of the game. With each level, difficulty level will be increased.
In-Game Garage
The game allows you to upgrade your cars with options like turbocharger, armor, wheels, engines and more. You can visit the in-game garage to select and unlock new cars.
Customize Your Ride
In addition to upgradation options, the game also allows you to customize your cars & weapons. Here, you can access all upgradable versions of engines, wheels, turbocharger and armor to beat the enemy with more power.
Upgrade Your Weapons
While the game allows you to upgrade your ride, it also allows you to upgrade your weapons. Here, when you move ahead in the game, the difficulty level will also increase thus you would require high destruction weapons to win the races. Here, you can gain coins to upgrade to these weapons. As upgradable weapon options, you get a chance to acquire missile launchers, oil spills, flamethrowers, laser guns, cannon guns, spikes, freeze gun, mines and more.
Upgrade Wheels & Decals
Under this feature, you get an opportunity to upgrade wheels & decals. It includes 9 decals options and 20 car tire options. You can unlock these options by earning RL points and coins while playing the game. You can also buy these options once they are unlocked in the game.
The Verdict of the Game
Clash for Speed is a powerful racing & shooting game that is designed for speed lovers. This combat car racing game gives you the opportunity to test your racing & shooting skills in extreme situations. You can experience this mighty game to enjoy best of car racing games.