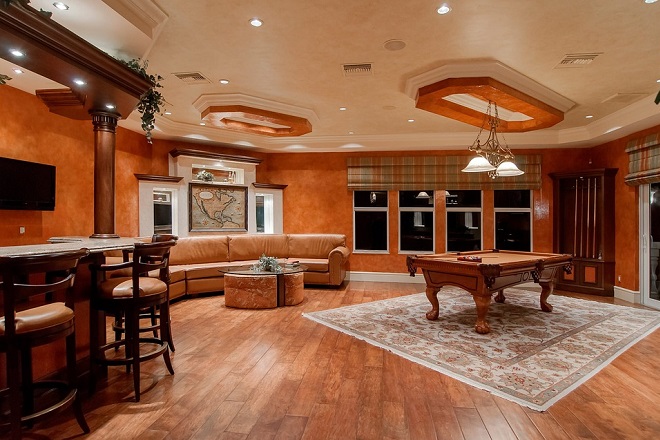 The living room is for almost everyone the heart of the home, where most of the time is spent. The whole family gathers there to discuss various issues, to watch TV, or to welcome guests. The design of this room is, therefore, essential. The living room shouldn't only be beautiful but also comfortable and functional. In this article, we will discuss some design ideas for living room.
A step-by-step plan for the living room
---
Designing a living room starts with making a list of activities and the demands that we expect from that space. Think of the amount of daylight, storage space, the need for privacy or the possibility to do things together in one place and, of course, how much space you need for all those things.
The global impression
See which combinations of activities you can make. For example, do you want a separate work corner or can you work at the dining table? Do you need a separate place where you can read quietly or can you also read on the couch by the television? Determine how much space you need for these combinations of activities.
The floor plan of the living room
First of all, make a clear floor plan of the living room and indicate where windows, doors and fixed elements – such as a fireplace – are located. Although light points can be moved, it's still useful to indicate these, as well as the place where telephone and other cables come in.
Drawing and puzzling
Draw the different angles on the same scale as the floor plan: the seating area, the working area, the dining area, etc. Cut them out, including the required (walking) space and place them on the floor plan. Pay attention to the possibilities and limitations of a specific place in the living room such as existing sockets, incident daylight or the view from a certain point.
Choose light and colour for your living room
Light and colour can make a room look different. For example, there are colours that seem to come to you (such as yellow and red) and colours that seem to create distance (blue, violet and grey). You can also do something with light: narrow spaces appear wider if you let the light shine on the long walls by means of well-directed spotlights or wall lights slightly above eye level.
Make the living room look bigger
To make a small living room feel larger, it's best to use light colour tones. Paint the ceiling and the walls in the same colour to get a more spacious feel or give the ceiling a colour that is slightly lighter. Horizontal colour accents can brighten things up and ensure that the living room gets more depth. You can also create more intensity and atmosphere with a repetition of colourful paintings, photo frames and other decorations.
Different wallpapers
This method is not only efficient and enjoyable but also economical. Combine regular wallpaper with these which have an interesting pattern, floral or ethnic ornament, etc. and do not forget to stand all in contrast.
Spacious shelves
Let this piece of furniture be large and occupy an area from floor to ceiling, but at the same time, don't use shelves that are more than 50 cm wide. It's up to you whether the stand is open and efficiently transmits light, partially closed with beautiful doors or drawers, or mounted on both sides of the door. Each individual living space requires a different approach.
Curtains
Curtains were well known and appreciated by our grandmothers. Do you remember the old houses in the village, consisting of one large room? This was the place where the people gathered for all receptions and tea meetings. It doesn't lose relevance now, just add modern materials and designs.
Large mirror
The reflective surface will help you to enlarge the room visually. Choose the most suitable space and size but don't overdo it with the decor. It's best not to use it at all. Let the surface be smooth, without borders and edges.
TV Furniture
TV furniture along with TV aerial installation is one of the most important furniture in the living room. It must be practical, accommodate various devices and, of course, also shine in your interior. Thus, choose your TV furniture according to your style and your needs.
What you shouldn't forget about while designing
---
Furnishing a living room is more than just putting things in a cosy way.  A real living room has different functions: for example, you will use this space to receive guests, to watch television, to read, to practice your hobby, and also to eat in and do some work. Are you going to design your living room? Then get ideas in home stores, through television programs, do-it-yourself stores and magazines. We hope that you will achieve the desired final effect of your work!