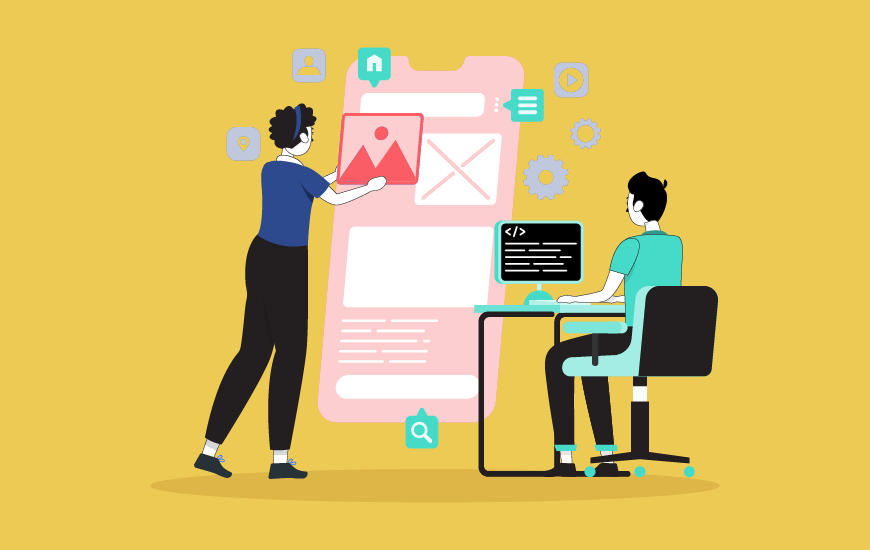 Mobile apps enable you to market your business effectively, provide a better customer experience, streamline processes, and build a prominent digital presence. Mobile applications are no more extended wishlist items for businesses. It has become a genuine necessity for companies in this current mobile-first environment. With consumers and B2B users spending more mobile time on apps, developing your own application can be a good decision for your business.
Most businesses, entrepreneurs, and even established enterprises are diving into mobile app development, which means your app has to be spectacular, or it won't stand out from the rest. Over 4.7 million mobile applications are available on the marketplaces like Play Store and App Store. But countless apps are not used by users regularly, majorly because of low business needs or poor product quality.
To develop an exceptional yet highly usable app with a significant user retention rate, you must conduct deep market research and have a reputable development team. It would be best if you made sure that the product you deliver is well-built and well-fitted to market standards. Here are seven best tips for better android app development companies that will help you expedite the development process while following standards and maintaining quality.
7 Tips for Better Mobile App Development
The app development process can become complex, with multiple mobile platforms and hardware considerations changing quickly. A successful app integrates three aspects- the market, the user, and the product. Following these aspects will help you deliver a unique product with superb usability and performance. Now, let's get started with valuable tips for better mobile app development.
1
Understand business needs
You need to understand how an application can help you achieve business goals. Think about what you are trying to achieve, who your core users are, what problems it will solve, the business model, and what existing systems the app needs to connect with. You can search for insights and statistics, check the current market trends, gather intel via forums, and focus on building an MVP version of your mobile app.
2
Define the scope of features
Next is defining the scope of features. No wonder you've spent ample time thinking about your app idea and the underlying features it will include, like social sharing, payments, and other necessary integrations. But if you focus on the wrong end of the spectrum, you will lose time or quality. The best way is to distinguish the two sets of features: need-to-have and nice-to-have features. While developing features, ensure that you give equal weightage to the product's quality.
3
Choose the right technology
Choosing the right technology entirely depends on the kind of app you want to build. In the current market – Artificial intelligence, AR/VR, blockchain, and IoT are the prevailing technologies you can use to develop your app. However, you must figure out the type of app you want to build. There are three primary options you can choose from:
Platform-specific native app – These apps are explicitly coded in the programming language supported only by the operating system of those platforms. It leverages hardware and functionality to elevate the user experience.
Cross-platform app – Apps developed using this approach involve software development kits (SDKs). You can lose some native advantages, but it is most cost-effective when you have a dinky budget.
Hybrid app – Apps built with this approach are compatible with all devices and operating systems.
4
Design a simple and intuitive UI/UX
Design is a significant component that defines your app's success. Users want to use mobile apps that offer a simple user interface yet delivers a great user experience. A seamless registration process leads to better user acquisition and download figures. User onboarding must be well-designed and understandable, as then users will stick to your app and even promote your app for good. Also, if you rely on in-app purchases, display all the virtual goods information clearly to skyrocket the conversion rate.
5
Selecting the right design and development team
Next is selecting the right design and development team. A quality product is the end result of the ability, talent, skills, and work of your app development partner. It would be best to vet your development team thoroughly by considering several factors like experience, projects delivered, case studies, customer feedback, customer retention rate, and more. Ensure that your development partner has a wide range of skills and is well-updated with the latest trends and technologies.
6
Plan a marketing strategy
Planning a marketing strategy is essential for your app's success. Though it's not directly related to the development process plays a vital role in elevating download numbers. It would be best if you created a buzz around the target market of your coming. A buzz will entice users to download and use your app. It is suggested to start your marketing campaigns when you start with the development process.
7
Upgrade based on user feedback
Maintaining high performance throughout the app is a must. Most users uninstall the app after the first use, either because of low performance or user experience. You need to make sure that you upgrade your app based on your user feedback. Test multiple cases to ensure your app has no bugs and the end goal of your product is executed seamlessly.
Wrapping Up!
Hope you liked the information shared about the best tips for better mobile app development. Building a successful application entirely depends on how you plan it. You don't need to be a tech-savvy engineer who will work out every phase.
As a matter of fact, designers, innovative entrepreneurs, and creative marketers are taking over the mobile app development world. Partnering with a reputable app development company will help you accomplish your technology goals. Consider several factors before finalizing your mobile app design and development partner.