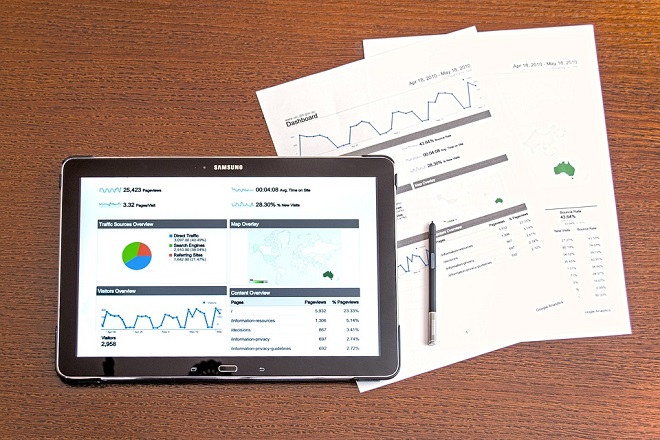 One of the most important metrics of any site is website traffic. Especially if it's organic traffic, the number of people visiting your website instead of paid visits. And there might not be any customers of a business without such traffic. Therefore, this element should never be overlooked upon, as doing so will inevitably lead your website to its downfall.
However, it's also true that attracting traffic is not the only thing you'll need for a successful website. Analyzing and monitoring organic traffic is equally essential. And not doing so can have dire consequences. For example, you may be driving traffic away without even realizing it, setting up your website for failure.
Unfortunately, attracting and monitoring traffic can often make your head spin, as there are too many ways. Out of those, there are even some that may harm your website. So, to make these tasks more manageable, here are some practical ways to monitor and attract organic traffic for your website.
Monitoring with tools
Due to the importance of monitoring organic traffic, specialized traffic monitoring tools are now available. They offer a practical solution, specifically designed to monitor traffic. You can quickly analyze the incoming web traffic with easy-to-understand data representations, such as graphs. Such tools not only provide you with an overall organic traffic percentage but divide it into different sections to provide profound knowledge. These subdivisions can include metrics such as unique visitors, which are also crucial for a website.
Another critical feature is that you can compare your organic traffic with another website for practical analysis. Competitive analysis will help you track your progress effectively while keeping up with the competition. If you want to access such features, get a website traffic checker, and maintain a good traffic flow to your website.
Monitoring without tools
While using specialized tools to check organic traffic shows more defined and specific results, estimating and monitoring traffic through user interactions can also prove useful. User interactions with your website include features such as social shares and comments. When a website is receiving an ample amount of organic traffic, these interactions will consequently rise. So, you can keep an eye out for this change to monitor organic traffic.
Moreover, monitoring organic traffic isn't just about numbers; there are other things to consider, as well. For example, you can figure out the desires and behaviors of organic traffic by monitoring their comments or the things they share.
However, if you want to compare your web traffic with other websites for a better analysis, finding an "Advertise with us" page on other websites can be ideal. Such pages contain traffic information to attract advertisers. However, this information can be fake or obsolete, but you can still rely on tools.
Having a social media presence for your website has become essential for digital marketing. After all, social media is one of the most used things on the internet. Over 3.6 billion people use it currently, while numbers continue to rise. So, it wouldn't be a smart choice to miss this opportunity to gain organic traffic.
You can quickly spread and promote your content through social media, as many social features are available. It can serve as another source of content for your existing traffic while also attracting new organic traffic.
Moreover, it's even easier to target mobile users with social media to optimize mobile usage. Furthermore, you can link some social media interaction features to your website, which will further attract traffic.
Create engaging content
Creating content while also making sure that it's engaging can significantly boost your website's organic traffic, as people like such content. However, you should make sure to create content according to the genre of your website. It will drive organic traffic and ensure that only the required type of audience gets targeted. Perhaps the best way to create content is through a blog. It allows you to write informative and entertaining articles, thus guaranteeing a fair amount of traffic. Moreover, you can further enhance your content by making it optimized for search engines.
Implement SEO
Trying to gain organic traffic without implementing SEO on your website is mostly a waste of time. It's known to be more effective than other strategies, according to 70% of marketers. After all, everything on the internet, including your website, is accessible through search engines. So, optimizing your website for search engines can be a great way to increase organic traffic. It helps your website rank higher on SERPs, thus gaining the attention of a more significant amount of organic traffic. Keywords form a substantial part of SEO, so conduct keyword research and find the most suitable keywords to incorporate in your content.
Furthermore, creating a high-quality backlink profile is another essential SEO strategy to gain traffic. Try to get trustworthy websites to link your website in their content, which will increase its reach to many more people. Other effective SEO strategies include image-optimization through alt-texts, meta descriptions, and short URLs.
Enhance user experience
Alongside attracting organic traffic, it's equally essential to maintain that high organic traffic. For this purpose, it's vital to provide your website's visitors with an excellent user experience. A user-friendly website contributes significantly to the user experience. You can create a better navigation system on your website, for example, by incorporating internal links.
Moreover, page loading speeds are crucial, ensuring that your website loads almost instantly within a few seconds. Otherwise, people get frustrated and lose interest. You can also improve user experience by removing or fixing any pages that contain errors. High ranking on SERPs is also an added benefit of a good user experience that further increases the amount of organic traffic your website receives.
Use video marketing
Text-based content has many benefits; however, video marketing can further increase your website's organic traffic. Alongside reading about topics, people love to visualize them too. So, you can place a few videos on your website or blog. However, ensure that these videos are engaging enough; otherwise, you may drive traffic away. Social media can also be used as a medium to promote your videos. You can further increase the chance of gaining more organic traffic by optimizing your videos. It's possible to add SEO even to a video.
Conclusion
A decent amount of organic traffic is a significant contributor to a healthy and prosperous website. It may take some time for you to gain traffic; however, you can guarantee fruitful results using the methods mentioned above. Meanwhile, you can begin monitoring your website's organic traffic with or without the use of tools to ensure you're following the right path.