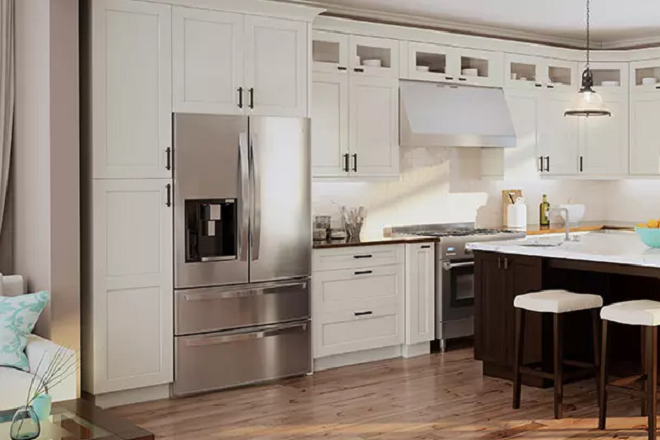 Custom made cabinets have their own advantages. If you are confused and can't decide which type of cabinets should you install in your kitchen, then you should first follow the list of the benefits of custom kitchen cabinets given below.
Customized cabinets have their own benefits, which we have listed here in this article. You can also have ideas about different styles and kitchens by looking at the pictures posted there on their website.
Benefits of Custom Kitchen Cabinets
Let's get on to the list of the benefits of having custom kitchen cabinets that explained why you should customize your kitchen cabinets.
What you want, you can use it in the cabinet. When you go with the RTA Cabinets, you will have to compromise with your needs as you won't get the choices of using your accessories and design. You have to deal with the available design. Show your ideas, pictures, designs, styles to the craftsman, and he will design the cabinets accordingly.
Custom kitchen cabinets are customizable in every way. You are allowed to pick the suitable materials and all the other accessories that will be needed to decorate and to touch-up the cabinets. If you go with the semi-custom or stock cabinets, you will not have many options to select the materials, design, and style.
You need to cover up the entire space of your kitchen. When you customize the cabinets, there will be no space wasted or spared. You can make use of every single inch of the available space to design a suitable cabinet.
Custom cabinets are built-to-fit. They look great and also enhances the beauty of your kitchen. Since you have selected the design and style with your own choice, you will not have to compromise.
Since you can use every single inch of your kitchen space, you will have enough storage space in the cabinets. The cabinets can be used to store utensils, appliances, microwaves, and recycling containers. You can also keep other equipment inside the cabinets as per the available space.
With more space, you can add a few additional cabinets for shelves, a cutlery cabinet, a cabinet for spices, and more. The more space you have, the better storage options you can customize.
Machines make parts and stock cabinets and not craftsmen. If you are concerned about the quality and the style of the cabinets, then custom cabinets are highly recommended as your craftsman will design the cabinets in front of you.
When you customized the cabinets with a professional craftsman, you will be ensured that the cabinets will last longer than the stock cabinets. Stock cabinets lack a lot of things such as poor styles, broken edges, fixed with glues, and poor materials.
Custom cabinets have their perks, unlike the stock cabinets. Of course, the custom cabinets are expensive, but they are worth the money you invested. They will last longer and also look extra stylish and beautiful.