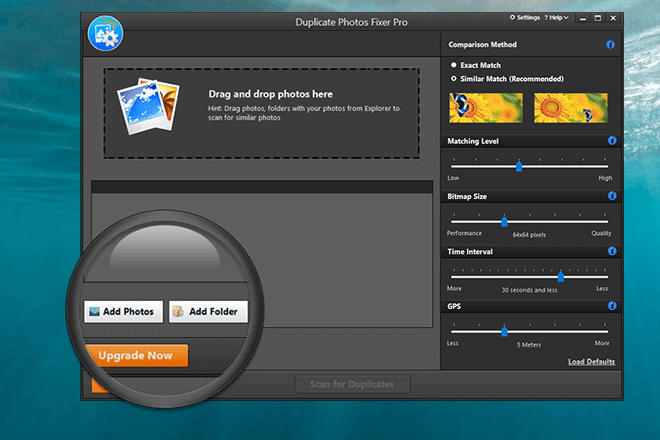 The process of manually eradicating duplicate photos and files takes an implausible amount of effort and time. Moreover, going with a manual process of deletion is might end up deleting some of the similar replica files or left some of the duplicates in your system. so, you can rely on the duplicate photo finder tools to save space that is consuming chunks of memory and eliminate duplicate files with ease in no time.
Top Free Duplicate Photo Finder Tools for Mac
So, read on to get some relief from the accumulated junk that is stored up on your machine. Here is the list of the 8 best duplicate photo finder tools to regain the hard disk space on your Mac.
Features of Duplicate File Finder Remover:
It supports animated scanning process.
You can get the speedy scan by using the minimal file size option of the program.
The app has the capability of scan for a replica in multiple folder and drives.
Duplicate Detective: Cleaner
Duplicate Detective is rated as 4.3 stars. It is an incredible tool that comes handy and effective for removing a chunk of unwanted space hogging photos in a few taps of your finger. Using the Duplicate Detective helps you to make the replica navigation easy and straightforward. It is the best way to get rid of replica files and get the organized drive.
Features of Duplicate Detective:
The interface is easy to navigate and intuitive.
The app lets you run the scan for multiple and individual at the same time.
The app is capable of locating replica copies, audio, video and docs.
Gemini 2
Gemini 2 is a sophisticated duplicate cleaner tool that comes with the ability to find duplicate files and wipe them away from your machine. Apart from regaining the ample storage space, the app helps you to get sorted photo collection all the time. You can understand the difference between duplicate copies and original images.
Features of Gemini 2:
It is a simple to use program which has a user-friendly interface.
The simplest way to de-clutter your library and remove duplicate copies.
It clears the massive photos collection into tidy and well-organized one.
Easy Duplicate Finder
Easy Duplicate Finder is a quick, effective and comes with the accurate search algorithms which finds and also work like a photo manager . The app allows you to search for duplicate files by using their Exif data like date, time, name, empty folders, and content of the available files.
Features of Easy Duplicate Finder:
It is suitable for making your machine faster and tidy.
The program allows you to rename, move, and remove duplicates in one single click.
Comes handy for detecting and eliminating replica music files to make room for new albums.
Cisdem Duplicate Finder
It is one of the best and trusted duplicate cleaners for Mac which makes the haunting duplicate and similar copies out of depths. Cisdem Duplicate Finder is a swift way of eliminating duplicates in batch to clear up your internal and external hard drive spaces in just a few clicks.
Features of Cisdem Duplicate Finder:
It is an effective and useful tool.
The tool supports to compare replica copies in thumbnails and info views.
You can use the app for running the scan & identifying exact replica and similar images.
Mac Clean
Mac clean is an incredible app which keeps your machine light and fast. It is the best way to clean up and optimize your Mac. Apart from getting the security protection, Mac Clean is remarkably useful to taking cares constantly duplicate files.
Features of Mac Clean:
It is simple to use and efficient.
Mac Clean is the all-in-one cleaning tool.
Capable of enhancing the speed of your machine.
Duplicate File Finder
Duplicate File Finder helps you to free disk space by deleting unnecessary replica folders and files on Mac. The app allows you to merge exact and similar files/folders and organize your files without any trouble. Apart from giving you the view usage visualization of replica, you can select all the duplicate copies in a specific folder.
Features of Duplicate File Finder:
The app lets you recover deleted duplicate files from trash.
You can use the auto select option to select the files at and delete them at the same time.
You can find hidden duplicate files.
DupeGuru
Last but not the least, it is an ultimate software that focuses on locating duplicate files on your Mac. However, DupeGuru can scan either content of files or filenames. You can get started with dupeGuru to manage duplicate files and speed up your machine.
Features of DupeGuru:
The app is an efficient, simple and quick.
It is an amazing app that resolves a large number of duplication on your Mac.
The app is customizable which lets you tweak it matching level to get your hands on more duplicate files.
So, these are the 8 best duplicate photo finder tools for Mac that helps you to say goodbye to duplicates and remover for Mac. You can get on board with any of the software that fits your requirement and needs.