The term Big Data could be heard everywhere yet there is a lack of understanding amongst us about the depth of the term. In fact, when experts are asked about the difference between Data Science and Data Analytics, one may have trouble in defining the difference between the two.
Although it is true that there is a connection between Data Science and Data Analytics as both of them are essential tools to understand Big Data, the results and approaches differ greatly. In order to break down Big Data analytics, we need to go through the difference between Data Science and Data Analytics one by one.
Data Science vs Data Analytics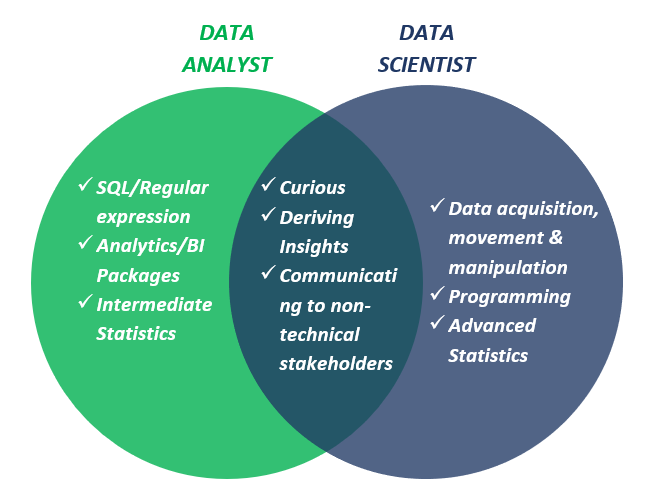 In short, Data Science is a process of designing and constructing processes for data modeling using prototypes, models, etc. whereas Data Analytics is the method of pointing out data trends from which presentations could be drawn and future decisions could be made. Let us figure out the details of each below.
Data Science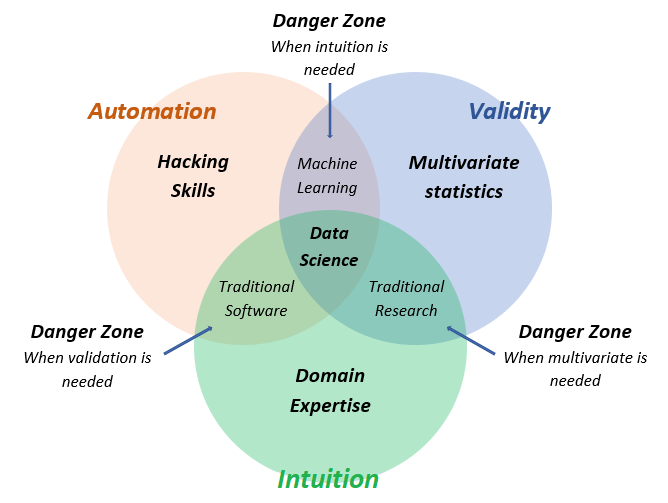 As we all know that Science is a discipline in itself and it can encompass a variety of specialties within its precinct, Data Science could be understood as a term which gathers elements from multiple sources. For example, Machine learning, research, expertise, statistics, etc. (as explained in the Venn diagram above) are some of the major sources to understand Data Science.
Data scientists around the world apply various techniques to find solutions and form strategic decisions for a business. Actually, they understand the point a business is dealing with and later provide insights and predictions to make a business run smooth.
Skills Of Data Scientists:
While you are learning about Data Science, it is important to get the hands on skills of data scientists for in-depth understanding. Data scientists possess a great knowledge of programming and domain knowledge overall. SQL database coding, Python, SAS, machine learning, ability to collate unstructured data, etc. are some of the qualities that data scientists usually keep.
Data scientists can easily dive in the unknown world, find potential trends, ask questions and find appropriate algorithms to make a statistical model. Use of coding and multiple tools help in building the required framework.
Data Analytics
Now understand that Data Analytics is one part of the whole Data Science but concentrated on one specific field. It focuses on processing, analyzing and performing data statistics on the database. This deep analysis of data helps in generating insights and methods to solve the complicated problems. However, Data Analytics is designed to bring immediate results and improvements in the process.
Data Analysis can help with data visualization, understanding descriptive statistics and finally sending the points for conclusions. Questions like how to push the sales up for next quarter, how to increase revenue with campaigns, etc. could be answered with the help of a data analyst. The analyst can come from various genres like business, marketing, advertising, international strategy, operations, customer service, pricing and more.
Skills Of Data Analysts:
As you can see that Data analysts can pitch ideas into various genres with their expertise, there are some skills that are enriched within them for best results. A good idea about mathematical statistics, data wrangling, understanding of Python, R, SOS and SQL are some qualities that a data analyst possesses.
Industries like gaming, healthcare, travel, etc. use data analytics reports to judge to micro level about the trends so that right actions could be taken. Although it again requires Big Data back in the picture, that is how these two fields are connected for goodness.
How Data Science vs Data Analysis Matters To Choose Career?
If you are someone who is looking to make a future in the world of Big Data, the understanding of differences was essential. Now is the time to consider some of the factors that help in deciding your field of interest.
Personal Background & Choice
Data Science and Data Analytics are definitely connected with each other in many ways but the professional and educational background differs. Those who come from undergraduate degree programs in Science, Technology, Engineering or Mathematics (STEM) can seek their personal growth in Data Analytics. In fact, some of the students go for advanced degrees in analytics for specific fields.
On the other hand, Data scientists focus on making out new processes for data production and data modeling. Those who pursue master's in Data Science can look for professional advancement in the same field.
Personal Interests
Data Analysts must go through a huge array of numbers, statistics charts, and detailed programming. Mind you, they act as a professional guard for data of the organization they are working in, hence need to have a deep knowledge of the field they are working into. When talking about Data Scientists, they have an addition of Maths and Computer Programming. If that is what interests you, dig the trench deep to work in the field of Big Data.
Payscale
Believe it or not, this is one of the most important factors to decide the field you are willing to get into. Data Analysts have the potential to earn $84,000 and above whereas Data Scientists can enjoy an average salary of $105,000 and above. You can be sure of raising the salary graph in both the fields as the experience is gained and skills are polished.
Conclusion
As we have analyzed that both Data Analysts and Data Scientists perform different duties and even belong to different backgrounds, they are hired by the companies as per their capabilities as well the tasks that a company assigns. It is good to know that Data Science plays an essential role for artificial intelligence as well as machine learning, that again has a great potential in today's and future industries. Employees from both the fields are embraced like a shining star and they are even responsible for the growth and understanding of an organization.