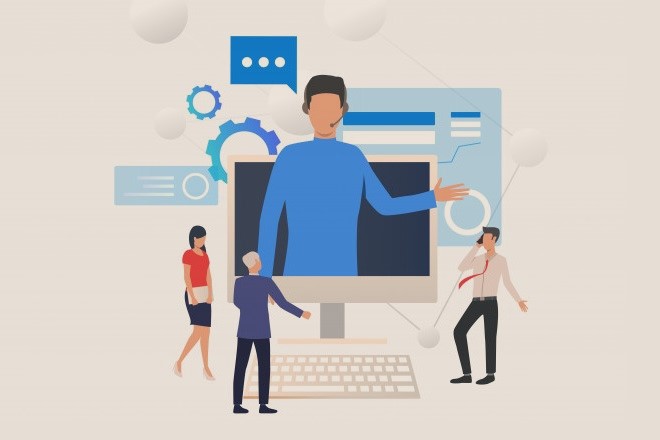 Nowadays, people are moving towards hiring virtual assistant companies. why? If the business task is done by the remote location and at a very low cost then what can be better than this?
Virtual assistant companies do all the organizing, managing events, make reports, solving disputes, social media management, email work, financing, administrative work and marketing etc. Everything is done professionally by them and it helps the small businesses, entrepreneur to grow their business and save time.
Benefits of Virtual Assistant Companies
Affordable
Saves time
curtail the cost of training, employees, tasks
But it's not like you can hire anyone, you should know about company rank, reputation and experience because it's about your business. If the task is not done professionally, it will affect your business or company image.
List of best virtual assistant companies
So here I'm listing the 10 best virtual assistant companies in 2021
MyoutTask
What do we need in a virtual assistant company most? Trust. Right?
This virtual company is one of the most trusted from list of best virtual assistant companies and provides a great solution for virtual staffing. It provides high-quality work with safety and protection to clients.
If we talk about their reviews then it has 5 stars and is reputed in the real estate industry.
Last but not least, the quality of Myoutdesk helps in generating more revenue and lets clients focus on the growth of the businesses.
WoodBows
WoodBows count among the best experienced and trusted virtual assistant companies in the USA. This company serves excellent work that companies even hire them again and again whenever they need a virtual assistant. The best things they offer are as follows:
Guarantee of returning 100% cashback if the client doesn't get satisfied with their work.
24/7 transparent service
Comprehensive service means you do not need to hire and talk to different people for different work. They will handle everything.
Prialto
Prialto works for helping and supporting executives through their well-trained team.  They just work according to client preferences and future projects.
After hiring Prialto executives should take a deep breath and leave all the project managing, project assistant etc work on the Prialto expert team. As they lead you to your destination with their professional hands. Every task whether it is easy or difficult they handle it with sophistication, from scheduling, managing arrangements, reporting to email organization and marketing is done satisfactorily.
How do they provide such high-quality work? This question has only one answer: Prialto has educated, well-trained specialists with sufficient tools and strategies.
One more thing to note here, Prialto never applies hidden or extra charges, every fee talks are done before starting work.
UAssist.Me
Now coming to the clerical work of many industries is mostly done by UAssist.Me specialised and experienced team. They have very well skilled employees who have good knowledge of modern technology, web design, website development, social media management, advertisement etc. Just be open and transparent with them about your goals and desires, it helps them to set strategy easily and they also set a fee according to the quantity and quality of work you need.
BELAY
The team of professionals and experts and listed in top virtual assistant companies. You will get the best quality service here at the lowest rate as compared to other companies. Tell your needs, preferences, goals and they will work on it to provide you with a successful future.
BELAY is diverse in providing virtual assistant service and help in social media, data research, marketing, easy to difficult tasks, project, email management, content writing, website maintenance etc.
WorldWide 101
WorldWide 101 is one of the virtual assistant companies that doesn't provide in every assisting area, but it provides specialised work in some important services like administrative, project managing and marketing. This provides high-quality service with the help of delivering qualified and skilled virtual assistants. And the decent thing about them is they give service in several languages. Great right?
Their fee is according to the hour you need service with no hidden charges.
Premier Veba
This virtual assistant company doesn't leave any stone unturned as it provides service in almost all possible virtual help. They have divided work into three categories group
The executive expert team helps in your company finance, management, and project work.
This creative professional team maintains creativity in your company by handling designing, content creation, artists, illustrators, audio and video editors, and many more creative fields.
Now, the technical team focuses on the most crucial side of the business that is analytics, data collection, operating system, etc.
They charge according to the amount of work you need and provide the best service to make your business successful.
Virtual Employee
Instant and Best service: these are the two things that any business or industry search for, and this Virtual Employee company completes your same wish at cheap prices and you can save from 70% to 80% cost.
From taxes, insurance to any liability problem is professionally handled by them with full safety. Also, they provide service in web design, development, data analyst, engineering, animation, multimedia etc. No need to worry about employees after you have hired the Virtual Employee team to take care of tasks.
Time Etc
One of the experienced virtual assistant companies and have completed almost 1 million tasks. By only these two lines you can imagine the quality of work and service of this UK US-based based company. Mainly it focuses on supporting entrepreneurs. As they want to give a high quality of service and also want to maintain their image among the market, they select employees only by strict rules and process to hire only skilled ones. They offer unlimited phone calls with their team.  If you do not like their work, they also offer guaranteed cashback.
The best proof of their work is that it is used by big companies such as  Google, Nissan, Skype etc.
MyTasker
Last but not least, MyTasker is an amazing virtual assistant company with affordable prices. It comprehensively provides service all around the world. They have set different prices for every different type of plan needed by the company. As I say it provides service in all possible virtual tasks so the example is: content creation, posting, marketing, web research, web development, web design etc. They offer digital marketing by keeping SEO guidelines in mind to make your business more goal-oriented.
I hope these 10  virtual assistant companies will help you to decide the best one for your business. Thank you for reading.