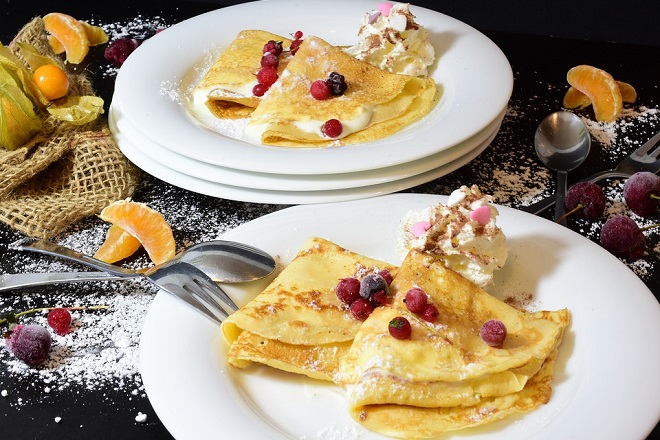 Crepes are essentially the thicker and bigger versions of pancakes only.  While the origin of crepes is traced back to France, they are now widely served across the world in many eateries and food joints. With almost every top end UK restaurant serving this scrumptious recipe up on their menu, some of the best crepes in London are not that hard to find.
If you are heading for breakfast, do not miss out on the delicious crepes filled with wholesome fresh fruits, whipped cream and dry fruits. For lunch and dinner, the filling is usually substituted with veggies, lean meat alongside the cheese options.
Vegan crepes containing gluten-free buckwheat are quite popular and easily available. Product nutritional value might vary from place to place depending upon the stuffing used.
Let us have a broader understanding of the overall nutrition value that you are expected to gain from the healthy and scrumptious crepe diets.
Calories
Crepes are essentially thin and low on calories. For example, if your crepe is around 10 inches in diameter, it is supposed to supply only 100 units of calories to you. (while the daily requirement is pegged at 2000).
If we compare with other common breakfast items, 2 pieces of scrambled eggs provide around 135 – 145 calories. A pancake with half the diameter of the crepe i.e. 5 inches will supply you with the same calorie count of 100.
Fats
Speaking of fats, a 10-inch diameter crepe will give you 3 grams of fat which is again pretty low by standards. Our body requires fat for normal functioning, however, all fat types are not good for your fitness especially the ones which are saturated.
A spike in saturated fat can lead to a dramatic increase in cholesterol levels in your body. If not controlled in time, this can eventually lead to heart failure as well.
Out of the 3 grams of fat supplied by the 10 inch crepe, only 1 gram constitute as the saturated fat; this is the very reason that crepes are considered as one of the healthiest diet options available out there.
Sugar Content
Refined sugar does no good to our body and is directly linked with obesity, diabetes and many heart ailments. Also, your immune functionality can get adversely impacted by excessive sugar consumption.
Crepes are low on sugar;  A 10-inch crepe will supply your body with roughly 4 grams of sugar. If you want to satiate your sweet cravings, topping up your crepe with a variety of chopped fruits will aptly satisfy your taste buds.
Sodium Content
Excessive sodium in your body may result in fluid retention as well as increased blood pressure. A steep rise in the salt levels combined with the symptoms like severe sweating, vomiting and diarrhoea, is a direct indication of hypernatremia.
A 10-inch crepe contains only 210 milligrams of sodium which is moderately low by the nutrition standards. Our body requires 2300 milligrams of sodium as part of our daily diet. Adding up cheese and other processed meats like ham, bacon, chicken or turkey can improve total intake of salts per crepe.
Cholesterol Content
A 10-inch crepe contains only 40 milligram of cholesterol while the daily consumption is limited to 300 milligrams a day.
Hands down, the crepe is one of the healthiest meal options available to you today. As the world is consciously shifting towards the wholesome and nutritious food alternatives, the best crepes in London are not elusive anymore. In fact, most of the restaurants are experimenting with different crepe bases and fillings, in order to satiate your taste buds. Make sure to try out one at a place near you.