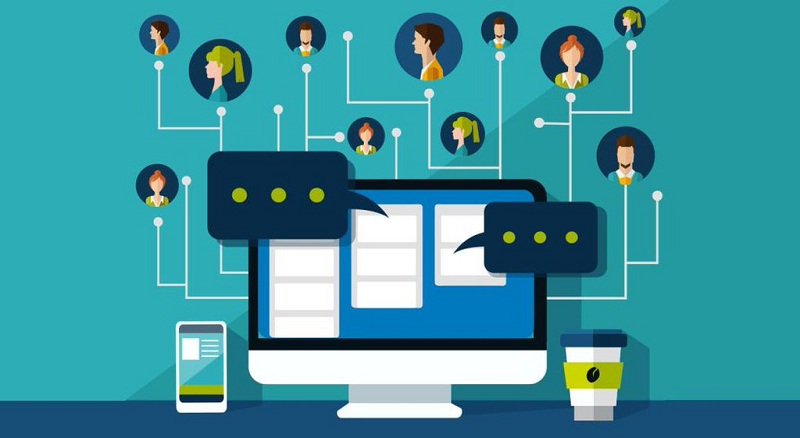 You might have noticed a small chat box on some websites. And sometimes you may have used it also to buy a product. Did you ever think of providing live chat to your business collection? This live chat has a lot to offer to B2B and B2C firms more than you might think. In this electronic age, being able to answer the client's concerns and questions in real time scenario not only helps to increase sales and profits but also helps to reinforce the fact that your firm cares about its customers.
The Live chat is a web-based service which allows its customers to communicate (or chat) in real time with the employees of the company whose site they are visiting. The Live support apps are normally used to provide instant customer support, guide through the sales process and answer customer questions.
4 BENEFITS OF MANAGED LIVE CHAT 
As per a survey, 63% customers said that they were likely to return to a site that offers live chat. And also nearly 83% need some kind of customer support when they shop online for products and services. Installing a managed live chat on your site can pay you dividends if you want to engage with prospects, improve customer retention and generate leads.
Improve the online customer experience
Despite the fact that you have the best service or product in the world, your business will not prosper if you do not have the right type of customer support system. It does not matter if you have email support of telephone, engaging with customers and addressing their problems can increase sales. Live chat is one of the best ways to engage with customers. This simple contact method permits the visitors to speak with a staff in real time if they have a problem. The customers can contact your customer service in real time and find out more about your brand instantly.
Managed live chat is convenient and quick
According to a survey, 44% of online customers say that the most important feature that a company can offer is having their problems addressed by the customer support staff. The live chat is quick and convenient. Your customers will not have to wait for hours or days to hear from the staff via email. As a result, your visitors will be inspired and will surely come back in the future. The live chat is preferred by those customers who do not want to talk on the phone to costly customer support member.
Here at live chat, one can modify the look and feel of your chat widget and make automated responses and personal greetings. One can even monitor conversations with your visitors and update your customer relationship management system automatically in the process.
Live chat is cheaper
As per a survey 90% customers fine live chat helpful. As a matter of fact, your visitors will buy from your website again in the future, if their online experience was good. Especially one wherein they do not have to call costly phone numbers to address their issues. The live chat allows you to manage marketing campaigns and gain awareness into your customers so that you fine-tune your strategies and enhance your customer service.
Stand out from the crowd
You will want your brand to stand out from the rest, in this fast paced and competitive world. Having a live chat on your site can provide you with a decent return on your investment over time. You can become an industry leader and the go-to authority figure in your own niche will not only improve your sales but it permits you to generate new leads which you nurture over time. The managed live chat is an important part of this process that allows you to move prospects down the sales funnel and also nourish your reputation as a company which cares about its customers.
LIVE CHAT – FULLY MANAGED CHAT
The live chat engages your customers 24/7. They have a team of fully managed and proactive sales agents who drive more sales for your site. The live chat feature delivers more sales through your site by making the interaction easier for customers. By engaging your site visitors, it can greet and assist your online visitors as they arrive, and provide them with a shop assistant who they can turn to with any questions. How your site works, how to improve your business leads and what people most and least engage with are the kinds of benefits a completely managed sales team, can offer your business.
Setting up normally takes an hour of the client's time and nearly thirty minutes per month to maintain an average. And within a fortnight all agents are onboard and start delivering the ROI.
MAKING IT EASY FOR YOUR CUSTOMERS TO TRANSACT WITH YOUR BUSINESS
They have huge experience across a range of industries has shown that the customers like to talk to people and they like to shop outside the regular business hours. The live chat gives a perfect online customer experience across all the OS including mobiles, tablets, and Desktops. It will care your visitors in the same way a shop assistant helps transactions at a physical outlet. The main difference is that their staff work 24/7 and optimize the engagement by analyzing the chat transcripts.
Usually, 40 percent of your visitors come to your site and engage with your brand beyond the normal trading hours that means to say that the visitors who want to engage with your brand cannot, even if you have dedicated customer service phone line. Our team of agents will greet your customer, making sure that they know that a person is available to help answer any queries which they may have, take their details for a professional to follow up and direct them to a specific service or product your business is offering. We have accomplished this in the past for many industries internationally. Our clients include Regus, Experian, and Miele, to local businesses.