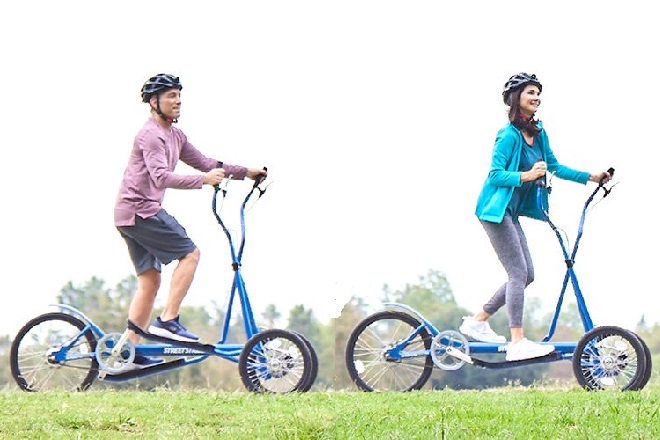 Are you thinking about working out and gaining fitness? Looking at the options available, you might be starting to have second thoughts. But it would be a great idea to try out the elliptical street bike before you call it quits. This is one trainer that is creating headlines in the fitness industry for many reasons. Many people have been asking whether the elliptical works and experts have even conducted different researches to establish the benefits of this machine.
An Elliptical Street Bike for Everyone
When looking for a workout aid, you need to get one that suits you in every way. The machine should be made for your body needs. You need an adaptable device that can be adjusted to the levels you desire. A street elliptical bike can have all these attributes rolled into one. It only takes a considerable manufacturer who is concerned about the different needs of the client base. Whether you work out three times a week or you can't start the day without some sessions, you can be sure to find an elliptical bike that is meant for you.
Although you will find many models of elliptical bikes in the stores, some are definitely better than others. You need to make an informed decision when shopping for a trainer. Choose an elliptical that will get you to your fitness destination with less hassle.
Getting a personalized exercise tool might not be a walk in the park because the market focuses on the numbers. But you can always get a machine with the flexibility that you need. If you want a trainer for cardio exercise, you can get a street elliptical that focuses on that. Such a trainer comes with the different components that get different muscle groups moving and jolts the heart to action. An excellent trainer works the lower limbs, the upper limbs and the core in optimal proportions. The overall effect is improved muscle strength and better blood circulation. You also burn calories and gather up more muscle mass.
Exercise With Less Impact
Sometimes you really want to do some cardio exercise but you fear the treadmill and jogging because your joints are not at their best. The elliptical street bike has solved this problem because it produces similar results as the treadmill greatly reduces the impact on your joints. The continuous motion on the pedals eliminates the on and off impact when you run or use a treadmill.
You're probably wondering how the elliptical is superior to walking. Yes, this trainer produces better muscle growth compared to walking because they give a higher level of activation. Elliptical trainers also offer more targeted muscle exercise.
A Good Choice for Exercise Enthusiasts
If you are an ardent lover of exercise, you probably want something that gets you to the highest levels. Well, if you love going hard, then you only need to make a few adjustments to get your desired strain levels.
If you are a traveler, you can get elliptical bikes that are easy to carry around. All you need to do is fold it into a portable trainer and you are good to go. With a good elliptical by your side, you will have no reason to skip training. If you spend long hours at work, you can take the elliptical to your workplace and do interval training when you take a break. An elliptical street bike can be converted to an indoor elliptical. All you got to do is fix it on a stand and you can work out when the exterior isn't accessible.
Your lifestyle shouldn't limit your exercising needs. With an elliptical street bike, you will find it possible to do your drills at any time and in many different places. Look for flexibility when you make your purchase and you will be proud of your choice.