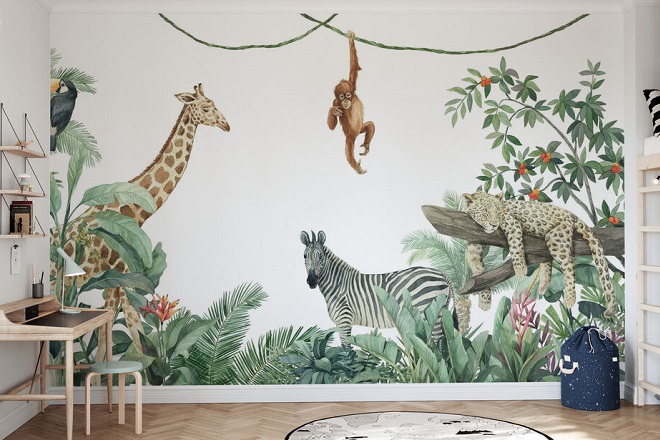 Wall murals help inspire your children and make them more inventive. Children will easily learn new things and improve their level of imagination.
With each passing day, parents are getting more attentive regarding the child's health and development.  Of all the concerns related to children, the prime one is how to enhance their mental and physical health.  Several parents even consider purchasing organic foods to ascertain that their children get the best they can afford.
You may not have thought but their room can significantly impact their mental and physical growth and learning ability. Have you thought that a slight change in the decoration of children's rooms can benefit them a lot? Well, decorating their bedrooms and classrooms using murals make a lot of differences in their life.
The undeniable fact is that art is an integral factor in kids' mental development. Murals are highly functional at adding outstanding style. Apart from that, they are excellent at arousing a pleasant mood or atmosphere. Literally, the uses of murals are infinite and the choice of appropriate design can convey the most benefits. Let's first understand what murals are and then go through their benefits for children:
What are murals?
In simple terms, murals are paintings on a ceiling or a wall. They can be indoors, in public places, the exterior of a building, etc.
Benefits of murals for children
1
Imparts lots of new skills
The wall murals can convey the artistic inspiration to kids. The developmental benefits of art encompass motor skills, decision-making power, visual learning, language development, creativity, and cultural awareness. Let's see the some incredible wall mural for children – https://www.photowall.co.uk/wall-murals/children
One of the surprising benefits is the improvement in their academic performance. These days, a lot of parents are struggling with the poor attentiveness of their kids towards studies. If you are one among them, you can setup a creative mural in your kid's room to boost their academic performance. Besides, there will be a boost in concentration. Gradually, the parents can realize how such benefits are perceptible to a kid's growth and life.  If their room reflects inspirations, it is assured that your little one develops at the best.
It is a misconception that the maintenance of murals in a room is challenging. Actually, it becomes easy to clean and maintain your kid's room. Whenever you wish, you can effortlessly take it off and shift to other places. Furthermore, the wall murals are extremely durable and coated. They will not tear off or get any kind of bend marks.
The simplicity of cleaning makes sure the paper's pattern conceals the smudges and dirt in case they are not cleaned. Selecting murals of decent quality and from reliable manufacturers leads to ease of maintenance.
3
Enhances child's educational capacity
Murals work great at assisting children to grasp the numbers, letters of alphabets, nursery rhymes, words, and more. The story wall murals are great approaches to let parents and children read aloud collectively. This is since the visual aids can quicken the learning, especially when their minds are sensitive and ready to grasp anything quickly. The interactive murals significantly enhance kids' educational capacity and foster mental development.
4
Hide flaws in kids' room
Many people are unaware of this surprising benefit. Installing a mural can conceal any prior failed fixture and furnishings on the wall.  If your little one is a bit older, he/she must have relished some artistic freedom in the forms of drawings on the wall. Also, they may have tested some form of painting. During all such tasks, their room's wall definitely got stained. Such stains are difficult to clean and employ a bad impression overall.
Generally, oil marks are difficult to remove once it adheres to walls. However, you can get rid of such concerns with the help of murals. The addition of decent quality murals can conceal such flaws and revamp the entire decor of the room. No need to scrape away paint or apply various layers simply to conceal the stained area. Hence, they greatly save the time and efforts of parents. Before applying murals, make sure the walls are clean ad smooth.  This is because if the walls are messy, it averts the murals from sticking on properly to the surface.
When your little one gets a bit of privacy, they can grow more effectively. One of the best ways to foster them with a sense of privacy is murals. You can revamp his/her room's décor with the choice of their preferred character. They get a sense of privacy and security to pick up desired patterns, characters, designs, etc. With this privacy, they can simultaneously learn how to value another. Besides, they get an understanding of what kind of designs to pick and which will best suit their room's decor.
Concluding Note
With the setup of murals, the pleasure on the face of your children is priceless. The murals not just decorate their room but present tons of benefits from various perspectives as discussed. With the choice of a suitable structure and design, you can explore more benefits of murals for children.