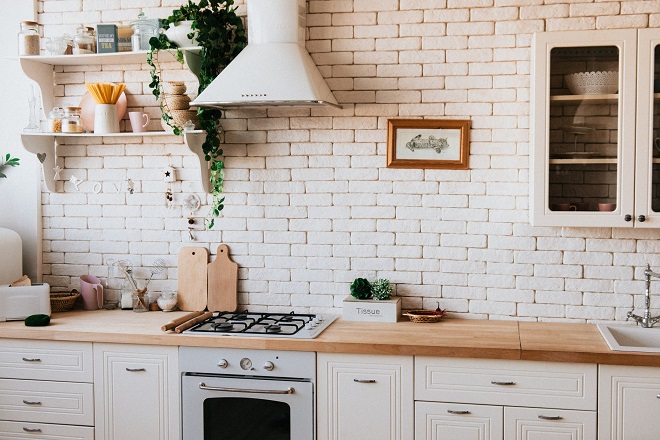 We're all guilty of putting off cleaning. With this guide, you'll be able to tackle your kitchen in one easy day!
Getting your kitchen under control may seem like a long-term job, but with the right tools, it can be done in one afternoon.
When your kitchen is organized correctly, it's simple to keep it clean. There's a method to the way everything is stored that can be used to return things to their rightful place.
It's not rocket science, but it does take some know-how to do it right.
You can have your kitchen organized today if you grab your bins, baskets and cleaning supplies and follow these easy steps!
Start With a "Clean" Slate
Kitchens, more than any other room in the house, need to be kept clean. Your meals are prepped and cooked here, so sanitation and cleanliness are a must.
Even the tiniest food crumbs can attract pests, so you need to clean well and regularly. This also ensures you're not inviting other critters or germs into your home.
The best way to crack down on messes is to start from scratch.
Empty your cupboards and fridge, one at a time. Pull everything out from all of the shelves and drawers and pile your goods off to the side.
When your shelves are bare, give the area a good scrub down with an anti-bacterial cleanser.
While you're in there, you might want to consider lining your cupboards with a moisture-resistant protective mat. These liners come in self-adhesive and non-adhesive grips and are a smart way to guard your wooden cupboards against warping.
As you clean, be sure to focus on the areas considered to store the most germs. It's easy to spread harmful microbes without realizing it, and hard to get rid of them once they've made a home in your kitchen!
Choose Your Zones
Zoning is used by experts today as the rational way to put your kitchen together. Once you learn the concept behind zoning, you'll wonder why it never occurred to you before!
The concept is simple. Everything is divided into the way your kitchen is set up and broken down into ways that make common sense.
Take the layout of your kitchen and split it into three main zones: cleaning, food prep, and food storage. All of your goods and supplies are stored based on their association with these zones.
Cleaning Zone – This area's central point is the sink. Adjacent to this fixture, store everything that is used to clean.This would be cleaning supplies and towels, of course. But it can also be your dishes and silverware, since it's much simpler to wash, dry, and put away items at your fingertips.
Food Prep Zone – The hub of this zone is the stove. Anything surrounding the stove should be associated with your cooking.Include your seasonings, pots and pans, cutting boards, and other food prep essentials close to your cooking appliances.
Food Storage Zone – Outside of the prep and cleaning zones is where everything else is kept. Your refrigerator holds your perishables, and the remaining cupboards are used as a pantry.
With this zoning concept in mind, you will set your kitchen up quickly and efficiently.
Streamline Items Used Frequently
You've got your storage behind the scenes under control. What about the on-the-counter space?
What you leave out and visible should be the rare items you use daily. Think about a typical walk-through of your day. What appliances and goods are needed for those to be completed?
Tweak the areas in your zones to focus on streamlining those particular actions. For instance, if you're a zombie until you've got your morning cup of joe, you don't want to grope around blindly until you find the coffee grounds. Keep your coffee pot and accessories near each other and easily accessible.
If you've got little ones at home, make a convenient area for your children to easily grab appropriate snacks. It's a great alternative to them coming to you every time they're hungry.
Whatever works for your daily routine should be integrated into your organization.
Use Accessories to Return Everything Efficiently
If you're on a time crunch, shopping isn't on your to-do list today. But take a look in your cupboards to see how you can grab some accessories on your next trip to help add efficiency to your kitchen.
Keep these common organizers in mind as you return your things to their new places:
When you're ready to really get organized, you can have a lot of fun shopping around. You'll be amazed at how much is out there to help you make the most of your kitchen space.
Add Some Final Touches
Once your kitchen cupboards, drawers, and fridge have all been organized, it's time to take a step back and see how you can use the leftover space.
Since everyone in your home uses the kitchen anyway, the extra room you now have could be used for the collective good. What pet peeves do you have that could be taken care of with a few finishing touches?
Maybe an electronics tower for everyone's chargers would keep your kids nearby instead of locked in their rooms. Or a magnetic message board on the fridge could be used as a grocery list and event reminder.
It's the little things that make a big difference, so take a step back, check out your final results, and adjust here and there until you're satisfied.
Conclusion
It may seem overwhelming, but getting your kitchen organized the right way can be done in as little as one afternoon!
With some good old elbow grease, a little common sense zoning, and the smart use of some accessories, your kitchen will be the most smooth-running room in your house!
Aaron Hunt is the property manager for Prime Place Arrow. He can be reached by email at arrow@myprimeplace.com or by call or text at 402-858-2858.