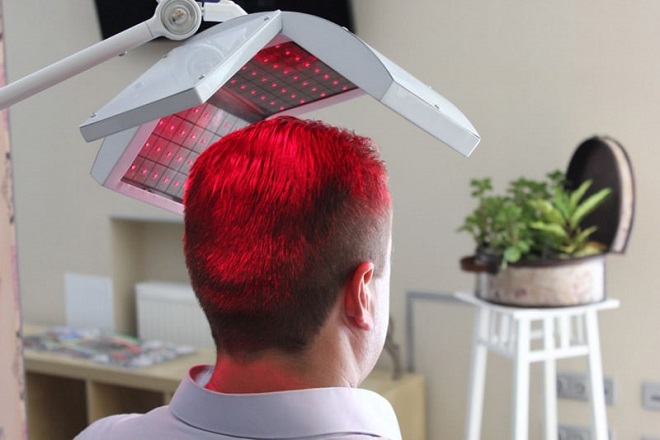 Let's admit it – no one likes losing hair, no matter how bad it looks. Whether short or long, it plays a significant role in creating your entire look. While some people believe in applying homemade remedies to stimulate hair growth, others are not scared to try advanced hair treatments to reduce hair thinning. That is one of the reasons why trends in the hair treatment industry come and go frequently.
However, some treatments become the one-and-all solution for thinning hair, and "laser hair growth" is no exception. The fresh idea has hit the hair treatment industry like a new wave. The raging trend of laser cap therapy is gaining popularity. Many hair regrowth hopefuls are now opting for this by taking weekly sessions. Donning your head with a helmet-esque light therapy instrument is all this therapy requires. The lights in the helmet seem to glow from the scalp.
But is this laser treatment just another bizarre trend destined to be forgotten instead of less obvious and effective hair growth solutions? Maybe not!
Let's delve into the discussion and find out everything you need to know about laser hair.
What is Laser Cap Therapy?
The innovative technique of wearing a laser cap for hair growth therapy falls into a legitimate class deemed light therapy. FDA approved as a hair loss treatment in 2007. After that, this unique technique picked up a plethora of different names such as biostimulation, red light therapy, photobiostimulation, soft laser therapy, and cold laser.
Regardless of the name you choose for this therapy, dermatologists believe that laser cap therapy is undeniably a good addition to your hair renewal regime combined with other hair growth treatments. Some short term studies have shown that this FDA-approved laser machine safely helps stimulate hair growth in both men and women. It is especially true when it comes to reducing pattern baldness.
How Does Laser Cap High-tech Therapy Work?
The gist of this cap design works in several minutes when you place it on your head 2 to 3 times a week. The cap emits red light waves of a specific frequency, which makes contact with the scalp. Researchers are still studying the mechanism and effects of these lights.
However, according to a general hypothesis, the lights penetrate the skin and coax hair follicles from their rest phase to the growth phase. Not only this, but experts also believe that therapy helps keep your hair in the growing phase for a longer time.
Is Laser Cap Therapy Effective for Everyone?
It is important to understand that the stimulation doesn't mean that hair follicles receive potent nutrients they need to grow or build strong hair. But if you are looking for an advanced treatment that can stimulate hair follicles to re-enter anagen phase, laser cap therapy makes the right choice. It is a low-level light therapy that contributes to reducing your hair loss.
That is why laser cap has become one of the sought-after therapies for hair regrowth. Also, people opt for it to reduce inflammation and speed up wound healing. Note that devices used for laser treatment don't cancel out any hair growth obstacles of nutrient depletion, hormonal imbalance, and elevated stress hormones.
Experts also point out that laser therapy's effectiveness often depends on the health of targeted cells. It indicates that laser cap therapy is even more advantageous if you make it a part of your holistic hair growth treatment. For example, if you include minerals and vitamin supplements for your hair growth, you can maximize the impact of low-light laser treatment.
There is no denying that a holistic approach is perfect for providing hair follicles with everything they need to grow and help you get rid of baldness.
Advantages of Laser Cap Therapy
The advanced therapy:
can stimulate hair growth
can increase hair density and strength
can reduce hair loss
can be effective for both males and females
can be manageable with the time commitment
is non-invasive
is painless
does not have common side effects
What to Consider When Adding low-level Light Therapy to Hair growth Regime
If you plan to add a laser cap therapy to your hair growth regime, it is essential to ensure you invest in a quality device.
While many experts suggest that caps reaching wavelengths of 675-900 nm at 5 to 6 mW offer an effective treatment for men and women for pattern baldness, wavelengths of caps may vary from 600-1200 nm. These devices come in different wavelength powers.
For this and several other reasons, if you are interested in buying laser cap therapy, it is better to purchase laser cap devices only from certified medical experts.
Buying from a reliable medical facility ensures that the device you use is effective and safe. Also, it allows you access to a professional so you can talk through or explore your options.
Bottom Line
All in all, laser hair growth therapy is getting everyone's attention in the hair care industry. The medical treatment is popular for reducing hair loss significantly. Thus, the laser program is tremendously advantageous and suitable for people with baldness and hair thinning on a diffused scale.
So if you are experiencing general hair thinning or suffering from receding hairline, laser cap therapy is the right procedure for you.