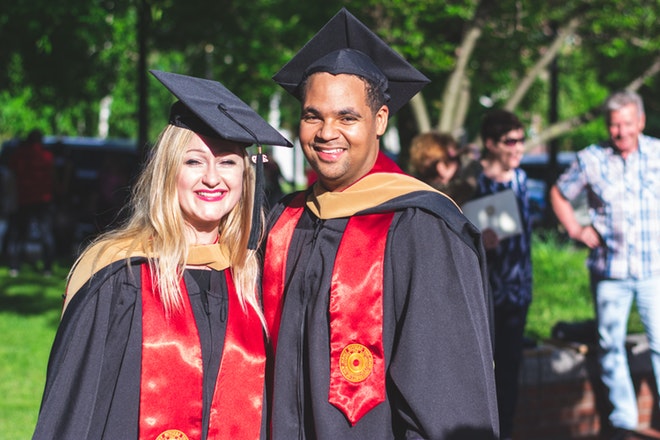 The chance to study abroad is a highly rewarding experience in terms of personal growth and development. For most people, it is a journey of building a valuable network, life-long friends, and a brand new outlook on life.
While the entire process may be overwhelming as you begin to uproot your life at home and start afresh in a foreign country, it doesn't necessarily have to be. All you need to do is meticulously plan the entire process so that you don't end up stressing yourself out.
As English is one of the most commonly spoken languages in the world, there is a high probability that you may move to an English speaking country for your further studies. If English is not your first language and you feel you may encounter additional difficulties during your big move, you are in the right place!
We have compiled a comprehensive list that details everything you will need to consider prior to moving to an English speaking country for college or university.
Start The Process Early On
It is always wise to start the visa process at least 3 months before your tentative departure date. But before that, you will need to ensure that your passport is up to date and that you have received your offer letter from your institution.
You may be required to submit a test score of a standardized English test, such as IELTS, TOEFL, or the PTE. Depending on your institutional preference, make sure you register and give the test well ahead of time.
Additionally, every country has its own student visa requirements, process, and timelines. For example, a US student visa entails a non-refundable visa processing fee and in most cases, involves an interview. So read up on your destination country's requirements and arrange all the relevant documents well before time. Furthermore, as a student, you will also need to show evidence of your financial statements and medical insurance as part of your visa application process.
Our top advice for ensuring a smooth visa process would be to get all your essential documents translated into English to avoid delays in getting your visa. This usually includes professional birth certificate translation and previous educational transcript translation in English. These are extremely useful for all English speaking countries such as the US and UK.
Search For Accommodation
After submitting your visa application, the next step is to search for housing. You can either opt for student housing provided by your university or choose to live either independently or share a space with other fellow students in a non-university accommodation.
University student housing has many benefits such as subsidized rates, on-campus living, quick accessibility to university resources such as the library or support services, and the chance to interact and form friendships with other students in the university halls. However, if you prefer a quieter place and want a taste of living independently, you may want to look into off-campus accommodation.
If you choose to live by yourself or share a flat or apartment with someone, there are many student groups on the internet that will aid in your search. Always make sure to check the commute time to your university, nearby health facilities, grocery stores and other amenities before settling on a place. Beware of checking housing on legitimate websites to avoid getting scammed.
Since you will be new to the country, it also helps to get in contact with your university student affairs department so that they can help you get in touch with alumni or current students for the purpose of asking them for specific advice or any questions you might have.
Sort Out The Details At Home
Moving to a new country naturally means that you have to tie all the loose ends at home. This will involve re-routing all your mail by updating your address, closing your bank or informing them about moving, making sure all your taxes and other financial obligations are fulfilled, and any other chores you might need to do before relocating.
You may also want to book your flight well ahead of time to get a good price. You also need to decide on a student budget and manage your finances to avoid overspending.
A pro tip is to learn a few of your favorite food items so that you have some cooking skills and experience under your belt. It is also a good idea to start brushing up on your English to make it easier for you to interact and navigate your way when you reach your destination.
Make Your Move Stress-Free
Once everything is sorted at home, the way forward involves making your transition as comfortable as possible.
Before leaving, narrow down the bank that you will open an account with and figure out if you need to register with the local authorities or with a GP in case your destination country has universal health coverage, such as the NHS in the UK.
You may also want to research your neighborhood and the city for the best spots to chill, exercise, or even study. This is a great way to familiarize and mentally prepare yourself for the big move. Additionally, if the country offers public transport, make sure you familiarize yourself with it beforehand to avoid any last-minute confusions. You may also want to search for useful mobile apps that will make living easier, such as food delivery apps or travel apps.
Once you get there, roam around and explore the city and the campus, and always try to stay engaged and active in events such as Freshers Week or official parties or networking nights. This is the best way to meet new people, make friends, form contacts, and settle into your new surroundings.
Parting Thoughts
The experience of studying and living in a foreign country will surely be one of your most cherished memories down the line. Make sure that alongside your studies, you take in the different cultures, interact with people, have meaningful conversations, and develop new and exciting perspectives.
It is integral to stay proactive and curious so that you don't lose your appetite to learn and grow during this wonderful journey. We wish you all the best with your studies abroad!