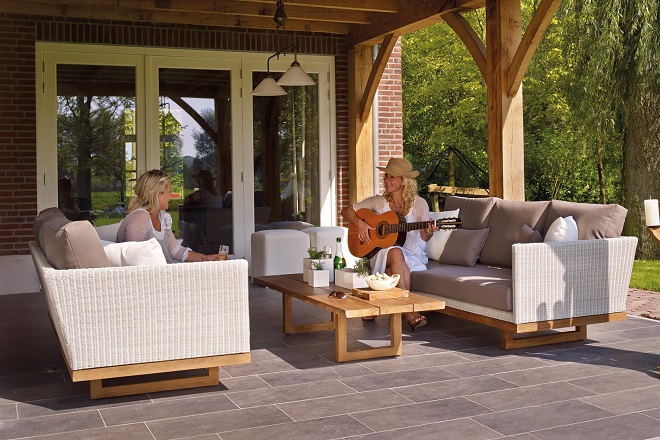 What do 73% Americans do on 4th of July? Why barbecue of course! Barbecue is a way of life in America and it is the best excuse to have family. With the hot weather quickly approaching, it is now a really good time to get your garden ready for your party now. Then, when Independence Day comes around, all you need to do is fill the fridge with beers and throw some delicious food on the grill.
Invest in some garden furniture
One of the best investments that you can make for your garden is tables and chairs that are easily storable. Often we only use our garden furniture for a few months of the year, so you will need to consider where you are going to put it when the winter comes.
Simple deck chairs and side tables are a good choice as they easily fold down and can be stacked one on top of the other. They are also relatively inexpensive, perfect if you want to have lots of people over for a barbecue. For some quality party lounging, a hammock is another great idea – these can be purchased for as little as $20. You simply tie your hammock between two trees, or alternatively you can make your own hammock stand.
Install a retractable awning
Average temperatures in the summer can be in the mid 90s, particularly in the southern states of America. If you are outside for a long period of time, you will be exposed to damaging UV rays and could quite easily get sunburn. A simple answer to this is to consider opting for retractable awnings. They fix easily to the side of your house and can be open or closed dependant on the weather. It will enable you to enjoy a meal in your garden with family and friends, without getting too hot. You will be provided with some essential shade when you need it the most.
Illuminate your space
Garden lighting is essential for giving your space atmosphere. In the summer months, you can make the most of the sunlight by installing solar powered lights. These cost nothing to run and can highlight the key areas of your garden, such as pathways, gazebos, patios and arches. It will give your barbecue great atmosphere.
Tiny fairy lights attached to copper wire are a good option for weaving in and out of plants and greenery. Woven around the branches of trees, they will give your garden party a mystical and ethereal feeling. Solar powered string of clear light bulbs with LEDs inside are also very much in for 2019, giving a modern Steampunk look to your outdoor space.
Fill pots with herbs
You don't need to have flower beds to be able to grow herbs. Instead invest in some pots and fill them with Mediterranean herbs, such as basil, oregano, marjoram and rosemary. They are fast growing in the summer months as long as you water them every day and will give you garden a wonderful fragrance. You can also use them in your cooking to impress your guests – rosemary goes great with a barbecued steak. Mint is another easy to grow herb, that is perfect in a mojito – you can pick you own and crush it fresh into your glass. Delicious!
Your garden is the perfect space for a vibrant and fun barbecue with family and friends. You can create happy memories and have a great time in the summer sunshine.