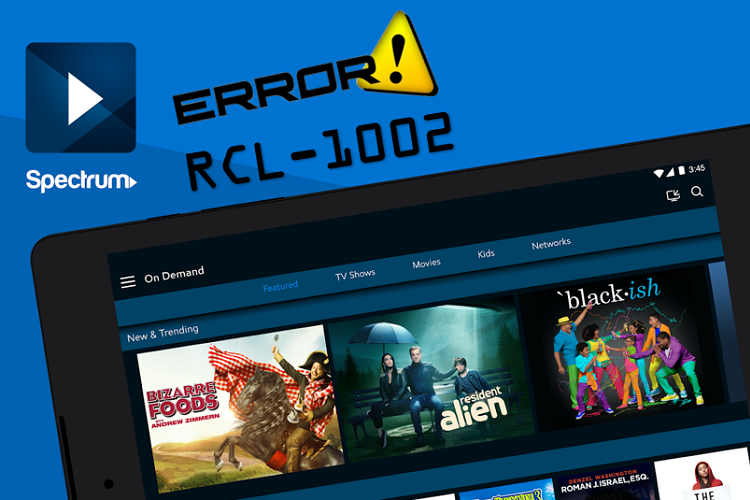 Spectrum reference code RLC-1002 is common error in Roku application users. The error is little and recently being discovered in the USA, because a lot of users are from the United states and named "Spectrum Reference Code RLC-1002". There are few solutions to fix these error. Read this article, it will help you to understand spectrum error.
What is Spectrum TV?
Spectrum TV is an American OTT service, owned by charter communication. Spectrum TV is available in various devices, also on Android and IOS. Important note is, it is not free and needs to be fully paid for activation.
If you are going travelling overseas or don't live in the US, I found a great way to watch spectrum tv app away from home hack. Now you can watch it anywhere.
What is Spectrum App Error Code RLC-1002?
The Spectrum App Error Code RLC-1002 is found due to slow internet connection. The error indicates hurdles between application and server side connection. If you are having the same problem, then the most common solution is to wait and restart the application. If for sake it didn't work, then there are few other ways to solve your problem.
Spectrum Error: What is the Cause?
There are many reasons to have Spectrum error. Slow internet connection is one of the popular ones. Device working state is another way to have this error. These reasons cause errors like WLC-1006 Error Code, RGE-1001 Error Code, RLP-1025 Error Code, and RLC-1002 Error Code.
How to fix Spectrum Reference Code RLC-1002?
Delete and Reinstall TV Spectrum Channel
On the Roku device, go to "My channels"

Then pick up a spectrum TV channel by testing the list and push the asterisk button using Roku remote control.

Go to the Delete channel in the options menu and then push the ok button of the remote control.

Then go to the Roku channel store using the Roku remote control.

After that, search again for Spectrum TV, then click to install it.

After that, again login to your previous account and accept the terms of service.

Restart the application.

Check again if the issue has been resolved.
Reset your Network Connection

Turn off both devices (Roku device first, then Wi-Fi router). Turn them off for 15 secs before turning back the devices on.

Another solution is to disconnect the Roku from network connection. Reconnect it, and try again if the step didn't work.

Disconnect everything (TV, router, and Roku from the power source.

After one minute, reconnect all devices.
Power Cycle all your devices
Remove the router, Roku, and modem from the power source of the internet.

After disconnecting all the devices, try to press and hold the router's power button for 30 seconds.

Connect the gadgets to the power source after completing the last step.

Connect the devices but in sequence: modem, router, and Roku third.

Before connecting all the devices, kindly check the main power connection.

Allow all devices to connect in sequence.

Run the application again and check the problem if it's solved.
Most of the errors happen due to connections, because they store a lot of caches on it. This technique helps spectrum TV app to fix error RLC-1002. 
Summing Up
This article will help you to understand everything about spectrum app error code RLC-1002 solution, and also help you to understand the use of the product. With solutions like these, it is very easy to fix this error. The spectrum problem occurs recently in the USA and takes a wide hit in it. But it was not that big of a deal, so it was easy to handle. However, it is new and many users need to understand "how to fix Spectrum Reference Code RLC-1002". This article is all about solving the Spectrum error RLC-1002 problem.