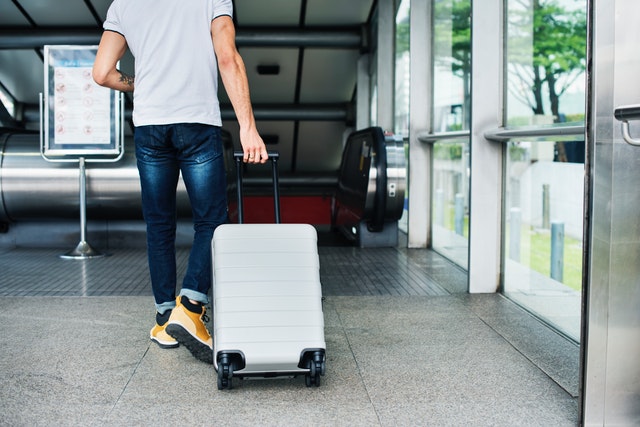 Travelling is fun when you get to carry your bags easily with you. Who likes to travel holding their heavy bags along with them? You are already carrying so many things in the bags, on top of it, you have to wait for your turn for the baggage claim as well! Too much of tiresome work. But what if we tell you that you can buy some really awesome under-seat carry-on bags which are easy to carry, and are designed for everyone. Male or female, these carry-on bags are for all! Let's check them out below.
Samsonite Winfield 2 Hardside Luggage with Spinner Wheels
Samsonite truly rules when it comes to luggage bags. The company has some of the unique luggage bags collection, and they are durable as well. The Samsonite Winfield 2 Hardside Luggage with Spinner Wheels is probably the best in the market. It is quite popular among travellers too. The beautiful lining fabric in the inside makes this bag a must-have for everyone. It is 23 x 14.5 x 9.5 inches in dimension. The luggage bag looks great, lightweight, and blends in well with the latest luggage bag fashion. It has a brushed pattern in the outside, and you get divider pockets on the inside for widened packing.
See more – USB port under seat carry on bags
Steve Madden's- MM- 0590X OX BLOOD
If you are looking for a good quality backpack, then take a look at Steve Madden's- MM- 090X OX BLOOD backpack. Steve Madden started his journey in 1990, and since then there has been no turning back neither for his company nor for his collection. Steve Madden's collection includes backpacks and briefcases. This MM- 0590X OX BLOOD looks stylish. It is red in colour and made of premium quality fabric. It is big enough to hold a lot of your personal belongings. It is affordable and yes, highly durable as well. It comes with adjustable straps, and the dimensions are 18inH X 13inH X 7inD.
You can take a look at other Steve Madden bags collections too.
AmazonBasics Hardshell Spinner Suitcase
One of the best bags from AmazonBadic exemplary line is the Hardshell Spinner Suitcase. It is a beautiful Editor's Choice under the seat carry on luggage bag. It hosts a brushed metallic finish, and you get a lot of color options to choose from as well. The luggage bag is sturdy and spacious. You can stuff all your travel essentials into this bag without worrying about anything. This bag comes with an adjustable telescopic handle, and the 360 spinner wheels will let you carry your bag with you easily. The bag also comes with different compartments, which include zippers and straps. For protection use the TSA lock to keep everything safe inside the bag. The luggage bag is available on Amazon. You can go there and buy it right away.
Steve Madden Luggage Carry-On
The last carry-on bag that you can purchase online is the stylish Steve Madden Luggage Carry-on bag. It comes with 360-degree spinner wheels, durable, lightweight, and is comfortable to carry as well. The 20'' expandable feature of this softside suitcase makes it suitable for everyone who would end up buying some souvenirs on their trip and would require more space in their bag. It also has agronomic handle grip, which gives you full control over your suitcase. This bag looks stylish and has interior pocket compartments as well. And the best part is it is available in different colours.