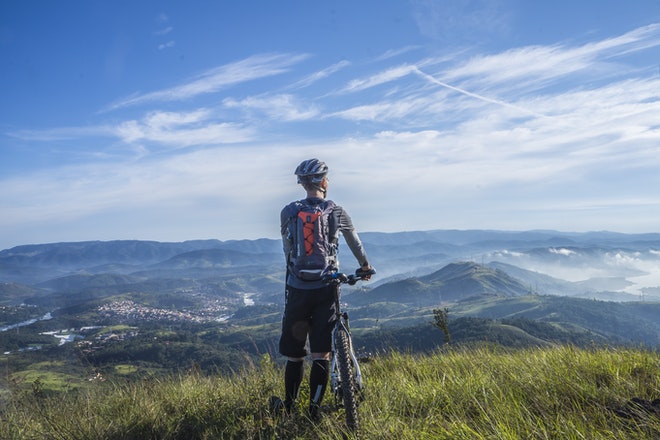 Find out all about the best destinations for mountain biking in the world that you should visit by bicycle!
Do you like traveling? What about cycling? If you answered Yes to any of these questions, then you are in the right place as today we are going to talk about the best mountain biking destinations!
Maybe you are thinking that it is a bit funny these days to talk about traveling as the majority of people are unable or don't want to travel due to the COVID – 19 pandemic.  We don't want to add to your suffering. Quite the opposite! We want to hope that this situation will be over soon and that we will be able to return to the activities that made us happy. And of course, we want to be fully prepared for this moment!
Now, as you know, people like to do different things during their travels – some prefer relaxing in one place the entire duration of the trip, others enjoy backpacking and exploring the whole country, or more countries, at once. Adventurers, we love mountain biking holiday destinations. Therefore, today we decided to share with you everything we learned about some of the exciting bike destinations worldwide.
Some of you might think that it is quite a challenge to go mountain biking around the world. Indeed, transporting mountain bike even from country to country can be tricky, let alone from one continent to another. The good news, however, is that you don't need to be bothered by this as there are plenty of services where you can rent a mountain bike and start enjoying your adventure.
Best Mountain Bike Destinations
Before we continue to the most fantastic bike ride destinations, we would like to say a thing or two about mountain biking!  Keep in mind that this is the activity that enables you to be in top shape, feel the adrenaline rush, and enjoy nature.  And on top of that, the world is full of stunning trails, with various difficulty levels and obstacles you can choose from.


If you ask European mountain bikers or hikers, they will tell you this is the best place in Europe for all adventure seekers and those who like a good challenge.  Between the fantastic views and truly accessible trails, it is a challenge to pick what is best. Plenty of trails are challenging and require you to be in pretty good shape and experienced mountain biker. However, there are plenty of attractive options for those with moderate skills.  People who enjoy long and challenging trails can opt for a bike journey destination road from France to Switzerland and back. If you are not keen on riding up the steep inclines, you can choose a chairlift at Morzine. This option exists from mid-June to mid-September and is perfect for those who prefer downhill rides only. Whatever trail you choose, a ride through French Alps will prove to be one of the best bike destinations in Europe.
New Zealanders are known as big fans of outdoor activities. That is one of the reasons why plenty of spots from New Zealand can find their place on the list of best bike touring destinations. Out of many options, we selected one that we liked most, the little coastal town called Nelson. Maybe, some experienced bikers will tell us that there are more challenging options, but we believe that the most beautiful trails are close to Nelson, at the Wairoa Gorge. The biking park you will find there will provide you with an adventure like you never experienced before.
No devoted mountain biker should miss an opportunity to go to Peru. Exploring the mountain trails of Peru will allow you to travel through the memories of the ancient Empire of Inca that, at the time, extended from Ecuador to Chile. Incas built various paths and trails to connect their cities that now offer you a bike trip destination of your most fantastical dreams.  You will enjoy the stunning scenery, steep mountains, climate, etc. There are so many exceptional trails such as The Inca Jungle Trek, The Pachacamac Valley, and so on, and each of them promises you a truly unforgettable experience.
Have you ever thought about trying a bike trail destination in the Himalaya mountains? If you think it is not for those who are faint of heart, you are right indeed. Any trip to the Himalayan mountains is a challenge on its own, but if you are opting for bike trails, it's an even bigger one. One of these exceptionally challenging adventures is a trip to the city of Mustang through the trail called Lo Manthang. If you are an experienced mountain biker and enjoy a good dare and a true biking escapade then, this is a real treat for you.  If you decide to embark on this adventure, we guarantee that you will enjoy beautiful sights, and colorful Nepalese culture and food.
We are pretty sure that Italy is hardly the first bike travel destination that comes to your mind. But this is because we hear more about other things to do in Italy than about any type of cycling, let alone mountain biking. Thus, the majority of people never even heard about Finale Ligure Bike Park. However, if you go there, you will fall in love with this mountain bike heaven. While you are riding, you will enjoy the sights of the beautiful Mediterranean sea, as well as mountains and countryside. Nonetheless, keep in mind that these are not suitable for beginners as they have a lot of narrow passages and curves.
The image of the Austrian mountains is inviting you to see this country as one of the best mountain bike vacation destinations, doesn't it? And we have to say rightfully so because Austria is full of exciting trails. Biking in this Central European country is wonderfully challenging everywhere, but the Tyrol area deserves to be crowned as the top bike route destination.  There is a 1,000 km long trail with beautiful landscapes for more experienced bikers. If you are looking for something less demanding, you can opt for Inntal Cycle Path from Pandeck to Passau, where you can enjoy typical Austrian towns and mountain scenery.
One of the best trails in Morocco is the one that takes you over the astonishing Tizi –n- Mezzik Pass that is 2489 meters high.  It is very steep and rocky, so unless you are in top-notch shape, we recommend that you climb on foot and then ride downhill. From the top of Tizi –n- Mezzik, you can enjoy the beautiful sight of Imlil Area and Azzaden Valley. With this and many other astounding biking destinations, Morocco is one of the best mountain biking holiday destinations.
All of you out there who are looking for exceptional bike destinations in the USA should try Park City in Utah, on the western side of the Rocky Mountains. You are guaranteed to enjoy stunning scenery, but you should be accustomed to high altitudes before choosing this type of bike touring destination because the city is located at a height of about 2100 meters. Don't worry about getting bored because there are about 400 miles of different trails.
If you thought that the US is the only country that has wild west, this Scottish area is there to prove you wrong. The combination of scenery and weather makes already challenging rocky trails exceptionally hard. A trail that found a special place in our heart is Achnashellach. This trail is a real test for the bike as well as for the biker.
Final Word
As you can see, there are a lot of beautiful and exciting bike destinations around the world waiting for you. Keep in mind that these are just some that we liked the most, but the world is full of similar astonishing trails! What are your favorite mountain bike destinations?