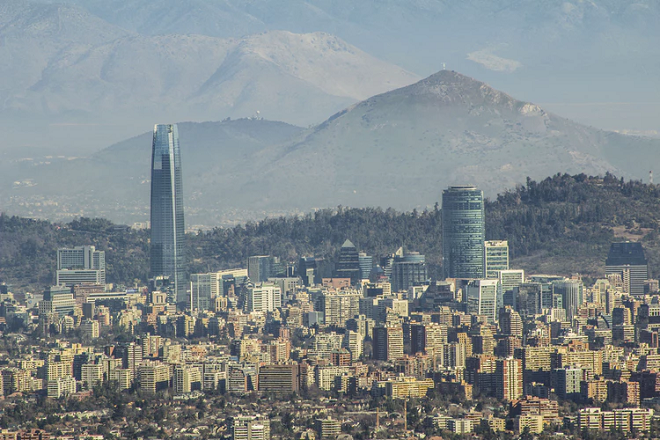 Don't let the small size of Chile fool you! Despite it's tapering shape and limited area, it's still among the best places to visit, most especially if you're hungry for some old-school adventure.
I've flown to Chile for the first time in 2016 to accompany one of my friends. She asked me to come with her to document the Fiesta de la Tirana, an annual celebration held in Northern Chile. We went to several places in that region after covering the fiesta.
I had such a happy experience that I decided to return a year and a half later. This time, I explored the rest of the country.
Let me share with you my travels in the guide below. Aside from sharing my 2-week travel itinerary, I also included a few bits of useful tips on how you can enjoy an awesome vacation in Chile.
How to get around Chile
---
Chile's local transportation is by far the best in the continent. That's why you can explore the places in this travel guide faster, most especially if you only plan to go on a short vacation.
To explore the country with greater ease, I suggest taking Spanish lessons a few months before your flight. It will help you ask directions and communicate easier with the locals.
I also suggest carrying change in your pocket all the time. You can expect to spend around 550 Chilean Peso (roughly equivalent to a dollar) every time you ride a bus.
If you want to take a taxi, you can find one in the city center. If in case you're interested to see the Easter Island, you can pay around 230, 000 CLP or 340 USD for a round-trip flight ticket from Santiago International Airport.
Chile Itinerary
After arriving at Chile's national airport, Aeropuerto Internacional Comodoro Arturo Merino Benítez, I recommend exploring Santiago, the capital city.
Santiago
Check out the Plaza de Armas, the city's old center. Tourists and locals alike gather in the area, most especially during special events. Drop by the Catedral Metropolitana de Santiago, a 17th-century neoclassical church.
If you're looking for a quick bite, you can either go to La Terraza and order a classic Chilean Sandwich or 100 Montaditos for some cheap beer, chips, mini sandwiches for only less than $2.
San Pedro de Catama
After spending a day in Santiago, you should head to San Pedro de Catama. It's a two-hour flight away from the capital city.
You can visit the Piedras Rojas to marvel at the surreal and almost magical rock and water formations. If you have time to spare, I suggest exploring the Lagunas Altiplanicas as well.
There are other natural wonders you shouldn't miss in San Pedro de Catama such as:
The Cejar Lagoon
Moon Valley
Geyser del Tatio
You can enjoy exploring the valleys during the day and spend the night stargazing and gathering around the bonfire with fellow travellers.
Valparaiso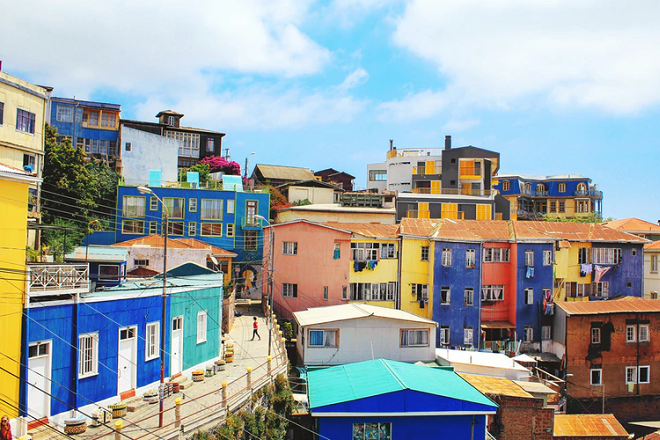 After maximizing your visit in San Pedro de Atacama, you can return to Santiago via airplane. Then, hop on a bus ride to explore Valparaiso, Chile's harbor city.
To many travelers, Valparaiso is that colorful Bohemian-inspired city. You will love strolling around the narrow streets of Chile's heritage city.
Uncover the historical background of the city by walking around Alegre, Conception Hills and the Sotomayor Square and visiting the Museum of Pablo Neruda, and touring.
If you're not too keen on hiking, you can still enjoy Valparaiso by taking the Artilleria Funicular Railway.
Because hiking and touring Valparaiso can be quite tiring, I suggest having a hearty meal from La Granja Marisqueira. They serve the freshest ceviche and seafood soup in Valparaiso.
Colchagua
Chile's Colchagua province is home to large and expansive wineries and vineyards. You can explore the province by train. Explore one of the traditional vineyards, the Casa Silva and take pictures in front of their historic manor.
If you don't mind spending a bit more, you can even stay overnight in one of the boutique hotels in Colchagua and dine in one of their award-winning restaurants.
What to eat while in Chile
---
Like most South American countries, Chile also offers a wide range of unique and highly flavorful food. One of the best Chilean foods I have is the Churrasco sandwich. It's the ultimate sandwich for all ye meat lovers out there.
It's a sandwich filled with thin slices of finely grilled steak. I always have mine with fries, mayonnaise, avocados and tomatoes. You can buy one late at night, most especially if you hang out in Valle Nevado or other resorts.
You should also enjoy eating mouthwatering seafood dishes while you're in Chile. You can try their crab pies, parmesan covered clams, lobster plates and freshly harvested sea urchins.
Planning to travel to Chile one of these days? Use my quick and simple travel guide above to help you navigate the vibrant and adventure-packed cities in Chile.