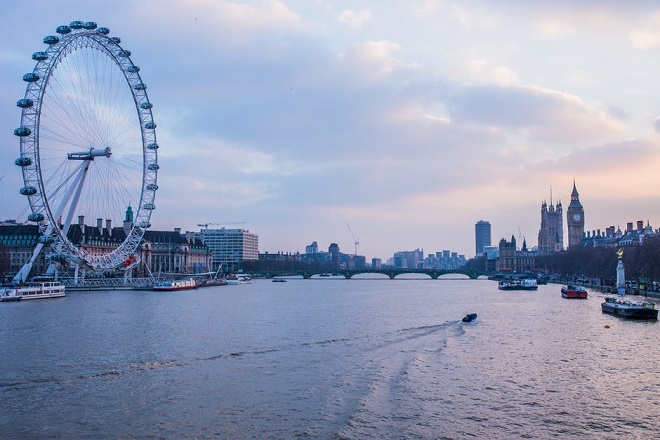 Living in London is so exciting, fast paced and entertaining, however these things often result in your health being pushed to the back of your priority list. That's why we're here to introduce a few really simple things you can do to make healthier lifestyle in London, focusing on both your physical and mental health, so you can have the best time in London whilst also looking after yourself. Some of these things are really very simple and some can even save you money!
5 Ways to Live a Healthier Life in London
Let's get into it and help you make a few small changes to create a healthier lifestyle living in London.
Our first tip to help you create a healthier lifestyle whilst living in London is to walk more! There are so many opportunities for you to walk around London, and it is one of the best things you can do for your health. It's easy on your joints, it helps you to maintain a healthy weight and it reduces your risk of having serious cardiovascular issues in the future. It's also great for your mental health too. So, it is such an important thing that you really should be doing.
Put your headphones in, play your favourite music and get walking! There are so many different ways to incorporate more walking into your routine that we're going to introduce.
Firstly, if you get the tube, train or bus to work, you could consider getting off a stop or two early and walking the rest of the way, this might not seem like much but it will really add up. This will also help you to reduce your carbon footprint while commuting in London!
If you're in a rush in the mornings, do this after work on your way home. Perhaps you could use your lunch hour to go for a nice walk, leaving yourself some time to eat when you get back/before you go.
You could wake up an hour earlier and go for a walk around one of the Royal Parks, or set off for work earlier and have a walk before you start. Of course, weekends are great for getting a good walk in too! No matter when you choose to get your steps in, it's a great way to clear your mind and to unwind.
It's recommended that you aim for 10,000 steps a day, which for most people is around 1 hour and 40 minutes of walking. You might struggle to fit this into your routine, and that's okay, as long as you're increasing what you're doing now. Say you currently do 2,000 steps a day, start by increasing that to 4,000. You might really start to enjoy it and want to increase from there which is great! It will soon become an important part of your routine that you will look forward to.
Another great thing you can do to create a healthier lifestyle living in London is to prepare your lunches. When you're on the go all the time, it can be really easy to just pick up quick options. There are plenty of healthy options out there, however it can be really expensive. So, we've got some great options for you.
At the start of the week, or perhaps on a Sunday to get organized, make a list of what you want to eat that week for your lunches and evening meals. Then, go get everything you need for the whole week, sticking to your list. This means you have everything you need ready and waiting and you'll waste less food. You'll also save money, as it is much more expensive to do smaller shops mid-week at express shops.
When it comes to choosing what you want to eat for your lunches, you could make bigger batches of your evening meals and take it for lunch the next day if you have access to a microwave. This is another good way to save money, as when you batch cook you are using less energy than if you were to cook a different meal every night. Things like curries, soup, chilli and stews are great for batch cooking.
Some people don't like eating the same meal as the night before for their lunch, in which case you can still batch cook, but then freeze any portions you won't be eating. You'll gradually build up a bit of a collection of different meals in the freezer (make sure to label them with dates and eat within 6 months), then you can just pick out the meal you fancy and defrost it in the fridge overnight. This is a great way to still get variety and have healthy meals on hand!
There are wonderful restaurants all over London that we know you will want to enjoy, but this just helps you to plan to eat nutritious food to help you feel great!
3
Go On Countryside Weekend Day Trips
Something else that is great for your mental health and wellbeing is to take weekend day trips to the countryside! There is just something so great about getting into the country, enjoying the fresh air and having some time away from the hustle and bustle of the city. This doesn't have to be expensive at all, as you can simply get the train somewhere for the day! You could even take a packed lunch and go on a nice walk, enjoying a picnic half way through.
There are so many places that you can get to in under two hours, most in under one hour! Places like Moreton-in-Marsh, Kingham, Rye, Brockenhurst, Warwick, Cookham, Warminster and Ely are all great choices. Maybe plan a day trip out of London once a month and it will become such a lovely tradition that you will really enjoy.
Something else you should be doing to stay healthy is to stay hydrated! Drinking enough water is so important, as it helps to regulate your body temperature, helps your joints, prevents infections, ensures that key nutrients are delivered around the body and keeps all of your organs functioning properly. Not to mention, it also helps to improve your sleep, ability to focus and your mood.
No matter where you live, staying hydrated is important, but especially when you are living in London and are likely to be getting on busy, cramped and hot public transport. When you are dehydrated, you are more likely to faint, so when you are hydrated you are much more likely to feel okay.
Buying bottled water is not only expensive but it's also bad for the planet, so get yourself a good reusable water bottle to keep in your bag. Then, there is a scheme called Refill London, you can download an app for free and then it will show you where over 5,000 drinkable water refill stations are positioned across London! Save money, help the planet and make sure that you're always hydrated.
You will notice such a difference in lots of elements of your life when you commit to staying hydrated and it's such an easy thing to incorporate into your life.
5
Try Out The Fun Exercise Classes
In London, there are endless amounts of really fun and different fitness classes all over the city for you to try! New trends come out all the time and are bringing interesting activities to London, so make sure you keep an eye out. Things like puppy yoga, big group classes in the Royal Parks, hula hooping, pole fitness, trampolining; you name it, London has it!
Some of these activities can be expensive, but you will usually get some kind of first time discount so you can give them a try, perhaps once a week for a few months, and see what you fall in love with!
This is also such a great way to meet people, which is really important for your mental health. If you've moved to London on your own and don't know many people, you can meet some like-minded people who want to do the same thing.
Even if you don't see the people you meet often, it's so refreshing to go and do something different after work and chat with new people! Push yourself out of your comfort zone with this and you will thank yourself for it in the future.
Final Thoughts
We hope we've provided you with some inspiration on how you can create a healthier lifestyle whilst living in London, to help with both your mental and physical health. We are nothing without our health, so it's really important that you make it a priority. Even if you think you're feeling good, that's the best time to try some new things!
Healthy living doesn't always have to be expensive or complicated, as even the simple things like going for more walks or drinking more water can truly transform how you feel. You will feel a whole new lease of life as a result, to help you make the most of your time in London. You'll thank yourself for it in the future!