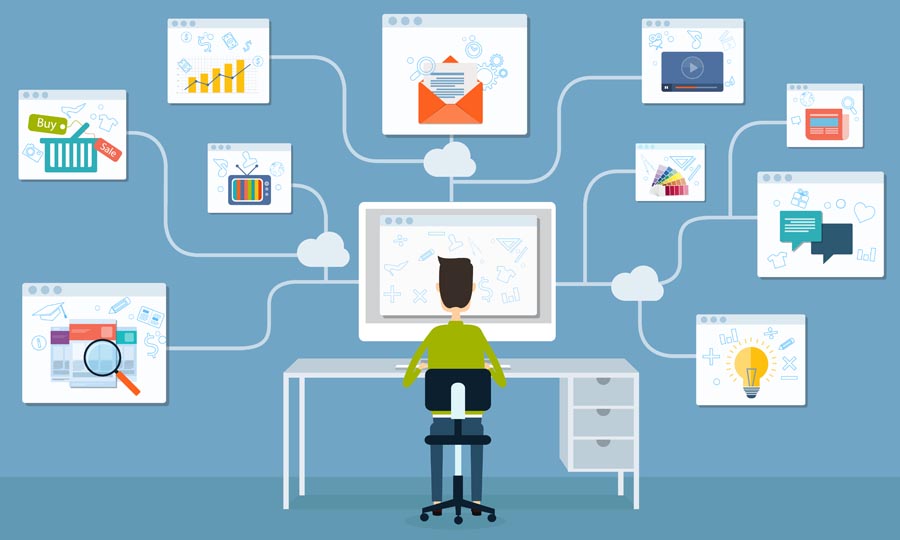 Ecommerce is one of the fastest growing sectors globally. The rising trust of consumers in online shopping is a testimony to the fact that this industry is one of the biggest achievements of modern technology. And with the growth of eCommerce stores, large numbers of eCommerce solution and service providers have come into existence as below.
| Ecommerce Platforms | Logo |
| --- | --- |
| Wix |   |
| Squarespace |   |
| Weebly |   |
| Shopify |   |
| Volusion |   |
| BigCommerce |   |
| 3dcart |   |
| WooCommerce |   |
| Magento |   |
| X-Cart |   |
| PrestaShop |   |
How to choose the right eCommerce platform?
To buy the right eCommerce platform, you need to take into account following aspects:
Easy to use: The best eCommerce platform can be useless if it isn't user-friendly and easy to use. Most business owners get carried away with cheap or freely available open source shopping cart software. Open source software are extremely difficult to use and often very complex. To use such software, you might need to hire an expert team, which can get very expensive. Even though the software is free, everything else after the free is two or three times more expensive.
Flexibility: Ecommerce platform must be flexible enough to integrate the variety of usage and applications. To create an online store, the eCommerce platform must be able to adopt your specific business requirements without too much development efforts.
Mobile responsive: Many outdated eCommerce platforms have not evolved with them. You build your online store using the old eCommerce technology; you are going to lose out on many fronts. And one of the most important aspect if mobile responsiveness of your eCommerce store. Make sure that your eCommerce platform not only supports mobile responsive websites, but it also supports mobile responsive checkout page. Also, your eCommerce store administration panel must be mobile responsive.
Mobile App: When you choose eCommerce platform, you must check if they provide a mobile app to manage your orders. A mobile app makes the job of selling online infinitely easier. You do not have to open your laptop, again and again, to check orders and manage your eCommerce business.
Stability and reliability: When you build an online store, this aspect must be your top priority. Countless eCommerce store owners have reported issues with their eCommerce platform provider after the store is launched. Remember, to create an online store is easy. To keep it fully operational in 100% performance mode is totally another store. The biggest culprit which reduces the reliability and dependability of an eCommerce store is its poor development practices. To build an online store, you need an eCommerce company which balances between product stability without compromising its reliability or stability.
When you create an online store, you must be very cautious in choosing the eCommerce platform, because that one choice could make or break your business.
Ecommerce web hosting that eliminates worry
Ecommerce websites require a special attention and very secure environment for hosting. That's because a lot of financial transactions as well as private information is moving to and fro. The biggest advantage of hosted shopping cart platform is that it takes care of the eCommerce hosting, which can become a nightmare for an average business owner.
What are the elements of a great eCommerce hosting infrastructure?
Here are the five key elements of a reliable eCommerce hosting:
An eCommerce website hosting infrastructure must be fully scalable. Means whether you have 10 visitors a day or 100,000 visitors a day, the site can take care of the visitors without experiencing any downtime.
It must be secure. Ecommerce hosting must be so secure that it can save your business from unwanted guests who are trying to steal your data or intercept an online transaction. ECommerce transactions can be safely conducted through an SSL enable web address. An SSL enable checkout means that your website hosting has required security certificates in place to protect from online attacks.
Daily data backup. Your eCommerce web hosting must also take care of automatic data backup on a daily basis. In case your site data is compromised or information is removed from your database, it can be easily recovered through a backup. Any eCommerce website hosting is incomplete without a reliable and automatic backup system.
Choose a hosted shopping cart solution only when you determine that the above-mentioned elements are present in their hosting. Most importantly, check the experience of their existing customers and find out how they are dealing with eCommerce hosting issues such as security, scalability, and data safety.
We'll look at both eCommerce solution and eCommerce services. We'll also look at what a majority of eCommerce service providers are offering in terms of service.
The Rise of eCommerce Services
A variety of eCommerce service providers has evolved as a result of this new revolution. Here is a handy list of eCommerce services offered by these providers:
Product Cataloging: Product cataloging involves uploading and organizing product catalog in an eCommerce site.
Content Writing: Content writing is now such an integral part of eCommerce and there is a constant demand for high-quality content writing service providers.
Product Photography: Product photography is another eCommerce service very much in demand. It involves capturing high-resolution photographs of merchandise to ensure all the minute details are visible to the shopper.
Ecommerce Website Design: Ecommerce Website design is another fast growing area where designers craft unique and beautiful web pages to meet the rising expectation of the online shopper. Ecommerce web design is very different from ordinary website design because it involves the display of many trust-building elements. Visual and information elements allow an online shopper to make an online purchase without doubts and hesitation.
Custom App Development: A lot of eCommerce service providers does not focus on Custom App Development. The reason is simple. Each business has a unique aspect which is not available in the standard eCommerce platform. Such eCommerce services make the eCommerce platform extensible.
Customer Service: A lot of eCommerce website owners want to outsource their customer service function to ensure they stay lean. As a result, many companies now offer eCommerce services to manage orders and fulfill them. They also speak to customers, answer their questions and solve their complaints. Customer service is one area in eCommerce which has not been able to cater to the rising demand of business owners.
The Evolution of Ecommerce Solutions
Now, let's look at some eCommerce solutions which have come to existence and become an integral part of the eCommerce ecosystem.
Logistics Solution: The biggest industry which has benefitted from eCommerce is the logistics industry. The logistics industry has come up with eCommerce solutions to cater to the growing demand of eCommerce website owners.
Payment Gateway Solutions: A large number of payment gateways have evolved and they come in all types of varieties. The two chief categories are the actual payment processing gateways and the online wallets. Online wallets are usually free and they only charge on a per transaction basis. Professional class payment gateways allow for all types of payment options and they do not store personal details unless explicitly provided by a shopper.
B2B Ecommerce Solution: B2B eCommerce is also evolving at a rapid pace. And there are many eCommerce solutions that cater to B2B eCommerce. However, the word B2B doesn't change much in the underlying system. Whether you are having a B2B eCommerce or a B2C eCommerce, there is a minor change in the technology. The major change in perspective is from the marketing perspective and not from a technology angle.
Marketplace Ecommerce Web solution: The online marketplace model has become very popular and an eCommerce solution around such a website is in high demand. However, a majority of eCommerce solution provider do not focus on this growing segment of users. As a result, multi-vendor eCommerce marketplace solution largely remains as an unexplored territory for many.  It involves the ability to manage multiple vendors, adjusting their markup and allowing them to manage orders as well as inventory. In a nutshell, an eCommerce solution for marketplace must evolve sooner than later.
Creating an online web store gives you the opportunity to be in front of millions of internet users. That being said does not expect your online store to be popular on its own. When you are building an eCommerce website, your first step needs to be taken very carefully. The first step is to choose the right eCommerce platform.