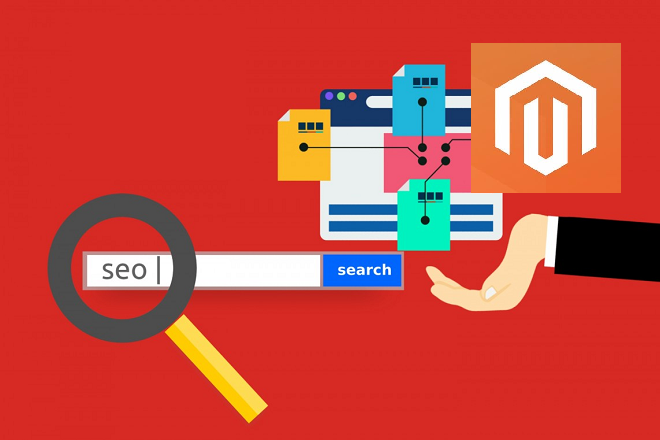 If eCommerce web development becomes successful, it's because of the huge contribution of Magento!
This statement has been made based on some proven facts and industry examples. And most importantly, this powerful CMS comes with various excellent features, commendable structure, user-friendly navigation, and many more.
You can imagine how beneficial it is to adopt it as an ideal CMS for eCommerce development. You can also utilize Magento as a go-to tool for e-commerce website content management as it is known as a well-organized CMS for eCommerce.
It's not the end; there's a lot more to let you know about this fantastic CMS. Let's discover all the reasons behind the prominence of Magento CMS.
Before exploring more about Magento, let's discuss a bit about Content Management System (CMS).
What is a CMS?
CMS stands for a content management system. It is a software application containing a set of related programs help create and manage digital content.
Content Management Systems are used explicitly for web content management (WCM) and enterprise content management (ECM).
We will get to know about these new terms too.
Using the Enterprise Content Management system helps you effectively collaborate in the workplace and lets you integrate digital asset management, document management, and records retention functionalities. Also, end-users can have access to role-based access to all the organization's digital assets.
And a WCM helps you in editing your websites. An ECM tool includes a WCM publishing functionality, but you will always see ECM webpages behind its firewall.
Both ECM and WCM have two components: a content management application (CMA) and a content delivery application (CDA).
CMA can be considered a (GUI) graphical user interface, allowing the users to control content creation, modification, and removal of a website.
CDA component offers backend services that provide excellent support, management and delivery of the content created in the CMA.
What are the features of Customer Management systems?
Since there are several different CMS's in the market, I'm only mentioning a few standard features in all the CMS's.
Functions like indexing, search, retrieval, format management, revision control, and publishing are the ones we would be looking at.
Indexing, search, and retrieval features index all data for easy access through search functions and allow users to search attributes like publication dates, keywords, or authors.
Format management provides the facility to turn legacy electronic documents and scanned paper documents into PDF or HTML document formats.
Revision features allow your content to be updated and edited after the initial publication. The feature of revision control also tracks the changes to the files made by individuals.
Publishing functionality allows individuals to use a template or a set of templates approved by the organization and wizards and other tools to create or modify content.
These were just the standard features, but CMS's have other great features too.
You could create SEO friendly URL's
Integrated and online help, including discussion boards
Group-based permission systems
Full template support and customizable templates
Easy Wizard-based install and versioning procedures
Admin panel with multiple language support
Content hierarchy with unlimited depth and size
Minimal server requirements
Integrated file managers
Integrated audit logs
How do you choose a CMS?
Choosing a CMS depends on your website; once you decide what your website should do, picking the CMS is a piece of cake.
There are a few basic functionalities you should always look for, such as an easy to use editor interface and intelligent search capabilities. However, for some organizations, the software they use depends on specific requirements.
The CMS administrator must know how many people will be using the application, whether the CMS will require Multi-Language support, and the size support team needed to maintain operations.
The next thing to consider is the control of both end-users and administrators when using the CMS.
Let's switch to Magento now!
So, what is Magento?
If WordPress is the best content management system used by one-fifth of the world's websites, then Magento is the WordPress of eCommerce websites.
Almost every other online store you find might be running on Magento. Also, large brands like Samsung, Nike, Ford, Lenovo, Olympus, Nestle, Men's health, and millions of other websites with limited products to large enterprises use Magento as their CMS tool.
If we set aside Magento's popularity, Magento is an e-commerce platform built on open source technology, offering online merchants with a flexible shopping cart system and control over the look & feel, content, and functionality of ecommerce websites.
Magento offers powerful marketing, SEO, and catalog-management tools. Ecommerce developers consider it the best ecommerce platforms available in the market today.
This platform is being praised for its powerful editions ranging from community, open-source to massive and large-scale enterprise SaaS-based systems.
Magento is designed as an application that can be utilized by someone who is not a developer. The Magento community is vast and helpful.
Now that you know why you should be choosing, here are ten reasons to help you determine if you need to go ahead with Magento.
Top 10 Reasons to Prefer Magento
Open Source
The Magento community edition is free, which means you can easily install and use any version of Magento CE.
If you are a Magento expert, you can accelerate your Magento store's performance and promote your website, especially ecommerce websites with new features and functionalities, by developing or installing the Magento modules.
Anyone can easily find a massive library of modules located at Magento Connect/Marketplace.
Harnessing the open source's power, Magento is arguable the best platform you can choose as a CMS.
Magento Community
Since Magento is an open-source platform, the community of developers who support it is also huge.
There are programmers, bloggers, project managers, product managers, CEOs, and other designated volunteers worldwide, who help and strive to make Magento a better and more improved eCommerce development platform.
Magento is safe, secure, and speedy and fulfills end-users' needs by introducing regular updates.
King of Ecommerce Platform
Although WordPress as the content management platform is excellent, it is not developed to serve as the Magento platform.
Magento is the only platform that mostly provides an ecommerce solution with more comprehensive features and design elements.
Amazing Performance
Referring to the page load times, query processing the time, and other dynamic or static operations, once again, Magento is the winner.
According to the user requirements, only a few hundred milliseconds of latency processing can completely kill the chances of Ecommerce websites with potential customers.
With modern technologies such as varnish, Memcached, Redis, FPC, and optimized databases, Magento can entirely satisfy the requirements of ecommerce businesses and their clients.
Flexibility
Magento developers can always have the flexibility to create stunning and unique user experiences and front-ends based on multiple device access.
Also, Magento adds an ability to customize the backend of the store to meet the specific requirements.
Using Magento, developers can also take control of processing capabilities and interfaces of the core eCommerce solutions.
Responsiveness
Making your website responsive is the most important thing to do nowadays. As the increase of mobile devices increased, making the website responsive has also become mandatory. And Magento provides the best responsive features you could play with.
Magento CMS is combined with HTML5 that helps developers to maximize the shopping experience on mobile devices. Also, it can adjust the image size and supports video. Customization is easy, and the built-in drag and drop feature, which provides a classy mobile experience.
Multitasking
Magento allows you to perform multiple tasks simultaneously, which lets you work on the other essential things in the time saved.
Besides, Developers and Merchants can also manage all the customer information, items, and billings, under a single and user-friendly admin panel.
SEO friendly
Like most of the platforms, Magento is an open-source ecommerce platform that is ecommerce friendly.
Magento is powered with many in-built features such as SEO friendly URL, search engine, site maps, positioning layer, URL rewrites, tags, descriptions, etc.
It provides a great way to make your content SEO friendly.
Third-party Integration
Magento allows you to integrate quickly with many third-party services, including payment gateway, database applications, transportation, and shipping tracking.
The Magento platform also has built-in Google tools such as Google Analytics, Google Checkout, and Google Base.
Powerful and Spacious
Magento platform supports up to 5,00,000 products on a single site and possesses the capacity to handle over 80,000 orders per hour. In short, you have access to set up a big or robust eCommerce website with hundreds of millions of products.
Why should you use Magento Over WordPress?
Don't use it just because everyone else is using it, don't be a "Sheep" that follows the flock.
Magento could be the most used CMS in the eCommerce websites.
WordPress may seem to be a more comfortable choice when choosing your CMS for a business website, which doesn't have anything to do with ecommerce.
Also, WordPress may seem to be a more comfortable option with less coding work required. But, when you work on Magento, you will find it more flexible to implement advanced customizations.So here's the thing, Magento can do what WordPress could do but with a little help, but WordPress cannot be Magento.
While both are Content Management Systems, these frameworks make it simple to add, modify, and manage content in the simplest way possible.
On top of that, these platforms are SEO-friendly and backed by a robust online community, as mentioned earlier.
Among all these similarities, what sets them apart is the difference in their core functionality.
Magento is appropriately dedicated to ecommerce website development, considering the kind of in-built features and functionalities offered.
On the other hand, WordPress is more of a text-based and ideal option for blogging and news articles. Though WordPress has a wide range of themes for ecommerce and business websites, the restrictions on customizations do not let you make the website as per your imagination ultimately.
We have compared Magento with WordPress to know which is the best CMS and the go-to platform. But Magento easily outshines at Ecommerce or websites, which are partially connected to ecommerce.
So, if your website comes under any of these categories, you should consider Magento as your CMS.
Magento comes with various magnificent themes and templates, making it easier for professionals to work on a secured eCommerce shopping cart development.
While Magento's strength lies in the ecommerce platform, why don't we learn more about it?
Why has Magento taken over other platforms when it comes to ecommerce website development?
Here is a list of things that make it worth choosing.
Flexible enough to set up the website depending on business preferences and needs
Ability to manage multiple stores through 'multi-store management' feature
Generates up to date reports for analysis
SEO practices get notices on websites developed on the Magento framework
It makes your website super responsive, especially when it comes to ecommerce
Magento helps developers develop a fully customized online store
Advances functionality and systematic order management comes as a bonus while working with Magento
Here are some cool websites that use Magento CMS. These set a great example of how a website should look and what you could do with Magento.
BJORN BORG
One of the best sports stores on the internet, with unique sports photography, creates a perfect sporty mood.
I love this website because of its incredible usability. Everything is so simple and right on point; sports usually have so many different categories, and this website pulls it off with ease.
BREWSHOP
BrewShop is one of the best online stores for shopping set up for beer supplies and accessories. This New Zealand-based company create an online store like no other store in their Niche. Its funny content and products which make men happy are all stitched together using Magento.
FRED PERRY
Fred Perry is a designer based in the UK, and his online store is this cool website built on Magento.  Fred Perry's design embodied the latest web design trends; a hero image, long scroll of the most stylish photos, background animation, white spaces, hamburger menu, etc.
ERDEM
Erdem is one of the best designer websites out there. Showcasing their best designs according to the collections and the way they are laid out is pretty impressive.
The Frontpage is a long scroll of different collections and also a video of their recent runway projects.
This website is a delight to be on; when you click on one of those big images, you would be redirected to the products in that collection.
RICHER SOUNDS
Richer Sounds is a website for gadget freaks; it has a fantastic collection of gadgets perfectly arranged according to the categories.
You will only get lost if you don't know what to buy on this website because the content is made for conversions, and it is excellent at it.
Conclusion
Does Magento has impressed you by now! Surely it does.
The platform has everything you can ask for as a CMS for your website, especially if it is an eCommerce website. The latest version of Magento is more improved and offers much more than its predecessors.
It's much more interactive with front-end module editing, decoupling of weblinks and a lot of other great features.
If you are a startup or a small business (or a website built and maintained by Magento CMS), it could be a great launchpad to success and growth. There could be no better way than to do it with Magento.
Don't forget to leave your valuable feedback!
Article written by Mohit
Mohit Maheshwari is Chief Strategist at NMG Technologies, a full service IT Company offering Website and Mobile App Development services. He has been in the industry since 2000 and focuses on long-term strategies, intuitive user experience and successful customer acquisition. Follow Mohit on Twitter and LinkedIn