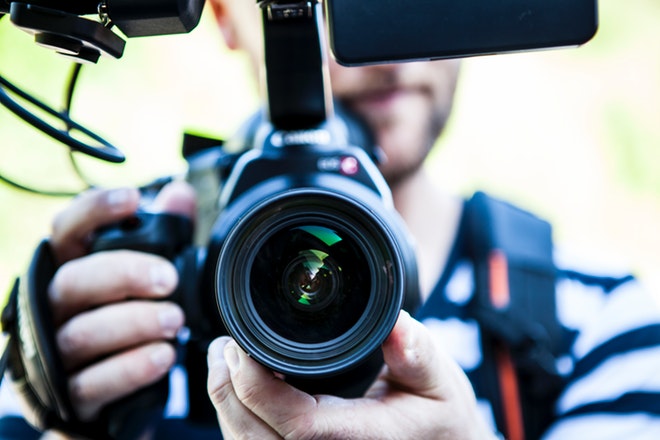 Corporate videos are always known for their precision irrespective of their duration. Not only do they convey the message in a short video, but, they also keep the users engaged by adding the relevant elements. Not only do these videos convey brand story, but, their animated effects make them appealing as well as worth sharing. This is just because of the best video editing software used by the production houses. Since the software is pre-loaded with the multiple features, the post-production team prepares the video in an ideal manner to make it suitable for uploading online.
The automation of editing is now attaining the new-age improvement to make it a simplified process, on a whole! The whole idea of proper editing makes the video user-friendly for the target audience and the compelling plot always attracts new users who can easily understand the theme of the corporate video.
In fact, it should be mentioned that even a small glitch or if users are unable to connect with the video, then, the percentage of sharing it may be considerably low. With the advancement in technology, the video editing software is playing a vital role in communicating the essence of the business without amiss.
List of the best video editing software
Be it with the advanced post-production mechanism, attractive features or other factors which can influence the final outcome of video marketing, this software acts as an immense source of utility for video production companies. Let's take a look at the 10 best video editing software which beginners can count on:
Uses: Blender is among the top video editing software known for its compatibility with Windows, Linux and Mac. It is freely available and has been designed as a 3D animation suite. It is also available in the form of a commendable editing app. It caters to all editing needs to make the video of corporate video production companies easier and better.
Features of this software
Up to 32 slots for adding video, images, video and audio effects
Luma waveform, chroma vectorscope, Live preview and histogram displays
Adjustment layers, transitions, keyframes, filters and speed control can be monitored efficiently
Syncing, scrubbing, audio mixing and waveform visualization
Pros: It is easy to be used by beginners who want to explore new features of editing.
Uses: Available on Windows, Mac and Linux, this is one of the best video editing software with innumerable and beneficial features. Free version will be adequate for most of the users, though, professional version can unlock other merits of video editing as well.
Features of this software
High precision video trimming available in free version.
Multicam support.
Final video can be exported in 720p for YouTube upload.
Various video formats are supported.
Pros: A powerful video editing software with latest features.
Uses: Ideal for video editing and guidance is also available for beginners to hone their skills.
Features of this software
Simultaneous projects can be edited
VR editing
Shared projects
VR rotate sphere
VR audio editing
Video titling & graphics
Motion graphics templates
Pros: One of the best tools for video editing, transitions can be easily created between the clips and simple text layers can be created with Adobe Premiere Pro.
Uses: Beginners can get hands on training in video editing with guided lessons of Adobe Premiere Elements. It is an effective software for editing the video precisely.
Features of this software
Smart editing
Automation is added in the editing console
Effects can be seen in real-time
Grainy videos can be improved
Music can be remixed to desired length
Quick edit option enables easier accessibility
Pros: Step-by-step edit guide is available for the beginners to achieve perfection in the outcome.
Uses: Simple video editing software which can be used on mobile and desktop with utmost ease. It has multiple tools of audio mixing, motion graphics templates along with access to customizable titles for video editing.
Features of this software
Easy software for beginners
Edit on the go
Compatible with premiere pro
Magnetic timeline
Keyboard shortcuts
Optimizing video according to social media is enabled in the software
Pros: It has user-friendly interface and is compatible with other devices. This software is well-designed with organized layout.
Uses: Impressive and user-friendly video can be produced after editing it through this software. It can support any video format and involves high-performance digital editing as well as native support to make story-telling apparent in the edited video.
Features of this software
Non-destructive editing of clips
Zero sync problem in editing and storing video
Beginners can easily bundle video and audio clips in a movable package
Pros: It comprises of various plugins and has superior HD video capability. The software can be easily understood and operated on by beginners.
Uses: A fun video editing software to add effects, animation and fine-tune video before sharing it on social media or any other platform. It can be used on phone and tablet for easier accessibility. It can be easily downloaded and used for improving the quality of the video for post-production services.
Features of this software
Experience speed control
Several themes to choose from
Various music effects
Multiple layers
Audio filters for clarity
Pros: Social media integrations are supported by this video editing software. Creating multi-layered videos is possible with Kinemaster. It has easy and flexible adjustment tools.
Uses: This open-source video editor is available on Linux, Windows and Mac which enables beginners to create exclusive videos after editing. Loaded with animation and other transition effects, OpenShot software has a user-friendly interface which beginners can count on. Beginners' guide is beneficial in dealing with the initial usage issues.
Features of this software
Supports various audio and video formats for editing
Comprises of unlimited and multiple tracks
Desktop integration is supported
Clip resizing, trimming, rotation, cutting, snapping and scaling
Curve-based key frame transitions
Real time preview of video transitions
Pros: Professional transition and editing effects can be attained with this video editing software.
Uses: From basic functions of vide editing to advanced tools, this software allows beginners to create wonderful videos. Filters, transition, audio effects and text can easily be added to video while editing.
Features of this software
Add and edit background music
Supports various video and audio formats
Simple, efficient and easy to use movie maker
Free version of the software delivers quick editing
Transition effects can be applied easily
Pan-tilt zoom effects for clear view
Pros: Compatible with professional camera to create high definition video. The software offers simple drag and drop operations. Editing progress can be viewed in the movie box on the main page.
Uses: Intuitive tool for video editing wherein, creative effects, optimized performance and smart features can be applied together to make stunning movie. All the advanced features make this video editing software resourceful.
Features of this software
video editing for various formats of files
Creative drag and drop overlays, transitions, graphics, filters and titles
Premium collection of effects from experts of the industry
Corrects imperfections
Colour enhancement and correction for better view
Filters and effects make video impressive
Slideshow and movie variations available
30-day trial can be used by beginners before switching to pro version
Pros: Customizable templates are available for the beginners to edit videos. The interface of Corel VideoStudio is intuitive and it makes high impact video which can be marketed in an outstanding manner. Reaching out to target audience with high quality videos prepared with this video editing software will make your ad campaign effective.
Conclusion
In the era of digitization, forget traditional ways of post-production and estimating the timeline to edit the video. At present, corporate video production companies need to count on the editing software that can make the entire process of finalizing the video efficient and better. The whole idea of investing in the best video editing software is to automate the process and expect incredible outcomes.
Furthermore, when the video will be ready to be shared on social media platforms or any websites, then, the target audience can also readily click on it. The important point to be remembered is that being a beginner, one has to conduct research so that software is understood properly before trying hands on its application.
As a result, they will be able to achieve mastery over the software in a phenomenal manner. On the other hand, being a part of the production house, the newbie video editors will get assistance and guidance to use the software without any hindrance. This will help them in polishing their skills and create engaging videos post editing.
On a whole, it can be concluded that the list of above stated software is worth a reflection. No matter, there are many apps, movie maker software and video editing tools in the market, but, these recommendations are user-friendly and can be easily used by the beginners. Make video marketing campaigns successful with engaging video edited finely with the best software!