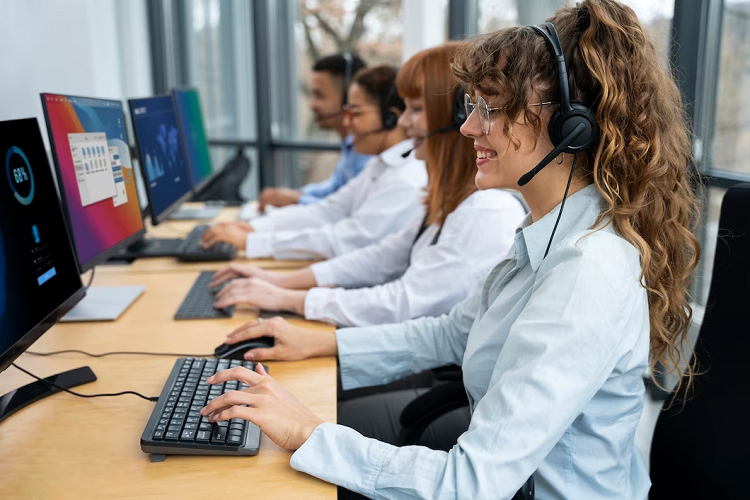 A high-quality customer experience is essential for any business to succeed and stay ahead of the marketplace. Yet, addressing every customer's request can be challenging.
Handling all the inquiries and calls clients make is a daunting task, even for a group of professionals. This is where the call center software comes in. The software for call centers was created to ease pressure and improve customer services in all businesses.
In this article, we'll review the advantages of call center software for small enterprises. Let's start by finding out what a call center software is.
What is Call Center Software?
Call center software facilitates the normal duties of a call center. This includes controlling calls, SMS, emails, and social media. This vital tool can handle all aspects of the process, from harmonizing the tracking process, to sending outgoing and inbound calls to the correct agent.
Also, the call center software allows users to track and record calls to keep them up-to-date and aligned to the demands of your customers. This can help increase the efficiency of your call centers customer service team.
Call Center Software and Its Benefits for Your Small Business
A call center's main function is to handle and receive the company's inbound and outbound calls. But, it also serves various other functions for your call center companies. All it depends on is what you're dealing with in your business.
The best and highly advanced call center software is the key that unlocks great customer experiences. It enables call support agents, sales and marketing teams, and customer service teams to manage client interactions through various communication channels, including;
Email
Voice
Text messaging
Messengers
Chat bots
Web chats, and more.
The call center software can help your small businesses build solid customer relationships, and enable agents to deliver fast-paced, and personalized customer experiences to callers.
For instance, you can use call center software to handle questions related to marketing and technical issues. There are other requirements associated with a call center software like the following:
Handling customer support tickets
Answering queries
Answering emails
Interactive using visitors' "live chats
Appointment booking
Handling general concerns
Depending on the type of program, call center software can carry out other tasks. Call center management software that is hosted in the cloud can be the best option for small business growth. Furthermore, you'll enjoy other benefits of call center software, such as those listed below:
1
Prompt And Remarkable Customer Support
Whenever a customer has a problem with an item or service purchased from you, they expect prompt assistance. Also, anyone new to your products or services might have concerns. Suppose you are looking to address the clients' requirements and still keep them coming back. You must ensure that they receive immediate support.
With the right call center application, you can efficiently manage customer inquiries, resolve issues, and ensure customer satisfaction. As a result, you will meet their wants and win their loyalty as repeat customers. They'll also spread the word about your business to their friends. This is how a business grows.
Call center software can boost your efficiency in a variety of ways. The first is that every customer or guest receives their message almost immediately. Also, it aids you in managing all queries that are related to sales and ensures the issue is addressed. The software also allows the employees and agents to focus on other tasks to improve your business' efficiency.
It increases productivity and draws many customers through the seamless management of sales. They help with inquiries, comments, and various other tasks. Your product or service will have a huge collection of happy clients and customers.
Ultimately, increased productivity will help grow the small-scale business you run. Besides, further productivity will depend on several aspects, such as how you interact with customers. A custom-designed support system plays an even more significant part.
The acquisition of call center software will save you from the cost of hiring more employees to answer customer questions. This also helps with comments, questions, or technical issues that need immediate attention.
It also means you don't have to build or lease spaces for employees or agents to be able to work. So, you can help clients while reducing unnecessary expenses for office spaces.
Software helps in the reduction of costs for activities since the program comes with many functions.It also prevents missing calls or customer orders, an issue with call center agents that may be overwhelmed by huge calls.
Handling personal data and sharing it with various agents may not be secure for you and your customers. However, keeping your customers' private data secure with the software for call centers is possible. CRM for call centers often utilizes the most effective security tools for protection.
Cell center software protects passwords as one of its most stringent security measures. It also protects your data encryption, user access control, and backups to ensure security in the event of an unexpected loss.
None of the above features are accessible if you use people to handle customer inquiries and provide support. So, it's crucial to choose your firm's most effective call center support software.
5
Useful Customer Support Analytical Reports
An excellent call center application will help you to deal with customer requirements. It provides reports you can use to enhance your business's efficiency. Software programs give you instant access to information. Hence, you can receive reports that show important things like:
Call volume daily
New versus returning calls
Different regions of the world
Missed calls
Hours of peak call
Other important insights
Furthermore, it's hard and costly to produce data and reports manually. Don't forget the possibility of errors when agents create manually-generated reports. So, you need to use a good software program. Here, the reports you generate can be useful for decision-making, as well as for timely assessment of business performance.
Conclusion
Each day, your company must deal with massive quantities of customer center complaints. How you handle them affects various things including productivity and growth. If you can respond promptly and ensure your clients receive the help they need, you can stay ahead of the competitors and expand your business.
In this post, we've explained the benefits of using call center software for small-sized businesses. Implementing the most effective call center software can lower costs and ensure your customers receive prompt focus. With the best call center customer service software, you'll definitely provide your clients with exceptional customer service!
FAQs
What is Call Center Software?
Call center software manages calls, messages, and other communication channels in a call center, improving customer service.
How can Call Center Software Benefit Small Businesses?
Call center software enhances customer support, boosts productivity, saves costs, ensures data security, and provides useful analytical reports.
Can Call Center Software Improve Customer Support?
Yes, it enables prompt assistance, resolves issues efficiently, and delivers personalized experiences for better customer satisfaction.