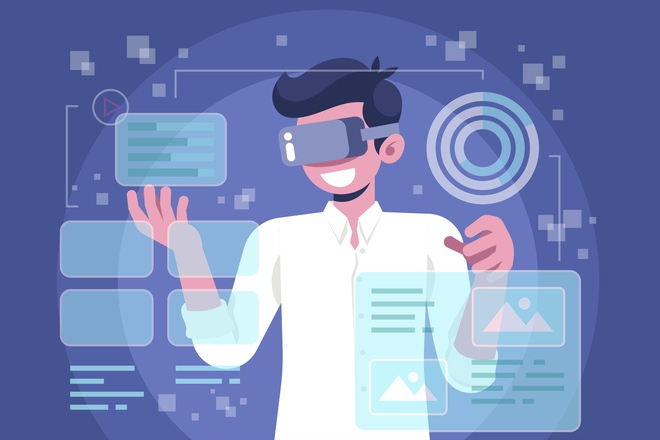 Let's see the best augmented reality (AR) examples and trends in the modern age. The pandemic and the current rising cases have caused the entire world to come to a halt. Plus, the increased use of technology and the advancement in tech has really spiked ever since the beginning of the pandemic. it shows no signs of slowing down.
Since market leaders such as Microsoft, Google, Facebook, Apple, and Amazon have been utilizing commercial use of tech, augmented technology has gained popularity in 2020. Several sources have given an approximation of the AR technology to be worth $13.5 billion which makes it even more interesting for people to explore the different trends which drive the augmented realty market forward at such a great force.
10 AR Trends to Look Out for in 2021
Here are a few examples and trends to look at for AR technology:
The use of AR tech has mostly been confined to smartphones. You must have used the smartphone feature where you just must point your device at an object, logo, or print image or by sound recognition or location and trigger tailor made AR content.
Mobile AR is compatible with most devices including iOS and Android devices, as well as tablets, smartphones, or wearable devices. The feature gives users the capability of creating snapshots of the enhanced environments with the additional ability of sharing these online.
2
Shopping and Retail and AR
Retail industries have provided users virtual options to shop their products online. Some of the brands who offer this are Lacoste, Sephora, Uniqlo, and American Apparel. Some brands have even crossed the steppingstone of providing virtual try rooms to their customers.
AR technology has also been implemented on environments which means furniture stores or home décor shops allow buyers to check what a specific design would look like in their home. Take the example of IKEA, a brand that offers AR to its users.
AR can be used for enhancing the experience of indoor navigation at different scales. Tools such as Bluetooth beacons, QR codes and even ceiling antennas can be used to enhance this experience.
Indoor positioning can be handled by Apple's iPhone AR in case a stable Wi-Fi connection is already available. Plus, in store navigation has also gained a lot of popularity since its introduction because it helps customers find exactly what they are in search of while shopping in a store.
4
The Role of Artificial Intelligence in AR
One cannot overlook the role of Artificial Intelligence (AI) in Augmented Reality (AR) technology. Human programming is not adequate to cater to the high demands placed upon augmented reality software and hence machine learning as well as neural networks are used to complete these tasks with higher efficiency.
AR and AI both can play a supportive role together by analyzing and collecting training data. This is necessary for a machine earning program designed to support AR software to be successful. Models need to be optimized and fine tuned before they are integrated and deployed by engineers.
5
Virtual Manuals and Remote Assistance
Ever since the beginning of the pandemic, telework has increased drastically. Consequently, to maintain the efficiency of certain professions new solutions are required. Take the example of IT screen repairs. IT technicians use Augmented reality which gives guidance to customers through on-screen directions.
With this technique all the users must do is hold their smartphone up to the camera and the technician will just draw over the screen for the purpose of highlighting areas of interest. Another live example is where vehicle dashboard information, or insights into the factory machinery are given to workers through R-based virtual user manuals.
6
Automotive Industry and AR
The automotive industry is one of the most impacted ones out of all by AR technology. AR HUD are used for driver's safety. Drivers can be informed of potential hazards which they might have ended up ignoring because a distraction or obstructing their view of the road.
Aside from driver's safety, this technology can also be used for automotive marketing through applications which allows customers to experience a newly launched car in their driveway. This eliminates the need for go to the dealership. Consumers can also view the different models in various colors.
7
Portable Augmented Reality
Although AR tech is highly convenient for smartphone users, it still does not cater to the needs of shoppers and everyday tech consumers. You do not get the proper AR experience when holding up a smartphone, plus it can be quite distancing. A headset based on AR tech takes viewing simulated objects through a smartphone's camera to the next level.
AR glasses are also on the way according to sources. However, before they make a major stake in the market, they require quite a lot of time. Even so, AR glasses will prove to be very revolutionary once they arrive.
Sports industry can also use WebAR which allows Experiences delivered through QR codes. This strategy through interactive AR content enhances marketing strategies. holograms of sports players can also be created using AR technology which will allow interaction within people's own homes.
AR has taken the lead from Virtual reality because of its easy accessibility. It is much easer to use AR technology because it can be used on smartphones while VR is limited to just expensive and huge headsets only.
Because of the social distancing and deadly pandemic one of the major industries that has been impacted severely is the educational institutes. e-learning students can now benefit from augmented reality since it offers several applications which enhance their learning experience.
student focus will be increased with the use of AR technology or education since the learning modes at home will become diversified with the expansion of visual content for students who are more visual-focused.
Consumer devices are showing most support to LiDAR technology since it unlocks the door to a plethora of possibilities for augmented reality technologies in 2021. People occlusion is one of the most important opportunities provided by LiDAR which allows the occlusion of objects in the frame by the people.
The future of AR is bright especially considering how the market will be climbing up to $25 billion by 2025.