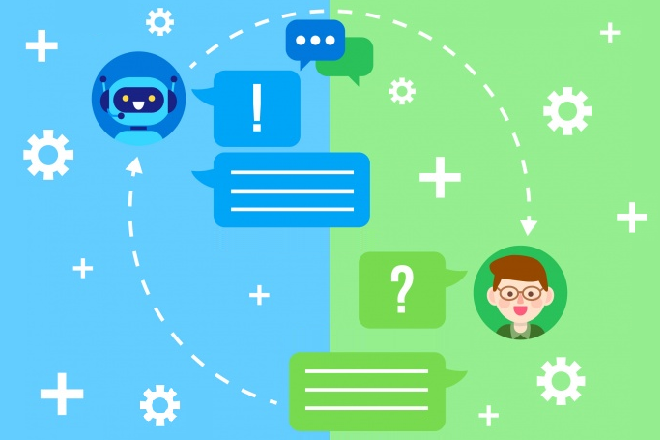 With the pandemic, you almost can't recognize the business world these days. Many small companies have closed. At the same time, others are reevaluating their business models to try and stay afloat.
Maybe you have a company that once had brick-and-mortar locations exclusively, but now you're thinking about moving into eCommerce. It's sensible when you consider how you can potentially grow your customer base that way.
You'll need an excellent marketing strategy and every modern website feature that your visitors will expect. Chatbots are one of those. Here are four reasons why you need them.
You Don't Need a Whole Staff Constantly Available to Answer Questions
We could easily go over 10 benefits of chatbot marketing or more, but we're going to stick to just a few basics. First, you need to understand what chatbots are. They are:
Software applications
For online chat conversations
Able to do either text or text-to-speak communication
If you have chatbots on your eCommerce site, you can program them to answer some of the more common questions your customers are likely to have. If you set them up that way, then you don't need to have several staff members there to answer those queries.
You can instruct the chatbot to only direct the customer or potential customer to a live operator if they have a question that it can't answer. This way, you don't have to pay for nearly as many staff hours. This is how chatbots save you money.
Constant Support
You also have to acknowledge that unless you're a huge company, like Amazon or something along those lines, it's almost impossible for you to have people standing by at all times to answer customer questions.
With chatbots, you have:
Someone there to answer customer questions at all hours of the day or night
An automated support system in place to calm down angry customers
The chatbot might occasionally not be able to deal with a customer's problem or concern. If so, it can pass along the query or complaint to a help desk where a human can respond.
Even if the person has to wait for a few hours to get a live human response, at least they can get the ball rolling on their issue even during off-hours.
The Chatbot Can Recommend Things
If you create an AI-infused chatbot, then it can often help the customer without ever needing human assistance. That's because it can create an accurate customer profile based on a few simple answers the site visitor gives it.
The chatbot can quickly assess what it can do to help the customer. Maybe if this individual is having issues with a particular product, the chatbot can recommend a suitable replacement. Based on the problem's nature, the chatbot might recommend an action based on prior client interactions.
Chatbots learn through customer communication, so the longer you have one operating, the better it can help new website visitors with whom it interacts.
Chatbots Can Nudge Your Would-Be Customers to Buy
Customers don't only have to contact chatbots when something is wrong. You can also program a chatbot to reach out to a website visitor who has abandoned their shopping cart.
Many would-be customers abandon a full shopping cart because they change their minds somewhere along the way. Perhaps they decide that an item is too expensive, or something distracts them.
It does no harm to program your chatbot to remind the website visitor that they have products in their cart when they return to the site. The chatbot can pop up and tell them about the items. They don't have to buy, but maybe this extra nudge will get them to move forward.
With chatbots, there are a couple of other things to remember. The first is that you want to be transparent. Never let a customer think they're talking to a real human being. Have the chatbots identify themselves.
You should also have the chatbot inform the potential customer that it will keep private any information that the individual shares with it. The chatbot might pass a question on to a human operator if the customer tells it that's okay, but stress that it will never sell or share customer data with other sites or business entities.
Getting into eCommerce might save your business in this tumultuous year, and if you're going in that direction, look into creating a chatbot for yourself. You'll be glad you did, and site visitors certainly will be as well.