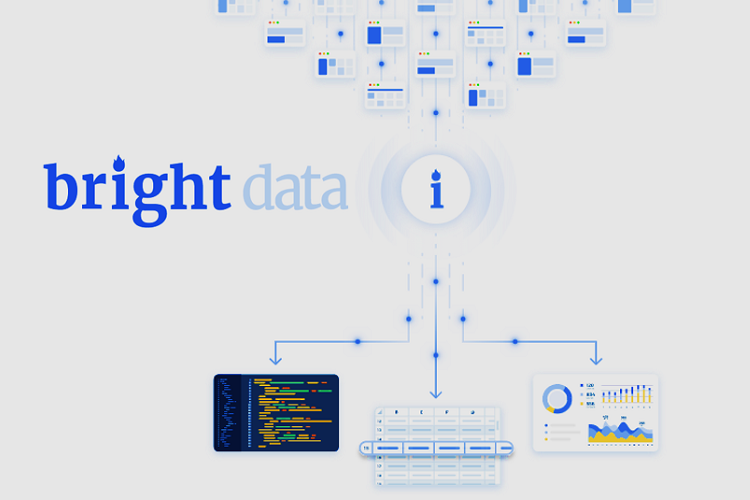 Bright Data is a leading proxy provider on the market today. Their services and features are unique and exclusive.In the past, Bright Data was known as Luminati and provided quality services to its users.
Bright data Review offers a comprehensive analysis of Bright data, a software platform designed to help organizations gain insights from web data, so they can make informed decisions. This review will provide an overview of the platform's features, capabilities, and pricing, as well as insight into how it can help you make the most of your investments. With an in-depth look at Bright data review, you can better understand the potential features, benefits and risks involved in using the platform and make a more informed decision about whether it's the right fit for your needs.
Features of Brightdata
Bright Data is the industry leading web data platform – innovating products that make public web data accessible to all.
– Proxy infrastructure, the industry's most reliable and best-performing proxy networks
Bright data offers a proxy network that has many features to help you with your online needs. Their proxy network includes all types of proxies, from residential to datacenter proxies, as well as SERP (search engine result page) API  and Web unlocker capabilities.
Their residential proxies are perfect for businesses that need to protect their networks and access local content and services. These proxies are provided by ISPs, so they are reliable and fast. They also come with a variety of authentication methods, such as username/password, IP authentication or even whitelisting.
For those who are looking for more specialized proxies, Bright Data's datacenter proxies are a great choice. They provide high-speed connections, unlimited bandwidth and great anonymity. They also offer support for a variety of protocols, such as HTTP/S, SOCKS4/5 and SSH tunneling.
Finally, their SERP API capabilities allow you to access blocked search engine results pages. This is perfect for businesses who need to access information that may be restricted in certain regions or countries.
Overall, Bright Data's proxy network is a great choice for businesses looking for reliable and secure proxies that provide a variety of features.
– Leading the Web Data collection world,Structured public web data on-demand
Bright Data offers two main web data products – the Web Scraper IDE and Datasets:
*The Web Scraper IDE is a powerful tool designed to help you extract data from websites quickly and easily. It has an intuitive drag-and-drop interface, so it's easy to use even if you're not a tech-savvy person. The IDE also allows you to run your scrapers in the cloud, so you don't have to worry about running them on your own machine. With this tool, you can also visually test your scrapers and debug them, so that you can be sure that they are extracting the right data.
*The Datasets product is all about making data easy to access and use. It provides access to pre-built datasets and APIs, as well as tools for creating your own datasets. With this product, you can quickly search for datasets that match your specific needs, or create your own datasets from scratch. The Datasets product also makes it easy to share datasets with others – you can easily export them in various formats, or even share them via a public URL.


Pros and Cons
Pros
Cons

Large IP pools, global coverage
100% Compliant, Completely Legal
24/7 support, Excellent Customer Service
99.9% uptime guaranteed
Highly reliable and flexible
Excellent Proxy Network Speed
Powerful Proxy Control
Next-gen Proprietary Technology
Different IP Types
Secure login option
Ready made option for web data
7-days free trial for company
offering free sample data

Expensive proxies
Strict approach to compliance and abuse preventions, requiring KYC process before using their network( which somehow their proxy qualities is best in the market)
Dashboard is complex for new users
Pricing and Packages
Brightdata is offered as a subscription service and offers Pay per use. The platform can be accessed as a SaaS service or installed on-premises, depending on your needs and how you want it to be deployed.
You can start with a simple and transparent pay-as-you-go plan. The prices are:
Datacenter: 0.8 USD per IP, 0.11 per GB.
Static residential: 0.50 USD per IP, 15 USD per GB.
Residential: 15 USD per GB.
Mobile: 40 USD per GB.
Choosing a monthly payment, which is a longer commitment, will get you a discount. For example, the residential plan's price per GB goes down 15%. And if you pick a yearly plan, your costs go further down by 25%.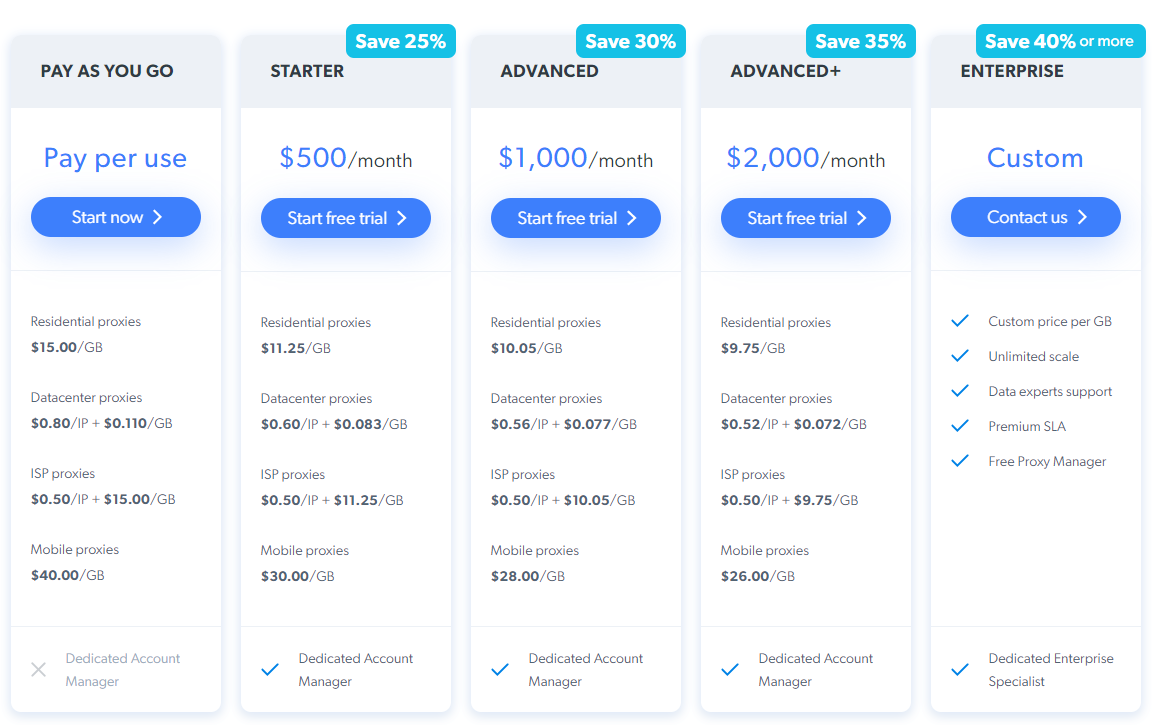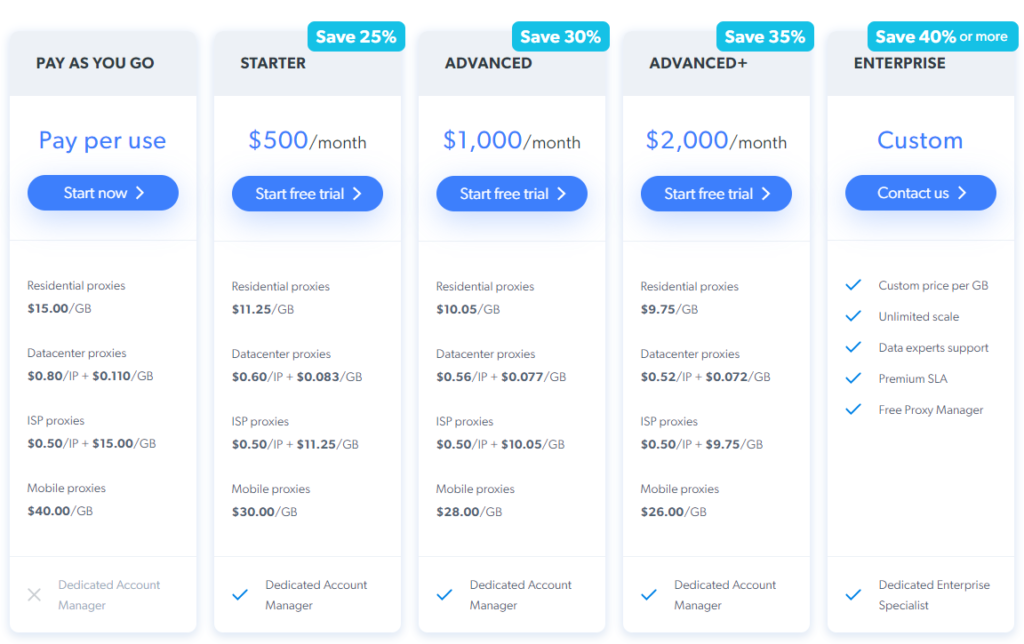 Customer Reviews
Bright data has received positive reviews from users, with an average rating of 4.8 out of 5 stars. Users have noted that the platform is easy to use, comes with high-quality data science and AI algorithms, and offers a centralized data warehouse for easy collaboration. However, a few users have expressed concern about API integration for starters.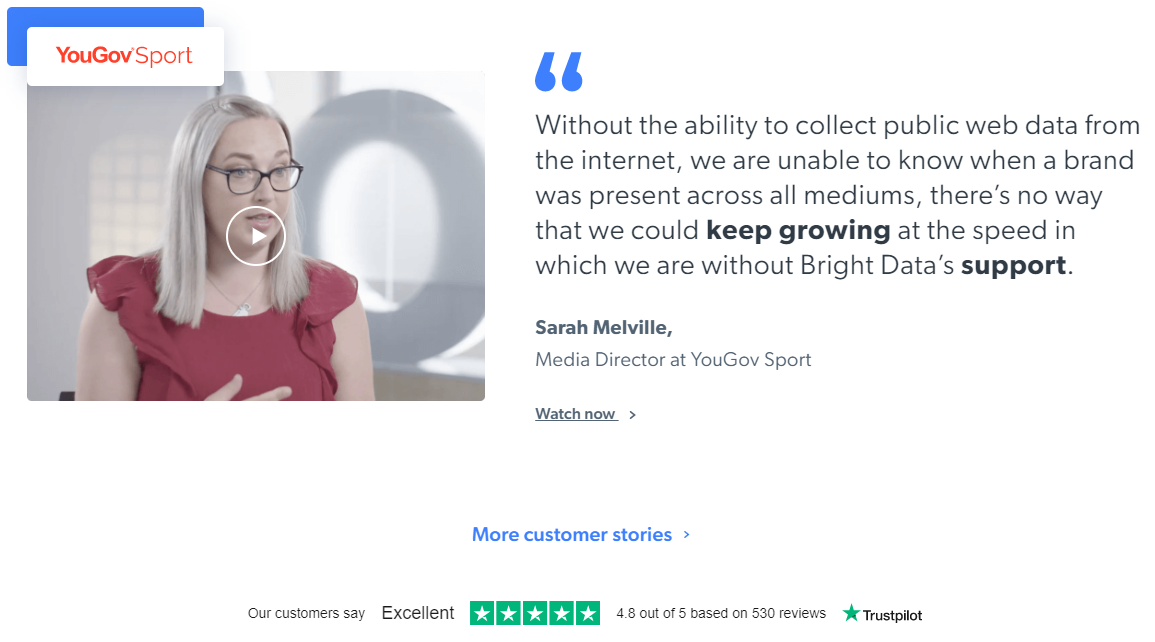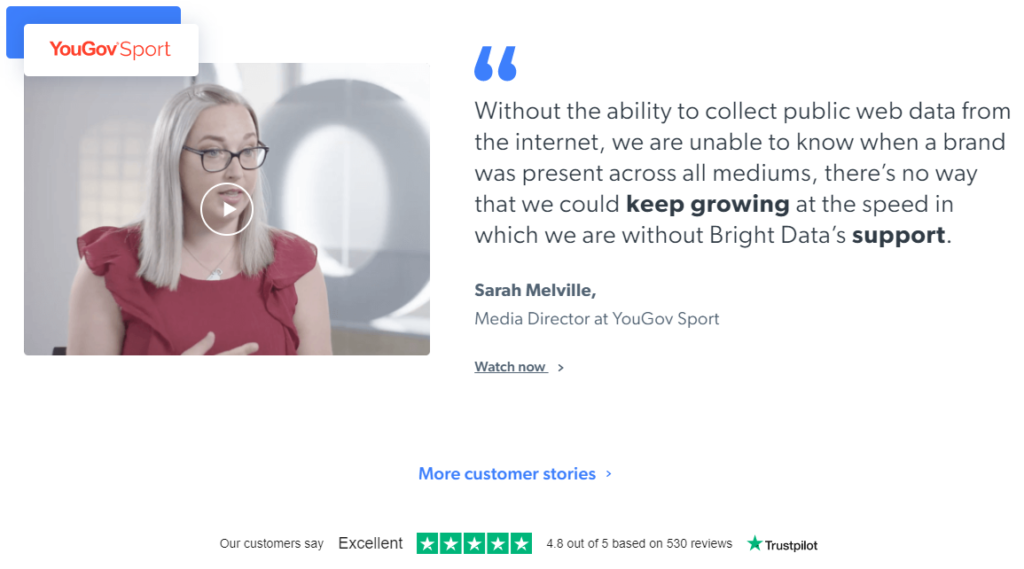 Summary and Conclusion
Overall, Bright data offers premium proxy service and leading the web data industry.  The platform is built on an architecture that enables users to get access to public data with/without coding. Additionally, the platform is easy to use, offers a flexible pricing model, and is designed to meet the needs of all different types of organizations/companies.
Image Sources: Bright Data