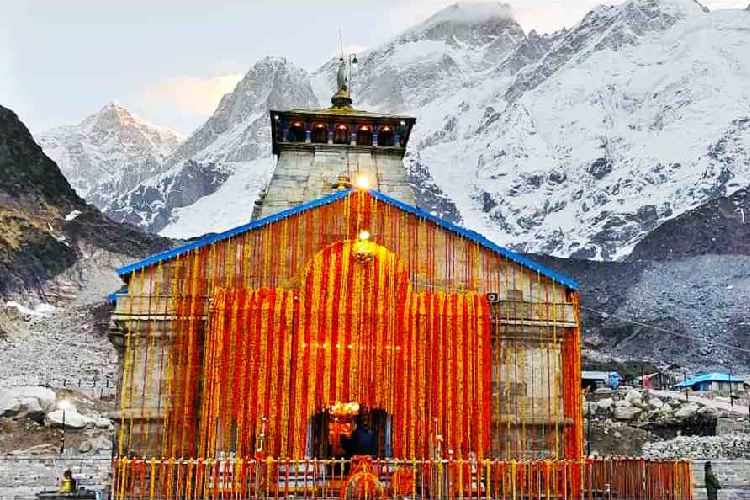 If you cannot find Lord Shiva anywhere else, they say, you will embrace Him at Kedara. One of the Char Dhams of the divine Himalayas, Kedarnath is a sacred pilgrim settlement in the Rudraprayag region of Garhwal, Uttarakhand.
It is most famous as the home to one of the 12 Jyotirlingas of the Hindu God, Lord Shiva, and so, is flocked by tourists and devotees throughout the year. However, it is not an easy task to reach the Kedarnath shrine considering it is nestled at 3584 m above sea level.
So, if you are planning for a Kedarnath trip, this travel guide will be a valuable resource to make your travel safe, enriching, and comfortable, especially if you are over 50.
The History of Kedarnath
The history of Kedarnath dates back thousands of years, with references to the temple town found in ancient Hindu scriptures. The Kedarnath Temple, built in the 8th century, is a marvel of stone and woodwork, with intricate carvings and a unique blend of architectural styles. Legend has it that the temple was established by the Pandavas of the Mahabharata epic as a penance for their sins.
Kedarnath also holds a significant place in Hindu mythology and is amongst the twelve Jyotirlingas, representing Lord Shiva's cosmic energy. It is thus believed to be one of the holiest abodes of Lord Shiva, attracting devotees from far and wide who seek blessings and spiritual solace.
Beyond its spiritual allure, Kedarnath's historical significance is intertwined with tales of resilience and restoration. The temple has witnessed destruction and reconstruction multiple times, with the latest restoration efforts after the devastating 2013 floods, showcasing the unwavering devotion and determination of the people.
Planning Your Kedarnath Trip
Embarking on a trip to Kedarnath requires careful planning to ensure a smooth and fulfilling experience. So, this Kedarnath tour guide will come in handy to plan your trip.
Best time to plan your Kedarnath trip
Kedarnath is covered in snow most of the year, so the best time to book Kedarnath tour packages is May and June, and then September and October. The Jyotirling remains closed from November to March (tentatively).
How to reach Kedarnath
The most convenient mode of transportation is by air. Book a flight to Jolly Grant Airport, Dehradun, and take a cab from there to Gaurikund. From Gaurikund, you can trek to Kedarnath if you are fit and walking in the mountains excites you.
If not, you can take helicopter services from Guptkashi, Sersi, and other spots. However, it doesn't match the fun of trekking your way to the source of Mandakini, Kedarnath, because of all the waterfalls, springs, rhododendron forests, snow-covered peaks, and colourful meadows that you will get to see, soak, and touch.
The roads to Kedara are well-connected, so you can drive to Gaurikund. The closest railway station is in Rishikesh, at a distance of about 238 km.
Where to stay on your Kedarnath trip?
There are several accommodation options in the town but the best place to stay is Garhwal Mandal Vikas Nigam (GMVN) run by the Uttarakhand government.
You can also book a stay in private hotels, hostels, ashrams, dharamshalas, and homestays that dot the entire town of Kedarnath.
What to do on your Kedarnath trip?
While mythological connotations are the main attraction of visiting this pilgrimage town, our Kedarnath travel guide recommends a visit to the following places:
Pay homage to the revered Kedarnath Temple of Lord Shiva. If possible, participate in the morning and evening aarti (prayer ceremonies) to experience the divinity of this temple.
Visit Vasuki Tal and Gandhi Sarobar or Chorabari Tal to soak in the breathtaking beauty of the mighty Himalayas and fall in love with the scenic beauty of mother nature.
Seek blessings at the Kali Temple of Kalimath, Bhairav Temple, and Gaurikund Temple and solace at the Shankaracharya Samadhi.
Practice yoga or meditate amid the high spiritual energy that surrounds this entire town.
Go for the Kedarkantha trek, which has its base at the Kedarnath Temple.
Visit nearby destinations like Gaurikund, Guptkashi, Ukhimath, and Sonprayag.
Immerse yourself in the local culture, try Garhwali cuisines, and explore the vibrant bazaar to take back souvenirs.
Some tips for your Kedarnath trip
Pack warm clothing, sturdy footwear, a raincoat, a first aid kit, and any necessary medications.
Carry sufficient cash as ATM facilities may be limited in the region.
Remember to check the weather conditions and the opening and closing dates of the temple before planning your trip.
Make advance bookings for accommodations in Kedarnath or nearby towns like Sonprayag or Gaurikund.
Our Kedarnath tour guide suggests at least a week to enjoy the journey, stay, and visit the main attractions in the town.
If planned well, your Kedarnath trip can be a soul-stirring experience filled with spiritual blessings and nature's wonder, and that is reason enough to book the best Kedarnath tour packages by Thomas Cook. You can visit the Thomas Cook website to check out their Uttarakhand tour packages.