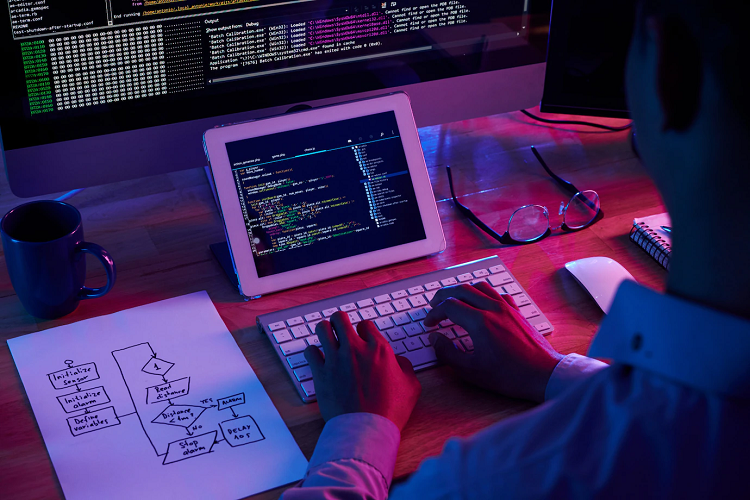 Whether you want to buy an existing website or sell app source code for whatever reason, the bottom line is profit. Purchasing an existing website may result in a quick income turnover. Selling a side project or app is another way to make fast money.
After researching, I discovered numerous websites allow users to buy and sell app source code. I have compiled a list of the best marketplaces I've found. Some websites sell complete source code suitable for app reskinning, while others sell code fragments that save you time during the app development process.
If you are a mobile app developer or want to build a profitable portfolio, you can make money by buying and selling mobile app source code. Whether you are an iPhone or Android app developer, mobile app marketplaces are a boon to the app developer community.
Why Buy or Sell App Source Code?
Mobile application development is a highly competitive market, and meeting clients' needs is a difficult task for developers. When meeting client deadlines, buying app source code from marketplaces can assist you by providing ready-made working modules to complete your iPhone or android projects on time.
Mobile application marketplaces also provide exciting opportunities to earn extra money by selling mobile app source codes at reasonable prices. Some people are willing to pay a competitive price for unique and functional source code.
Best Marketplaces to Buy & Sell App Source Codes
Nowadays, developers are looking for marketplaces where they can easily buy or sell source code for their games or other utility apps. Buy and sell mobile app source codes will save your time from developing app.
CodeCanyon is the world's most popular marketplace for purchasing various products. Themes, game source code, plugins, skins, video effects, stock footage, and other items can be purchased here. CodeCanyon has thoroughly verified the sellers so that you can buy with confidence.
They have a large inventory of the items listed above and can quickly locate your preferred item. Discover the best-rated things from the world's top developers. Each item on this page includes a detailed information app preview. Each item's number of sales, star rating, and the flat price is also displayed.
Flippa is one of the best marketplaces for purchasing ready-to-use source code for online businesses, domains, apps, and games. It is elementary to list your resource and attract prospective buyers. Many top bloggers and website flippers purchase monetizable websites.
More than 1.5 million people consciously use this marketplace to find a better deal. Search through hundreds of iOS and Android apps for sale. Some well-known apps provide a detailed earnings report. The platform offers gaming source codes in various categories suitable for any development or business.
Flippa's integration provides payment security with Escrow. Your payment will be held until the transfer of the app source code is completed. Before bidding on an app, please read the seller's note and any attachments because it displays all of the app's details.
Codester is a reputable online marketplace where you can buy and sell website templates, scripts, plugins, and apps. If you've been in the programming industry for a while, you've probably heard of Codester. Thousands of programmers use this platform to buy digital assets and source code.
Create an account on Codester, and you can download four files for free each week.
This platform includes scripts in programming languages such as Java, Python, Ruby, PHP, JavaScript, CSS, C++, and others, in addition to game source code. You can earn up to 70% commission with no limitations.
Over 4K app templates and source codes are available for download. After purchase, you can modify and customize the designs to suit your needs. All the source code available on Codester includes quality assurance, free support, future product updates, and so on.
Empire Flippers is another popular marketplace to consider if you want to buy or sell source code of easily profitable websites.
The platform is a reputable marketplace that has sold websites worth millions of dollars over the years. As a result, the chances of getting a good deal and marketing your website quickly and without a hitch are high.
Before accepting to list their business for sale on the marketplace, the website also requires sellers to go through a thorough human verification process. As a result, only verified and authentic websites or apps are listed.
As a result, the Empire Flippers team is responsible for verifying the authenticity of an online business you wish to purchase.
SellMyApp is one of the largest and most well-known marketplaces for purchasing app templates. You can buy the source code for apps and games, and the platform provides a team to assist you with reskinning and launching. If you believe in a game template, you can rebrand it and include in-game advertising to generate revenue.
App templates for iOS, Android, and iWatch are available, and they are built with frameworks such as libGDX, Unity, Native iOS, Native Android, Cocos2dx, and BuildBox. If you are an app developer, you might wonder, "Where can I sell my app?" "This platform is also useful for that."
Game Gorillaz is a well-known and reputable digital marketplace that serves the needs of app developers. The smartphone gaming industry is thriving, and businesses are eager to get involved. Making a game from the ground up can be costly. As a result, the source code marketplace offers a cost-effective way to develop a game.
Game Gorillaz distinguishes itself as a platform by offering low-cost source code templates for Android, iOS, 2D, 3D, and Unity 3D. A team of game developers tests all of the source code available on this platform. As a result, you will receive high-quality, bug-free templates.
Smartphones can now run high-end gaming software. As a result of this source code, you can create a game that users enjoy. Filters can be used to refine search results and make it easier to locate specific source codes.
SellMySourceCode is an open marketplace where you can buy and sell source code, including websites, mobile apps, databases, small projects, and more. It is one of the best places to make money as a programmer online.
To list your website or app on the SellMySource.com marketplace, you must first complete a simple initial verification process by answering a few questions and providing the URL of your project. However, because this is an open marketplace, you will also deal with buyers directly.
Rangii Studio is another well-known app source code marketplace where users can purchase app and game codes. You can buy game and app templates to reskin games. A reliable platform immediately delivers source files after purchasing.
Hundreds of developers are already utilizing this platform to meet their daily requirements. This platform contains over 6.8K app and game source codes. The website interface is pleasant, and the source code is easily accessible.
Rangii Studio's pricing is reasonable, and the quality is never compromised. You can use this platform to promote your app and attract potential buyers. The support team is very active and responds quickly to customer inquiries.
App.net is another well-known marketplace for purchasing app and game source codes. If you are a developer looking for a reliable platform to obtain code templates, APP.net is a good option. Thousands of app developers and game programmers use the platform to purchase digital assets.
It has a simple and functional interface that allows visitors to purchase quickly. A team of experts reviews each source code listed on this platform. As a result, you can expect only high-quality, bug-free code.
Each app listing includes detailed information such as screenshots, supported devices, technical aspects, etc. The App.net library contains hundreds of source codes, which you can find using the search bar. Register free to access additional features such as forums, a code editor, etc.
Codelntra is the best place to buy and sell SaaS, e-commerce, and content development websites, with thousands of investors visiting each month.
However, the websites listed here are not for the faint of heart, as they frequently have high valuations. If you have a large budget, it is an excellent place to search for credible online businesses in these niches.
Codelntra has a strict merger and acquisition system, with its business managers assisting sellers in locating serious buyers for their websites. As a result, it connects only qualified buyers with verified website sellers in a closed marketplace.
The marketplace is a list of available websites for sale, along with their annual value, asking price, and a brief description of each one. It charges sellers for its services only when its business advisors successfully close a deal.
Conclusion:
So these are some of the best online marketplaces to buy or sell app source code. High-quality game source code accelerates development and allows for price optimization. Ready-to-customize source code can save up to 90% on development costs. Check the marketplace above for the game source code. Remember that when purchasing published apps, you must conduct thorough due diligence.