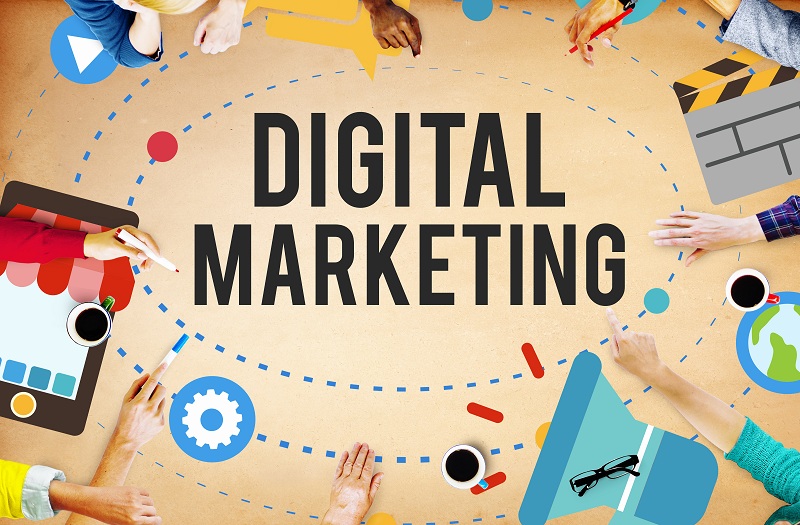 Nowadays, digital marketing is one of the firms' most crucial strategic efforts. Companies can use it to customize their messages to a certain audience. Digital marketing refers to any online advertising. The best explanation of the phrase that has become ubiquitous in today's corporate world may be found here.
You can reach your target market through their current channels by utilizing various digital marketing strategies to promote your business's online products and services. Digital marketing is vital to compete and stay current in your industry. However, you lose many chances to connect with your target audience if your company has no online or digital presence.
The necessity for digital marketing agencies has grown dramatically as business demand for digital marketing rises. By providing advice on digital marketing, a digital marketing agency helps small, and large businesses grow by bringing in more customers.
Let's examine different types of digital marketing in the following blog.
10 Types of Digital Marketing
Here are ten of the most successful types of digital marketing to assist you in deciding which ones would be most beneficial for your company:
1
Search Engine Optimization (SEO)
SEO is one of your company's most crucial types of digital marketing. The basic goal of SEO is to improve a company's ranking in Google search results, which will increase traffic to the company's website from search engines. For example, the Search Engine Journal reported that more than half of all web traffic goes to websites listed on Google's first page.
The search engine optimization technique ensures that your web pages or articles appear at the top of search engine results on platforms like Google and Bing. SEO tactics and efforts have grown as websites have multiplied in number. Knowing the keywords that the audience you want to reach makes SEO more effective.
The frequency of these keywords and the quality of your content will influence where your website or blog will appear on the search engine results pages (SERPs). The better your company's ranking, the higher it is. Therefore, you must make SEO a top priority for your company if you want to increase sales and reach more customers online.
Pay Per Click, or PPC, boosts website traffic, where you pay the publisher each time your adverts are clicked. Although PPC includes display and affiliate advertising, it is comparable to SEM. Therefore, it resembles the premium SEO version. Google Ads is one of the most popular PPC advertising formats.
PPC ads can be a quick fix; many use them to move inventory or promote special offers during particular seasons to increase sales. A typical PPC approach, such as a Google AdWords campaign, only charges you when a user clicks on your advertisement and navigates to your website.
When you set up a pay-per-click campaign, you can also decide whether you want users in a certain region only to see your ads or promoted results or display them globally.
Every company's digital marketing strategy must include social media in some capacity. You can build brand awareness and increase traffic to your website and social media pages by promoting your business on numerous social media platforms.
The ability to communicate with your audience and the potential for proximity are some of social media marketing's biggest benefits. When your audience distributes your material through SMM, you could receive validation from them. Therefore, analytics is a critical aspect of social media marketing.
Furthermore, social media marketers need to be skilled at assessing the effectiveness of their postings and creating plans based on the data. Therefore, before implementing your new approach, it's critical to gauge the effectiveness of your current social media posts.
The practice of creating and distributing various types of content is the core of the "content marketing" subfield of digital marketing, which aims to boost leads and sales. A blog, social media postings, videos, infographics, podcasts, etc., are just a few examples of the available content formats.
The ultimate objective is to influence the reader to take a step toward making a purchase. You can interact with your audience through this marketing and respond to their inquiries. Additionally, it can assist in making sales and generating leads.
Regular content should be released with the intended audience in mind. By disseminating trustworthy material, your brand should grow to be recognized as an authority in the field.
Despite the popularity of social media, mobile apps, and other platforms, email marketing remains one of the most effective advertising methods. It is one of the most successful forms of digital marketing, and you can get notable outcomes with careful use.
Increasing revenue and brand awareness can be the primary goals of email marketing. One way to improve email marketing is to start a newsletter. A great approach to staying in touch with your customers after purchases or even sending them a newsletter is through email marketing.
People utilize smartphones more than any other technology in the modern world. Because of this, mobile marketing is now necessary if you want to connect with clients. SMS and apps can both be used for mobile marketing. Apps that perform the same functions as your website are becoming increasingly popular among mobile phone users.
Additionally, the software allows you to send recurring push notifications. It will maintain their interest in your product. Meanwhile, SMS can alert users about limited-time deals and promotions. It can also be used to target non-smartphone owners.
Affiliate marketing has gained popularity among many businesses to bridge the gap between customers and businesses as online marketing has grown in importance. By collaborating with affiliates, you can increase your audience. Additionally, it might help your marketing efforts appear more natural.
In affiliate marketing, content creators are paid a commission for each sale of a good or service they generate. The main benefit of affiliate marketing is that you won't need a large audience because you'll be able to connect with a community that content creators have already established.
The popularity of industry insiders and social media influencers is always expanding and is used in affiliate marketing. Your business will collaborate to market your goods or services in exchange for payment when dealing with these influencers from outside the company.
The process of producing a video is less expensive and simpler than ever. These days, even your smartphone can record 4K-quality video. Video marketing uses videos for advertising and marketing your product or service, boosting interaction on your digital and social channels, informing your audience through a new medium, and raising brand awareness.
You can use video marketing to promote your website and persuade them to buy your goods. Videos add a human element to your business, and clients are more inclined to purchase your goods or services if they can interact with your content.
Marketing campaigns that provide audio content rather than textual or graphic content are referred to as audio marketing. Although audio marketing has been around for a while, it's just recently established itself as a regular on the marketing calendar.
Audio marketing is a far bigger field than podcasts and includes smart home helpers like Google Home and Amazon Alexa. As more people listen to podcasts, fewer people turn on the radio. Instead, people prefer to listen to them while exercising or performing other mechanics.
You need to know your target market's behaviors to master audio marketing. As people listen to your audio, consider the potential actions they might take. By doing this, you can increase the possibility of sales for your digital agency firm via audio marketing.
A landing page in digital marketing is a separate web page made especially for a marketing or advertising campaign. Targeted landing pages can greatly improve conversion rates when used in conjunction with other forms of digital marketing. Any web page visitors first land on when they visit a website is considered a landing page in the broadest sense. In this way, home pages frequently act as landing pages.
However, many businesses also create specific landing pages for their marketing campaigns. For example, advertisements that show as banners on other websites or search engine result pages are linked to landing pages by digital marketers. Users are thus taken directly to the landing page created for the particular marketing campaign when they click an advertisement.
Conclusion
So there you have it! The various types of digital marketing that you might use for your company are all listed above. Hopefully, you now better understand the many forms of digital marketing. Therefore, it will be possible for you to get the ideal SEO services.
However, each organization will have a unique collection of platforms and tools for digital marketing that best suits its needs. Find out which digital marketing strategies are most effective for your company. Consider seeking assistance from an online marketing agency if you are still trying to decide which digital marketing strategy is appropriate for your company. They will help you choose the right one for you.