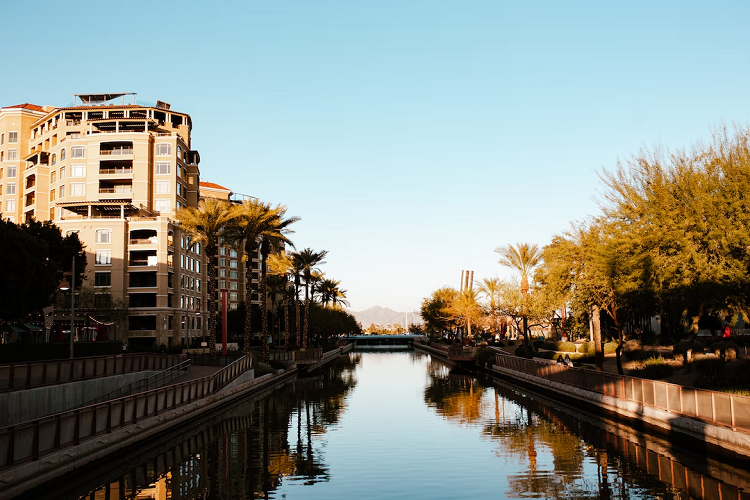 Some places have a life of their own. They are vibrant, happening, and lively. For instance, Scottsdale Waterfront, a mixed-use project sprawled across 1.1 million square feet, sets the benchmark for luxurious living, fine dining, and high-end shopping. The skyline is dotted with shiny multi-storied buildings, expensive offices, stylish restaurants, exquisite boutiques, and sophisticated shops, all of which make it a top lifestyle destination in Scottsdale.
Visit any time of the year, and you will likely witness an event, including Public Art's Canal Convergence, Thunderbird Artists Fine Art and Wine Festivals, and The Original Taste.
Imagine waking up to views of the Arizona Canal and Camelback Mountain and having the opportunity to go hiking, rock climbing, and strolling along the trails leading up to it.
But what properties can you expect to find in this locality? What makes it a top attraction? Read on to know.
Types of properties in Scottsdale Waterfront
Because of the factors mentioned above, this 250 million USD dollar project, situated at Camelback Road between Marshall Way and Scottsdale Road, is a highly sought-after option for real estate investors.
Below are some property types you can expect to find in this posh neighborhood.
Residences
The traditionally-styled residencies consist of 13 stories with 196 units whose sizes range from 468 to 4,847 square feet. Most individual units boast hardwood flooring, granite and marble countertops, and appliances of the highest quality. The median or average prices of properties are 2.5 million USD.
Some amenities you can avail of as a resident of this community include valet parking, 24-hour security, a heated rooftop pool and spa, concierge services, private massage rooms, private guest suites, and wine lockers.
You can catch magnificent views of the sunset from your rooftop pool. And the balconies and patios are spacious enough to serve as outdoor living areas.
Condominiums
Condos offer you the comfort of modern interior space and private gardened terraces. The floor-to-ceiling glass walls provide breathtaking views of the Scottsdale city lights, landscaped courtyards, and Camelback Mountain. Individual units range from 800 to more than 3,000 square feet.
The private gardens are a primary reason behind buying a unit in this community. They have an in-built irrigation system that automatically waters the plants regularly, letting you inhale fresh, clean air while enhancing your home's aesthetic appeal.
Another reason to buy a unit on this property is the recreational facilities, consisting of a state-of-the-art fitness center, indoor basketball and racquetball courts, outdoor pools, and a natural gas grill for a barbecue party.
Townhouse complexes
You can also choose from townhouse complex units like Luxian Villas and Fleetwood 6. The villas range from 2,492 to 2,971 square feet, offering grand views of the Phoenician Golf Course and Camelback Mountain. Some amenities include large island kitchens, open floor plans, high-end flooring, solid wood cabinetry, hard stone countertops, and customized upgrades.
Single-family homes
Buyers prefer single-family homes in neighborhoods like Southwest Village and Hidden Village. Most Southwest Village houses have stainless steel appliances, grassy backyards, granite countertops, and hardwood floors.
Homes in Hidden Village have mid-century modern and ranch-style architecture. The properties are expensive, with an average sale price of 2.5 million USD. That is because of the neighborhood's access to famous eateries and stores away from the city's bustle.
Located in the Scottsdale Unified School District, it is an ideal choice if you've got children, mainly because of nearby schools like Hopi Elementary, Arcadia High School, and Ingleside Middle School.
You should contact a skilled real estate dealer to help you find the best condos and units on Scottsdale Waterfront. Its excellent amenities, recreational facilities, avenues for shopping and entertainment, magnificent views, and proximity to Camelback Mountain embodies luxurious living.