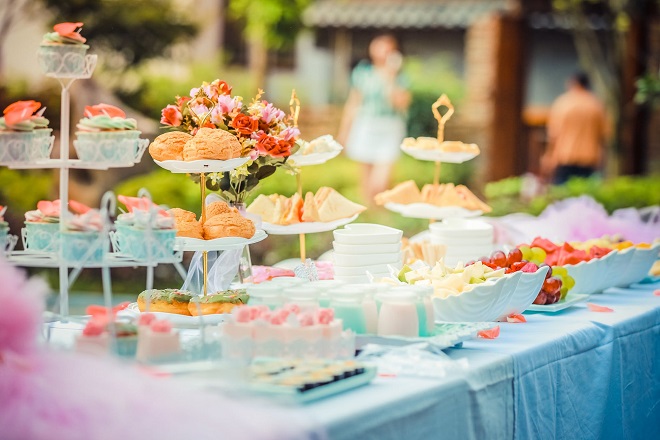 For most of us, summer means plenty of fun in the sun. And there's no better way to celebrate than with a garden party.
Now there's only a few months to go until the sun really comes out, you might be thinking of hosting your own party and how to do it. The good thing about a garden party is it can be anything from a simple barbeque with a few friends to a grand outdoor event for a lot of guests.
Regardless of whether you're keeping things low key or going as big as you can, there are several essential steps to cover to make sure you have the best backyard bash.
Plan What You Can
The first rule for hosting any party is to prepare as much as you can before the day. This not only ensures you've got things covered in advance, but also guarantees you staying sane on the day!
Start with preparing the area. Things like tidying the yard, mowing the grass and cleaning any outdoor furniture will make a massive difference to your party's feel and atmosphere. Also do what food preparation you can. A lot of barbeque food, for example, will need marinating and other bits can be prepared and refrigerated in advance.
If you think you're going to be hosting a lively event, make sure your neighbours are aware so you don't upset them on the day. Of course, you can just invite them.
Finally, check the weather! A good or bad day can make or break an outdoor party, so try and ensure you party is happening on a nice day. If you have a set date and the weather is looking a little ominous, perhaps have some indoor backup planning in place.
Get the Food Right
Good food is a staple of a good summer party. Get the food right, and you'll have your guests raving. Get it wrong, and it can really put a dampener on things.
Chances are you'll be utilising the barbeque grill. The great thing about barbeque food is you can make an array of super tasty, easy to make dishes in a social setting. You can invite people to bring their own stuff if they wish, but consider offering some of these grill-based greats:
Good burgers: Don't try and get away with cheap meat. Use quality patties and go big on toppings. Think along the lines of BLT, tasty cheese and a range of sauces.
Quality chicken: Go for piri-piri or buffalo for a load of flavour, or try a beer-can chicken for a bit of a show stopper.
Low 'n' slow meat: BBQ ribs, pulled pork or beef brisket. The choice is yours.
Beautiful veggies: Consider a vegan burger option, varied vegetable skewers and some seriously fresh salad.
Overall, you want to create a delicious buffet-style menu that everyone can enjoy.
Entertainment
Once the food is sorted, think about what entertainment you can wow your guests with. Having a few things planned in advance means there's no risk of a bored crowd.
Of course, it all depends on who's coming and what style of party you're trying to throw. For example, on a family day, you want to keep the kids happy with games and activities. For a more sophisticated evening event, you'll want to focus on good music and quality lighting. A good mix is a few good, old-fashioned outdoor activities that take advantage of the sun mixed with some help from technology.
Remember, with it being an outdoor event, you'll need to safely wire up any electricals you're looking to use outside. RS Components sell a range of products to support this side of things, whether you're linking up all your smart-tech or just sticking a speaker on the patio.
Once you've got the basics sorted, you can enjoy your role as host for the day. Sure, there'll be a few stressful moments, but getting the party preparations right will mean you'll want to be hosting again as soon as you can.