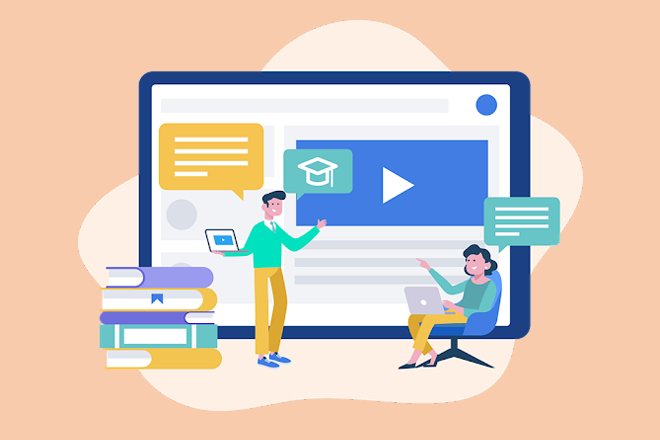 Best school management software has been furnished with useful user interfaces, graphical representation features, and automated functions, which enable users to manipulate all sorts of school management works online. If you are unable to manage your school's administrative and operational works, you should adopt the power of the latest school management software and get rid of hassles easily.
With the help of the top-rated school management software, schools can manage different kinds of administrative, operational, student attendance, fees management, form filling, and other tasks of school with precision.
Best School Management Software in India
Let's take a look at the top school management software, which can help schools to complete varied tasks of your school or organization.
Website – https://myclasscampus.com/
Headquarter – Gujarat, India
This useful school management software is designed for ERP learning platforms and online educational organizations to adopt digital learning methodology. This is a mobile-driven application that is easy to use on smartphones too.
The software or app gives flexibility to users to explore interesting subjects like school administrative management, lessons planning, finance management, online education tips, attendance management, digital study, and more. Hence, the schools will find so many options to learn using this management software for better education of learners.
Website – https://openeducat.org/
Headquarter – Gujarat, India
This amazing online learning software enables parents and students to find and connect with prospective learning platforms online. Using this school management ERP learning platform, students may connect with popular E-learning platforms like Big Blue Button, Zoom Meeting, and online learning classes as well.
The software enables global students to join the live classes of subject matter experts in the world and learn from them. Also, the software provides significant learning materials and allows students to explore trusted tutorials online to get more details of their favorite subjects.
All in all, this software gives flexibility to the students to experience hassle-free E-learning benefits and an online communication interface to connect with the best tutors of the industry.
Website – https://nlet.in/
Headquarter – Rajasthan, India
The schools now have made capable to communicate online and keep secure their confidential data using NLET software. This software is optimized in such a way to provide utmost security to the school's data, lessons, learning modules, timetables, attendance records, photographs, and other management-related information as well.
The software focuses on data safety and restricts the breaching or stealing information of schools from online hackers. Hence, it enables schools to keep their details and operate online with security using this relevant school management software in the systems.
Website – https://www.kinoerp.com/
Headquarter – New Delhi, India
If your want to learn the best school management tips and administrative skills, you are recommended to use Kino software in your system. This ultimate software focuses on learning the best tips of school management-related works for administrative tasks, class management, library management, staff management, and more.
The software comes loaded with significant tutorials related to all management skills and tips for schools to explore and execute in reality to achieve intended goals for better management of the school. This is free-of-cost school management software that you can download online too.
Website – www.eduwonka.com
Headquarter – Hyderabad, India
This software allows schools and educators to communicate online and share their works remotely. The software comes loaded with some specific educational management tools and an integrated suite that helps schools to manage a variety of management tasks online without any hassle.
The software allows teachers to upload the best tutorials and courses for global students to help them gain more knowledge of different subjects to prepare for examinations. All in all, this software removes the pen and paperwork for global schools and enables them to simplify varied administrative and educational tasks of tutors and learns with ease.
Website – https://www.edunexttechnologies.com/
Headquarter – Uttar Pradesh, India
It is one of the top-most ERP school management software in India. This ideal cloud software provides flexibility to the school to manipulate varied tasks of school administration, students, courses and form filling, fees management, payroll and HR works, E-learning, student admission, etc.
Edunext software has programmed well to manipulate all the school management tasks conveniently, faster, and with accuracy. This ultimate education software enables students to study online through significant E-learning options and features. Also, the software includes the Google Meet feature that enables students to access come together and learn from expert tutors worldwide.
The software has made it feasible to conduct subjective or objective examinations and quizzes online. Thus, Edunext is a fantastic education software for global schools to manage all ranges of operational and administrative tasks in remote ways.
Website – https://ireava.com/
Headquarter – Haryana, India
This significant school management software comes with more than 25 modules to manage the day-to-day activities of schools and learning tasks for students online. Also, you can fetch records of everyday school activity online using this software, as it creates a backup of all day works of the school.
The software includes interfaces that enable schools to manage their administrative tasks frequently with accuracy. The software has easy backup options and safety features to secure confidential data of schools too.
This software is well-optimized and made secure for online learning schools to run their operations safely. You can get this software with giveaway pricing plans too.
Website – https://edrp.in/
Headquarter – Chhattisgarh, India
Among the variety of school management software, this EDRP is cloud computing software for ERP solutions of school management works. This is user-friendly and efficient software, which is designed for students and teachers. The software enables them to utilize it for manipulating varied school management works online and fetch relevant data and updates of school too.
The software includes interfaces and smart features which are easy to understand and use by teachers and students having basic knowledge of computers. Moreover, this software enables parents to get all necessary notifications of school and examination dates too.
Hence, you can utilize any of the above top ten school management software for easy management of your school's administration, operational, human resource, and daily activities online and streamline the workflow of the education system adequately. If you want to get any of such software for your school, you should take the advantage of the best-known software development service companies in the industry. The software firms will provide you with cutting-edge and tailored software for your school's management needs as per your requirement.
Conclusion
If you talk about the uses of technology in the education industry, it has made it feasible to manipulate many school management works in an automated fashion. For this, the developers have developed top-rated school management software and apps as well.
By exploring all the above school management software, you will come to know the power of the latest technology education software and apps for schools and students too. Using any of that software, you will become capable to manipulate all ranges of management tasks, data security, tracking daily school activities, courses, staff management, and many more things of your education system.