What's the first thing you do in the morning? We bet one of the top things you do first thing each day is checking your phone for notifications. There's no doubt that smartphones have become a daily essential we almost always rely on. It has its disadvantages but with proper use, the upside certainly outweighs the downsides.
Nowadays, almost everything that you need is at your fingertips. From checking your emails to scrolling through your Instagram feed, smartphones has brought us convenience and functionality at hand. Given this, your smartphone can also be your best bud in keeping track of your finances.
Financial management can be difficult especially if you're just starting out with a new job as temptations are left and right. Also, it can put a strain on your budget when your goal is to stick to it which is why a money management app would be a great help in keeping your finances afloat.
To give you an idea, here are a few of the best money management apps to track your finance, you can try for yourself:
Mint (Android, iOS: Free)
Mint has been a favorite among users for quite a long time as it does the job simply and smartly. It's the one-stop tool for our money management needs.
Mint allows notifies you when your bills are due. It sends you payment reminders so you won't miss payments which saves you from late fees. The app lets you connect not only your monthly bills but also your credit card accounts – all in one place where you get a bird's view of your finances. The app then analyzes your spending habit and offers advice on how you can take better control of your finances.
Wallet (Android, iOS: Free)
Another finance app with clean design, Wallet, features automatic bank syncing for a swift and easy getting ahold of your expenses. You can label your transactions for quick and easy tracking, manually import your entries, and of course, budget tracking. It also shows a fantastic visualization of your expenses.
Although the app is free to use, if you want to unlock the premium features including bank syncing and far detailed financial and budget reports, you'd have to pay the premium price of $14.99.
Goodbudget (Android, iOS: Free)
This one supports cross-platform use which means you can view the app on your smartphone and on the web. Goodbudget dons a simple and neat interface that puts the spotlight on the functionality of the tool itself. Like similar budget apps, it features expense tracking and the likes. In this app, you also have the option to export your data in different formats in case needed.
Wally (Android, iOS: Free)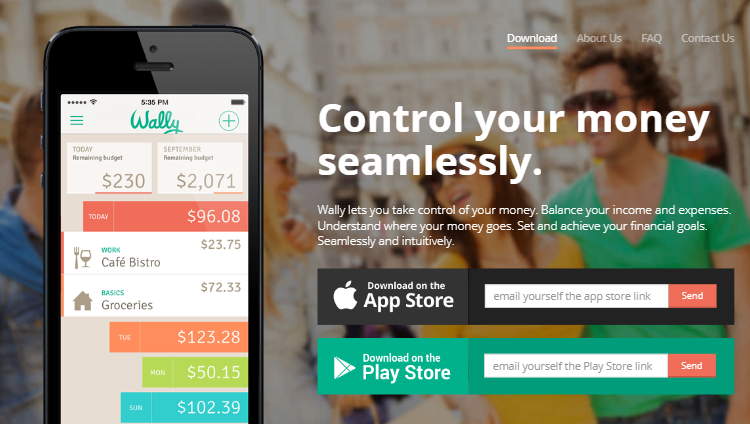 Take better control of your finances with Wally. The app lets you set a target amount you want to save, spend, as well as your income for your reference. The app then displays these values on your main screen for a quick view of the numbers.
Wally allows you to take a photo of your receipts and record it in the app for easy tracking. It also gives you the option to input who and where you spent your money and illustrates it in an engaging visual similar with other budget apps.
Use your phone for a better purpose beyond Instagram and Facebook. Make it actually change and improve your daily life and in this context, your financial habits. Don't wait! download a money management app and start monitoring your budget now.