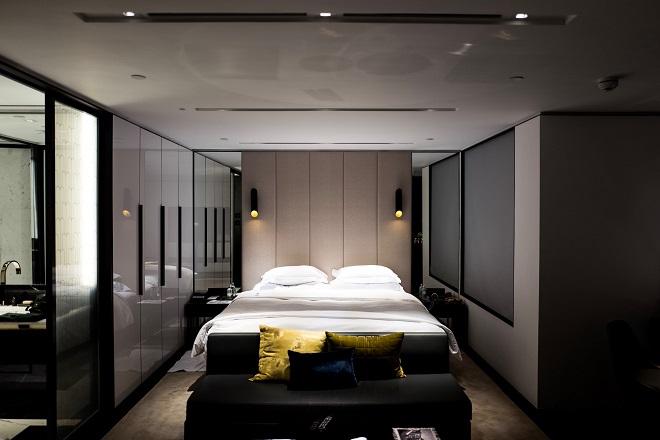 Want your bedroom to be as calm and relaxing as possible? Of course you do! Here are three trendy linen colors that will make your bedroom into a sanctuary.
Your home is your sanctuary, and your bedroom is the heart of it. It's the place you go to relax when you're ready to unwind from the day's stresses.
When this space is loud and cluttered, you don't get the full sense of peacefulness you want. Your brain focuses on the stimuli surrounding it, never truly getting a chance to rest.
One way to fix this is to keep your room clean and decluttered. But, another way is to be strategic about the colors you use for decorating.
Colors have a big impact on our emotions. Studies have shown that colors can stimulate the senses or calm them, induce stress or relieve it.
When you want to create an atmosphere of peace and tranquility, it's important to choose linens in relaxing colors.
Here are three of the top trending linen colors that will soothe your senses as you drift off to sleep.
Lavender
The color purple, in all its varying hues, is a crowd favorite for men and women alike. One of the most soothing shades to have in the bedroom is lavender.
When it comes to the science of color, purples create balance and harmony in our minds. Lavender, since it's already a soft color, enhances this tranquil feeling.
Falling asleep with lavender surrounding you stimulates your imagination and induces better dreams.
If lavender is the color of your linen dreams, here are some products you might like:
Audrina Coverlet Set
A coverlet is similar to a bedspread, but it's used to give bedrooms a modern feel. Bedspreads extend to the ground while coverlets end at the top of the bed skirt.
If that's the look you are going for, this coverlet, complete with an elegant, embroidered design, is what you need in your room. It's made from high-quality microfiber, so it's soft but durable.
This set includes the coverlet, shams, accent pillow, and bed skirt for a classy but modern finish.
Wayfair Basics Sheet Set
Immersing yourself in a plush, comfy bed with soft, cool sheets is everyone's goal. But what if you don't have an arm and a leg to spare for those high thread count linens?
No problem! This set of polyester lavender sheets is both comfortable and affordable. Since the material is hypoallergenic, it's great for everyone. And the set includes the fitted and flat sheets, plus two pillowcases.
With these soothing lavender linen colors, your mind will run free as you slumber.
Pastel Green
Pastels are muted tones of a particular hue. Green pastels are one of the most popular in a bedroom because they're a universal color for men and women.
Green, in general, gives us a feeling of being in nature where everything is in balance. It carries positive connotations, such as success and generosity. And of course, if we're talking about stoplights, green means go.
It's no wonder that people who surround themselves with pastel greens in their bedroom fall asleep feeling safe and in control.
Ready to create that atmosphere in your room? Check into these pastel green linen products:
L.L. Bean Percale Comforter Cover
Percale is a material gaining traction now that people have realized how smooth and soft it is. Comforter covers in this material have the ability to cool you down in warm weather and keep you toasty when it's cold.
This comforter cover slides easily over your favorite blanket. Multiple internal ties and buttons keep the blanket from moving around.
Wayfair Basics Sheet Set
Hypoallergenic and made from polyester microfiber, this sheet set is cooling and smooth for your enjoyment.
It includes a fitted sheet, a flat sheet, and two pillowcases in the size of your choosing.
If you want to go to sleep feeling successful and secure, pastel greens are your shade.
Blush Pink
Once considered a feminine shade, blush is making an appearance in bedrooms everywhere. The color pink creates a feeling of love and comfort as well as intimacy.
People who prefer a light blush enjoy the atmosphere of calm contentment it evokes. This softer hue is a more sophisticated version of its peppy counterpart, making it a solid choice for anyone.
If you're looking to create an elegant theme in your bedroom, these blush pink linen colors will help:
West Elm Sateen Duvet Cover
This soft duvet cover is reversible. On one side, you have your blush pink, and on the other is a happy, poppy shade.
Keep the blush on the outside and fold your duvet down to complement your softer colors with a splash of a brighter hue. With buttons and ties to keep the comforter in place, this cover "covers" all the bases.
SNOWE Percale Sheet Set
For a luxurious feel at a reasonable price, these percale blush-colored sheets are a must-have. The Egyptian cotton is a 500-thread count fabric made in Italy.
The set comes with a full sheet, a fitted sheet, and two pillowcases.
As you look for linens and accessories in blush, be careful. It's easy to think you're getting blush but end up with a rose or other pink instead. The two are not the same.
Blush gives you a sophisticated, calm atmosphere, while rose is more loving and nurturing. Go for the hue that helps you create the environment you want.
Conclusion
Understanding the psychology of color will help you avoid expensive mistakes.
If you want to create an overall sense of serenity and relaxation, there are many shades that will evoke different levels of this. Try these trending hues to help you create the environment you want to fall asleep in every night.
Jenny Bullock graduated from Stephen F. Austin State University and works with Broadstone Briar Forest to make life better for their residents every day.