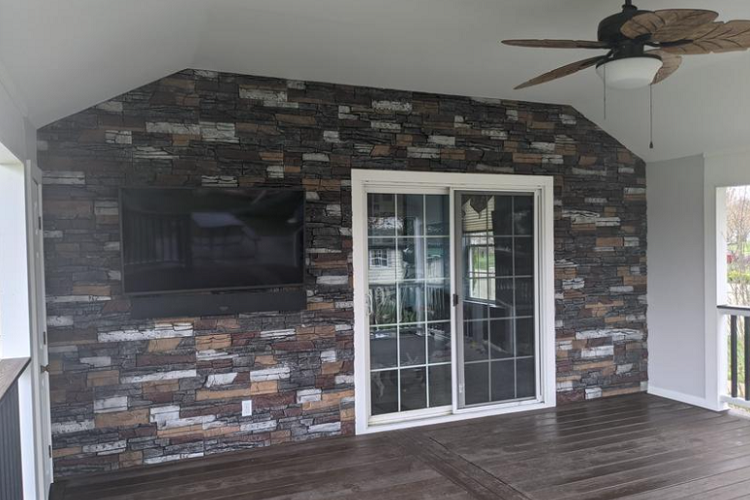 Many people love the look of natural stone, but they do not love the price or the amount of time it can take to have it professionally installed. Thankfully, there is another option out there that is much more affordable than natural stone: stone veneer. Here, we will break down what you need to know about stone veneer and why it is a great choice.
Stone veneer is a thin material that looks and feels like real stone but is a more affordable DIY solution. Since it is not natural stone, it often lasts longer than real stone since it does not chip and crack as real stone does. As a thin material, it can be attached to things that would not be able to support the full weight of natural stone. It is intended to be decorative and can help protect buildings against wear and tear and harsh weather.
It comes in a wide array of colors so that it can go with any color scheme, as well as in various shapes and sizes to mimic the look of natural stone. Most options are just as beautiful as natural stone, and many people cannot tell the difference between the two without inspecting them closely.
What is Stone Veneer Made From?
There are a few different types of stone veneer out there, but these are the two main types: faux stone and thin stone. Each of these is made slightly differently and has a slightly different thickness.
The History
Stone veneer began in the late 19th century, and it was simply natural stone that was sliced into slabs. In the 1950s, companies began making stone veneer from cement, and it eventually evolved into being made from polymers like it is now. The quality has been steadily improving since its beginnings in the 19th century, and it is now something that is much closer to natural stone.
Faux Stone Veneer
Faux stone is sometimes referred to as manufactured stone, and it is made to look like real stone. The brand you buy will determine how it is made, but there are two common ways to make it. The first is a mix of cement, minerals, and pigments to create something that looks close to the real thing.
The other way that faux stone veneer is made is with some type of synthetic polymer to make it even thinner and more lightweight. GenStone, for example, uses high-density polyurethane to provide insulation and it is waterproof.
The faux stone is usually no thicker than 3/4 inch, so you do not have to worry about it adding too much bulk to whatever you are installing it on.
Natural Thin Stone Veneer
It is real stone that is cut to be one inch thick, and it is often designed to look a little more polished than natural stone, but it still retains the natural beauty. A DIY installation with natural thin stone is a little more difficult than faux stone is since it usually requires mortar to install.
Full Bed Stone Veneer
It is similar to the natural thin stone, but it is a little thicker than it. Usually, it is between three and five inches in thickness. This will not work if you are installing the stone veneer on something that cannot support heavy stone.
Brick Veneer
In addition, there is also brick veneer. It is the same concept – thin and easy to install, coming in many color and design options. This is perfect if you love brick but want something a little more affordable than natural brick.
Types of Stone Veneer
Depending on the brand of stone veneer that you choose to purchase, you might get panels, large format stone, and smaller individual pieces.
Stone Veneer Panels
This type of stone veneer has multiple stones in single panels that you piece together as you install them. This style usually only requires you to attach it using screws or nails instead of mortar, like some other types require.
Large Format
With large format, you get large pieces that are usually installed with some sort of adhesive, like mortar, and you have to install them to some sort of backing material first, like a board, which is then screwed to the wall. These are often difficult and time-consuming to install.
Individual Piece
With individual piece, you get each stone individually, and you can attach them to the surface in whatever pattern you prefer. This is time-consuming, but it lets you have a little more creative control.
Where Can I Install Stone Veneer?
Most options can be installed both inside and out of a building, and they can add unique character and texture to a building.
Interior
While you might think that it is best for outside, you can also install it inside, and it can enhance the beauty of any building. Some of the popular choices for installing it indoors include fireplaces, accent walls, around doorways, bathrooms, kitchens, and dining rooms.
Exterior
It is common to use for outdoors to enhance the beauty of a property. Some popular exterior projects include wainscoting, siding, mailbox posts, chimneys, decking, near pools, outdoor kitchens, fences, and around the porch and front door.
Notes on Installing Stone Veneer
It can be installed on most surfaces, like plywood, drywall, concrete, steel, and even on top of existing natural brick and stone.
If you are installing it near your fireplace or an outdoor kitchen, make sure you select a brand that is rated for fire safety.
Before you install, make sure that the surface is clean and smooth. You do not want to install it over the top of a dirty surface.
No matter what type of stone veneer you select, make sure you follow the installation instructions provided by the manufacturer and reach out to their customer service if you are having trouble with the directions.
The Benefits of Stone Veneer
There are many benefits to choosing to install stone veneer. Let's take a look at some of the benefits of using it instead of natural stone.
Price
The price of stone veneer, even when you are completely a large-scale project like transforming the siding of your home. They are also more durable than natural stone, and they can last longer than their natural stone counterparts.
Low Maintenance
It is also virtually maintenance-free, whereas natural stone requires much more maintenance to make it last longer. All you need to do to maintain more stone veneers is wash them gently in water to ensure that dirt and dust do not build up.
More Durable
It is surprisingly durable, and it is not going to chip or crack like natural stone would. Since you are not using natural stone, it is also eco-friendly, and some brands are recyclable. It is also waterproof and fire-resistant.
Lightweight
One of the significant benefits of stone veneer is how lightweight it is. This makes it much easier to handle, install, and transport. It can be installed on a structure that would not be able to support the weight of natural stone, so you do not need to worry about structural support for a lot of projects.
Since It is thinner than natural stone, you can install it on existing walls and structures without adding a bunch of bulk to it.
Improves Property Value
No matter how big your project is, it can increase your property value. In fact, if you are planning on selling your home in the next few years, installing stone veneer before you put it on the market can help boost your property value. Even if you are not selling your home, improving your property value is a good idea.
Endless Color and Design Options
Nature is full of beautiful colors, and that is why stone veneer is too. There are many color options available, as well as different design styles, so you can find the perfect stone veneer for your home or business project.
Easy to Install
When you decide to install natural stone, you usually need the help of a professional mason. With stone veneer, even if you are using a brand that requires mortar, it is still something that you can install on your own, without needing the help of a professional; this means you can install the stone on your own timeline, not have to wait for a pro to come out and do it for you. Many brands are easy enough to install that an entire project can be done in just one weekend. If you love DIY projects, it is a much better choice.
Final Thoughts
If you want to enhance your property, stone veneer is a great choice. You can install it easily, it is much more affordable, and it is practically maintenance-free. Make sure you take time to research your options before you settle on a brand, as, with many products, the brand truly makes the difference for the look and quality.