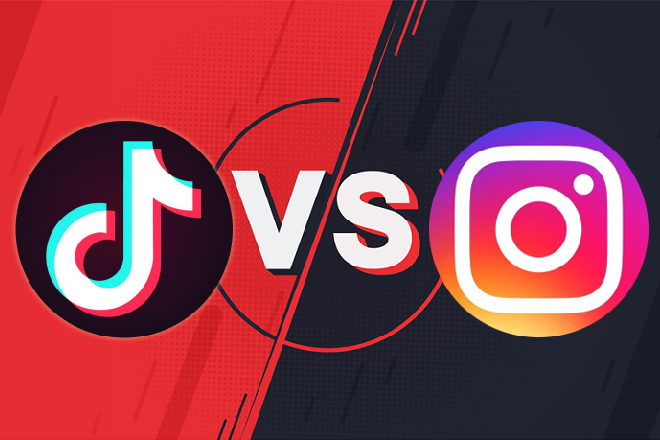 People can rarely find everything they need at one service. Because of this, it is difficult to imagine a modern person who has only one account on the Internet. The developers have foreseen this moment and made it easier to use different social networks together. Let's talk about the TikTok vs Instagram – their differences and similarities.
Differences between content in TikTok and Instagram
Instagram is a close analog of TikTok. However, such services (even if similar to each other) are rarely complete copies. And if they are, they lose all chances to compete and stay afloat. What's the difference between the social networks we're talking about? Actually, TikTok is the same Instagram, but without the ability to upload photos. Here, all content consists of TikTok videos.
On Instagram, we can upload videos, but this functionality is not becoming a leader. Users upload images more often. The IG post format itself reminds a picture of a Polaroid, a popular camera for instant cards. Here is a simple answer to the question of what the difference between TikTok and Instagram is.
Who is the content intended for?
Before you choose which is better (TikTok or Instagram), you should understand what audience you can find on the first and second services. To do this, you can pay attention to what people are popular there. In TT, they are bloggers who have barely reached the age of 18 or have slightly crossed that threshold.
On Instagram, they are usually older people who have already realized themselves in some area, often stars. Thus there is a difference in the audience: in TikTok, they are teenagers, while on Instagram – they are older and wealthier people.
But it should be noted that the audience of TT is rapidly "aging" and its solvency is increasing. So if you're thinking about whether to start a business in TikTok, stop thinking and start acting.
Choosing a business platform based on your goals
So, you are going to start using either one or the other service. But you don't know what works best and where you can make the content cooler. In this difficult decision, we just need information about how one social network differs from another. And also what audience we can find there. Let's look at a few possible areas of activity:
Trade. In this regard, Instagram is the best choice – a photo allows the user to see the goods better. TT is also focused on dynamic clips, and it is not very convenient to pause a clip to see more. Instagram developers understand this very well, so they add more features aimed at more convenient trading.
Blog. Undoubtedly, the lack of opportunities to upload photos spoils the overall impression of the TT. But the algorithms for selecting recommendations work well here and allow you to get promoted faster. General, the blog can be maintained on both social networks, but more rapid promotion is provided by TikTok.
Personal account. All advantages of TikTok are eliminated when it comes to a personal page. Therefore it is better to use Instagram for this purpose.
Each of these profile types allows you to earn. However, the sphere of promotion and earnings is better developed in IG and it is better to use it to find income.
The superiority of TikTok over Instagram
In order to finish the discussion of two services, let's talk about the benefits of TikTok, which has captured the minds of many. In fact, if we talk objectively about the serious maintenance of an account on the Internet, the best option is still Instagram. Promotion is better developed here, it's easier to find advertisers, there more types of available content in the IG.
But let's talk about the advantages of TT:
Recommendations. The first thing that a person sees when opening an application – recommended clips. Moreover, these clips are actually viewed by people. After all, the algorithm selects publications that you might like. Using this section of the service, you can quickly gain views, likes, comments, and subscribers. However, there are many free apps that allow you to gain subscribers quickly.
Dynamism. All you can upload to the TikTok page is 15 or 60 seconds of video. It doesn't seem to be enough. In fact, it allows you to make more dynamic and rich videos. And potential subscribers like that.
Close contact with other social networks. You can link TT to  Facebook, Twitter, Google, and Instagram. You can use them to log in or quickly upload a post not only to a TikTok page but also to another profile. Also, do not forget that if you link IG, you will see a large button on the TT page. It is convenient for subscribers to open a photo network and subscribe to it as well. This way you can promote two profiles at once.
Internal currency. TT has its own internal currency, which can be spent on "tips" to your favorite blogger or, for example, gifts. Also, if you have PayPal, you can withdraw coins to real money.
Flashmobs and popular hashtags. The service borrowed this feature from Twitter. Clicking on the Interesting button will take you to the list of currently popular hashtags and flashmobs.
In conclusion
It is hard to imagine a person who has only one account on the Internet. How to choose where you can keep a more professional profile to make money? If you choose between TikTok or Instagram, you need to consider many things: the main audience, the advantages, and disadvantages of the site. It's not as important what you want to do, as where you want to do it.