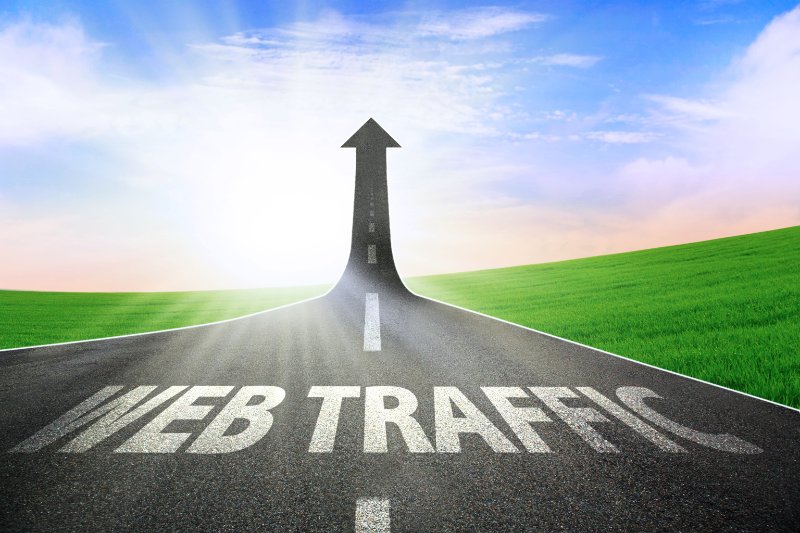 The biggest roadblock you can face is how to attract traffic to your website and generate sales in return. Well, here are some amazing ways that can increase traffic on your website.
Today, technology is advancing at the speed of light! The internet is a vital marketing tool for both small and established businesses. Also, SEO (Search Engine Optimization) has its role to play in online business growth and expansion. It's a known fact that SEO is a useful to increase traffic on your site. And here most start-up entrepreneurs and online business owners have one question to ask – Can SEO maximize online sales?
You can create a unique and attention-seeking website and offer amazing products, but will you be able to attract enough customers? How can you keep up with the customer flow? Well, you won't be able to make money if no one reaches your page. A few SEO techniques will help to increase more traffic to your website.
Tried and True Strategies to Increase Traffic to Your Website
Getting good traffic on your website every time can be a bit difficult. The content has to be read by many people, shared on a large number of platforms and then only you can enjoy great traffic. If you are the one who is wondering over the fact that you have tried all the strategies and still not gained any result, then a few changes are required.
Improvement in your creative strategies can help you with good traffic on your website. It is highly needed by all the business that wants to convert their leads into sales. It is no more a challenging task when you know how to do it in a better way.
All you need is to take care of your diligence, creativity and time for increase traffic on your site. Many of the business owners are in need of website traffic and they want them to grow with time. There are many that do daily blogs and promote their site like anything but still get no traffic.
Now you don't have to stress over like them, there are simple and easy steps to follow which can help you to increase traffic on your website.
1
Understand the Purpose of SEO
It's true that SEO is about increase traffic to your site. But there is more to it than that. Traffic won't help your blog or business unless it also drives growth. For example, if your site is about growing vegetables, you wouldn't necessarily want to attract users searching for flower gardening terms. Instead, you would want to get to the top for terms that people interested in vegetable gardening would use.
One of the reasons search traffic is so powerful is that it comes with intent. Users want to find answers, and if you know how to deliver them, you can bypass large competition in search engines. Intent SEO is what helps you multiply your revenue. Today, SEO is focused more on the motivation of the searcher, so it's even more important to understand what your potential customers are looking for.
Your keywords will determine how often your website will show up in the Google and other search engine search results, the moment a potential consumer looks for a product or service available in your site. Your website success depends on implementing the correct keywords.
Are you wondering how to go about it? You may start with Google Keyword Planner or other tools like Bing Keyword Research Tools to identify the top and rich keywords for your online business. Once you understand the market demand for a particular keyword and its growing popularity, you can select the keywords set that you want to include in your site.
For services/products that are in huge demand, it's a smart call to opt-in for broad match keywords. Have you decided to target local language? If yes, it is essential to make sure that spelling and translations are in the right place. Hence, implementing native-speaking translators is essential. You shouldn't be just depending on Google translator.
Let's not forget that keywords also play a vital role in growing the website traffic. While selecting the most suitable keyword for your content, you must think and consider them from an audience point of view. Make use of long tail keywords which are common and used frequently by the audience. They're usually high-intent, making up an excellent organic growth strategy. These keywords drive high-intent, unpaid traffic to a website for lower bounce rates and higher conversion rates. It means you'll have high-quality users ready to click the purchase button.
In the above Google screenshot, you can find both short tail and long tail keywords. The short tail keyword is suggesting above as how to get out of debt is too common and too competitive because so many people might have added this to their content. Thus, such content doesn't get proper rankings and which decreases the web traffic.
On the other hand, the long tail keywords are highly specific and hold better chances of ranking on top which can result in generating a good amount of web traffic. The long tail keywords have always resulted better. You can check out your competitor's keyword or make use of the keyword tool for finding the best keyword.
4
Develop authentic content
It certainly is a no-brainer! Excellent and trustworthy content is the need of the hour. Do you want to communicate effectively with your online customers? If yes, then you need to make your online content strong and original. Don't get carried away in an attempt to impress your audience.
You also have to mean business. So, ensure that you don't have overstatements in your website that will mislead the online user. Don't create any customer expectation that your service/product can't achieve. Write your online content in a way that it gains customer goodwill and delight.
Make your content SEO-friendly so that more and more people can read it by typing relevant keyword. Today SEO plays a big role in getting the ranking of a website in search engines. Update your content is an ongoing activity on search engines, and if you place keywords smartly in your content, it will rank high in search engines. You can get high-quality visitors on your website. There are many SEO tools that can help to find the suitable content and topics according to your products or services.
Support any claim with sufficient evidence, such as resource links to whitepapers, statistical findings, and reports. Include original photos and videos instead of using stock pictures to make a difference. Furthermore, ensure your content pieces don't have duplicates that can confuse users and search engine bots.  
If you outsource web content writing services, hire professional writers with experience writing articles relevant to your business niche. During the onboarding stage, educate new writers about your company's vision, mission, guiding principles, advocacies, products, and services. That way, their written articles resonate with your company.
In 1963, an advertising tycoon David Ogilvy said that 8 out of 10 people won't read beyond the title. The trick is to come up with catchy titles that will draw more attention and compel the visitors to keep on reading. But, big words can cut both ways. If you want to stand out, you might have to take a strong attitude towards a particular topic. And that has a potential to drive away a pool of visitors who do not share your opinion. Your titles need to deal with the same subject as your content.
Snappy headlines and relevant content drive more traffic to your website because they'll find your online resource helpful. Include power works and keywords on your headlines but ensure they make sense. Some marketers stuff keywords on headlines but don't jive with the content or are irrelevant.
7
Descriptions should be valuable
Today, the search engines are looking for web pages that are unique and distinctive. Hence, your content must be relevant. There have been instances where websites to avoid the struggle of generating their content, have used already existing web content. It gets counted as copied content. Google today wants originality.
Given the fact that manufacturers offer the same description to several other sites, your website content is far from being unique. Google will scan and label your content as plagiarized content. The objective is to stay plagiarism free regarding your online content. If your site has copied content, you'll soon lose all your business scopes. Making profits will be a far-fetched dream.
Everything from the product descriptions to the overall website content has to be unique. It should provide your customers with a balanced view that encompasses every factor that is important for the customer. You can also urge your customers to share product reviews if they have purchased your product.
8
Get your product page optimized
Understand the way your users are attempting to be there in a selected web page that you intend to optimize. To go ahead with this, you will have to find out the relevant search terms that users use to ensure that you add the same to your headline, webpage, product descriptions, and page titles. When you make use of the words that your potential customers use most, you are creating scopes for significant hits.
And online business needs to arrive at the perfect balance between increased online visibility and doing good business. Often websites have many people visiting their website and social media posts, but sales figure don't balance up with this increased online activity.
A search engine's goal is to find the best results for each query. If it fails, users aren't as likely to use that engine again. Think about this goal when you're optimizing your site. If you don't have a quality site, it isn't as likely to rank. And engines are getting better at determining the quality of a site. If it doesn't look trustworthy or it looks like it was put together by amateurs, potential users aren't as likely to use that site. Then you've lost that user, as well as potential revenue.
Your bounce rates will then increase. It's believed that having lower bounce rates results in better rankings. To improve your user experience, try writing easy to read posts by adding sub-headings and bullet points. Place quality images in your posts to further break up the text.
A crucial aspect of user experience design is fast speed. Ensure that your visual elements don't slow down your page loading. So, avoid uploading too large photos (don't exceed 2 megabytes) and videos (1920 x 1080 resolution).
10
Improve your site speed
Try to speed up your website's loading time to encourage users to stay.
According to Kissmetrics, a blog about analytics, marketing, and testing, 40% of visitors will abandon a website if it takes more than 3 seconds to load. What is more, 44% of online shoppers will tell their friends about a bad experience online. These two figures are enough to make you believe your website needs to be fast.
One of the easiest ways to achieve that is to follow one rule – less is more. Different media formats, HD images, videos, and high-quality soundtracks are extremely demanding and will slow your site. When you choose a web host make sure that they can deliver the speed that is adequate for your needs.
Once you create engaging content and start attracting people in droves, you need to develop a strategy to make them stay on your website as long as possible. By using an internal linking scheme, you can send them from one topic to the next. If they find more than one interesting article to read, not only will they spend more time on your website, but they will probably be coming back for more.
12
Integrate the social media
Integrate your business website with LinkedIn, Facebook, Twitter, and the proper social media tools. The ones who browse through your site should have the option to "Like" your web page on social media channels. It will help you gain online publicity. When you actively participate in social media engagements and conversations, you will develop a quality association with your potential customers. People who like your website and your online posts will share in their social profiles. Every share you attain on social media equals to free advertising for you. You shouldn't be missing out on this opportunity at all.
13
Strategy for the local market
When you showcase and sell your service/product in an international marketplace, it's important that you customize the website to cater to local taste and traditions. Balance your site in such a way that people identify you as an international brand. Simultaneously, your users should feel at home as they navigate through your online website.
Many people are looking for local information, such as addresses, local businesses, hours of operation, and phone numbers. If you have a physical location, don't neglect targeting people in the area. Check the directory listings to ensure they are accurate. Sometimes search engines have to rely on information from other data sources. That might include directory listings or local business registrations.
Ensure that your contact information is up to date, so the right information gets listed. Consider creating landing pages as well and target terms people use when searching for local services. So, if you have a gardening shop, that might include something like "flower supplies in New York." Using a local landing page lets you actively target these keywords.
15
Interaction with your audience
Find out your consumers' interest and trend so that you can better target your audience. Match your product with age, interest, categories and place your product towards them, it will make your product sales easily.
To reach your target audience, you have to visit famous blogs, communities, websites on which various posts are written in a good manner. Participate in such communities by opening an account and comment on blog content, which will build the relationship with bloggers. Sometimes well-written comment with links also brings good traffic to your website.
Take time to engage in online discussions with your audience. Build up a community that can trust your services. It may not be an immediate way to increase traffic, but it can help achieve the long-term goal. When people know that they can interact with your brand in a meaningful way, they will refer you to others.
Engagement with your clients consistently and properly is what brings in more traffic to your site. Increase your online audience by posting questions, adding polls, answering questions in the comment section, and so on.
After publishing or sharing your content on the blog, watch the traffic trend of your hard work. Install Google Analytics and observe the visits, source of traffic, and review about your content. Google Analytics is a free application that shows detail description of visits, bounce rate, fresh visits, and average time on site with graphical presentation. Put emphasis on effective marketing path and source, which offers you the best visits, and can give better traffic for your business. Analytics brings a clear image where you are lacking and which sources are offering more traffic.
17
Be active on social media
Being active and social really matters for growing your website traffic. This helps you in staying engaged with your audience and welcoming traffic to your site. You must consider those platforms which can connect you with your audience. This can be the least expensive way of getting in touch with your customers and can grow your visibility.
Whatever your social media platform is offering you, make the best use of all of them. For example, if any of your influencers is talking about your brand or you want to relate your brand with, never forget to tag them in your posts. This will drive more traffic to your site. You must try on building a good community of professionals.
It is an age of social media whatever you thought or write just share it on social media if it is worth appreciating you will get an amazing response for your effort. Facebook, LinkedIn, and Twitter has millions of accounts opened in past few years. If you have no accounts with such social media platforms then it is a right time to open it and use it in an extend way by posting images, useful content and sharing connect with people on such social platforms. As much as you share with people, you will build strong relations with people and later on, this will be beneficial for your website and blog.
Keep on adding bio links or descriptions that suits the best. In case you are also making use of video content, they never forget to leave a link down in the comment or description box. This can help you in the best possible way.
18
Alluring pictures and graphics
It is true that a picture works better than the words. Even if you leave a picture anywhere, a lame person can even best describe what the particular picture wants to say. They do wonders for all. It makes the site really appealing and convinces the reader to stay longer on the post.
The pictures should be used in all the content as it is also used by as a best shareable content by many. You can also give a title to your picture which leaves a good impression on the audience and generates great traffic.
If you are expert in making funny doodles, graphics, taking photos then it is the right place and time to publish them on your site and it will enhance the quality of your site. You can create another source of traffic via an image search and it will be interesting, engage them to your blog.
Allow others to use your images with legal permission but in such a way that paybacks you. Sometimes people use your image without linking back, you can find such similar images on Google image. Therefore, notify them about such same images and as a result, you will get backlinks.
Start guest blogging to achieve link building and increase traffic to your site. It is one of the fastest and reliable ways to promote your website. Begin guest blogging in websites that fall in your niche. You can earn a spot on a famous website by hiring content writers or writing an irresistible piece of content by yourself.
The site already achieves maximum traffic, so it can greatly benefit your website as well. Another great tip is to open guest blogging in your site, open more room for diverse content, and make your users come back often to read engaging content.
It is very hard to convince other bloggers when you are the first time posting your content. In this situation, you have to contact your relations, professional contacts who trust you and request them to post your content on their blog and as well posting their content on your blog.
Guest blogging is an amazing way to publish your brand to those people, who have never experienced your work before. It helps to gain backlinks and a reference to your blog, which will offer direct traffic and help your search ranking. Observe other posts on your target site and consider comments, which in the future will give you a good return.
Before writing your content, judge the ability and category of an audience for which you are going to write on a topic. Communities, writing style, topic, and content types always play the superior role on the web. Great infographic, videos are likely to be shared by people on the web.
By posting your content on other user's blog and sites, you can receive better traffic on your website. You can publish your content on article directories where thousands of articles are listed in different categories. It is advisable that your content must have a flow and shows no negative mark, and it should be informative so readers can understand it easily.
Firstly you can go for free options that include backlink creation, link directories, social media marketing, and link exchanges, and so on. You can buy links from known websites or use display ads.
To attract new customers to your site, go for pay-per-click (PPC) advertising. PPC Singapore ensures faster results and increases your traffic. It's a way to buy visits to your sites instead of earning them organically. Basically it allows advertisers to bid for ad replacement in a search engine's sponsored links when a user searches for a specific keyword related to their business offering. Google Ads is a perfect example of getting guaranteed conversions and placing your brand in front of people who are already looking into your product or services.
No cheap trick can boost your website traffic as much as paid advertising – at least today Facebook ads and Twitter cards make it easy. By advertising your brand on massive social media, like those above-mentioned, you are reaching out to an immense number of potential visitors. As long as your ROI justifies it, you should keep this method running and stop only when you have reached good ranking on Google. At this point there is no more need for paid ads. This option is also a great joker card, in case one of your other ideas for improving the website traffic turns unsuccessful.
22
Email marketing campaigns
You need to include email marketing in your campaign if you want to grow website traffic in less time. For quality and quantity traffic, this type of marketing works as the best. In terms of page views as well, it works better. Make use of different strategies like generate a email list, use attractive email templates for different festivals or offers, highlight call to action button and write appealing content for email marketing campaigns.
You can use email marketing tool, it is simple way to promote your business, products or services effectively. It will help you to increase traffic on your website, generate more leads and improve sales.
Conclusion
When you create a website, keep in mind the above points that can help you to drive more traffic to your website. To earn traffic needs great homework and hard work. You have to keep faith, passion, and consistency to become a successful. You might fail to write an attractive content or attract enough traffic to your website but stick to your plan and observe your weakness and turn them into strength. Do regular visit of other sites and find out the new features and stuff that you missed.
The list of methods that may increase your website traffic is virtually endless. Some other ideas that are worth mentioning include getting active on social media, uploading live video streams, and SEO optimization. As long as you keep your content interesting and target the specific demographics, every one of these steps will bring new visitors.
So next time whenever you see decrements in your website traffic or want to increase them while launching a new business, then try all these strategies which will do the best for you. You must try and implement all of them for taking your website to all new level.