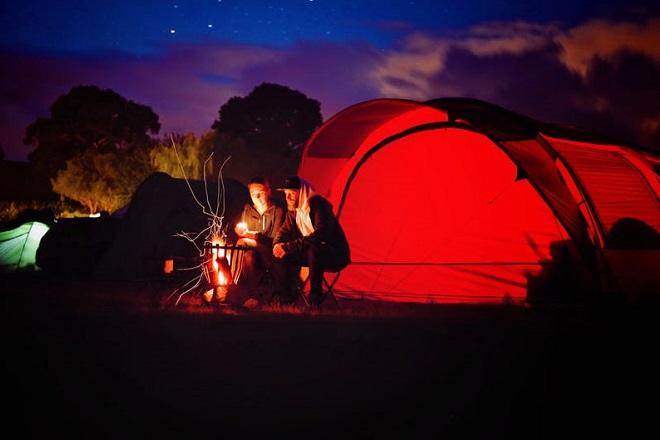 Getting away from the city and living in the woods for a few days might not sound tempting, but it is. However, sometimes that escape becomes necessary. The city life can become too suffocating, and there are days you cannot deal with the noise, the speed and the pollution anymore. 
Things You Must Carry While Camping
When something like this happens, you get a leave from work and decide to go on a camping trip with the family. And maybe it is your first time camping with your family, and you are thinking hard about: what your items are you going to carry with you on your camping trip. What item would be too much for you, and what safety equipment to want to keep?
Well then, fear not as we have compiled a list of items that are a must-have for any camping trip. Whether it is a trip to the mountains or a deep rainforest, we have got you covered.
Any camping trip involves a lot of walking, climbing and hard work. Also if you are camping in a remote place, access to water would be minimal. And to keep your body from getting extremely dehydrated, so you must buy a water bottle to keep your body hydrated. When selecting a water bottle, you must make sure that it has a large capacity to store water, and is also compact enough so that it does not take up ample space in your luggage.
In this era, everyone has a mobile phone, and you certainly would need a camera to capture the precious moments of your camping trip. But those devices can only last for so long before they drain their battery. So keep them charged and available on-demand, you must invest in a good power bank that has a large charge capacity. Couple it with a Solar Charger so you can charge your devices in the sun if the power bank has also dried up its battery.
A good tent is a must-have for any camping trip. You need it to sleep at night and to set up a base where you keep all your belongings. But make sure you get a beautiful tent that won't give you a headache when you sit in it. Find a tent that has a small transparent portion for sunlight to enter inside. Tents are also nice to keep mosquitoes away in a swampy forest area. And also make sure that it is durable in all conditions. You do not want rainwater dripping on your face at night just because the tent tore up and the water is leaking inside.
Wherever you are going for your camping trip, a map and a guidebook is a must-have. You do not want to get lost in the deep forests or deep valleys, so buy a map and return to your camp safely. And you certainly do not want to get bored on your trip by not finding anything to do, and this is where the guides will help. Search the web to find digital guides of your camping destination.
Get a nice pair of boots that are suited to the type of terrain of your camping destination. Also, keep an extra pair of sandals or flip-flops that you can use to take short walks around your campsite. Also, buy moisture-repelling shirts and underwear to keep you calm from the sweat. Buy long-sleeved shirts to protect from sun and bug bites. And do not forget rainwear. Even if you are in your tent, you might have to go out to pick something up and do not want to get your clothes wet.
Whether you are going alone or with a group, you must take care of your health. A few minor injuries are quite common, and you must carry a First Aid kit with you at all times. Also, keep antiseptic wipes to clean off any injuries. Consider getting a good lip balm to keep your lips from getting dry. Also, an insect repellant is a must, especially if you are going to camp in a forest. Make sure your retreat to feel better does not just make you feel even worse. 
If you are going to camp in a rocky and mountainous place, you must have a stroller if you are going to be camping with kids. It will be beneficial when you are climbing a rugged mountain and are too tired to carry your child. Consider getting those who are intended specially to work in rugged terrains. Also, try to get one with larger capacity so your other child can hop in too if they are tired. Therefore, this would save you up a lot of hassle. You and your family would have an equal amount of fun and relaxation. 
A satellite phone cannot be stressed enough, especially if you are going to be in a remote and hardly accessible area. Network reception is bad in remote areas and the case of an extreme emergency, a satellite can easily connect you with emergency services. The best thing is that they are available at fair prices nowadays, thanks to the advancement in technology, and all you need for it to work is a clear space above you, and you can contact anyone around the world.
Tools are important for many reasons. A hammer would be essential for knocking those nails in the ground to keep your tent in place. Also, get an Axe. It is essential to set up camp-fire, and for that, you would need to cut down wood from nearby trees to use it as fuel.
The last item on the list is a small camping stove which can set up quickly. Also buy relevant pots and pans, which are suited to camping. Try to get those made from stainless steel as you do not want to clean your pans in the middle of a forest. The next thing is fuel. If you are using coal as your primary source, get instant coal burners that will quickly get the coal glowing. Or get a portable gas stove, it has enough gas to last for a few days.
Conclusion
So this concludes the list of items that would need on a camping trip. Always get useful quality items that are durable and will last with you for years. Meetup, your local camping folks, to know about good and safe camping spots around your area. Many governments have a website set up to highlight their tourism and they contain a considerable amount of information on possible camping places.