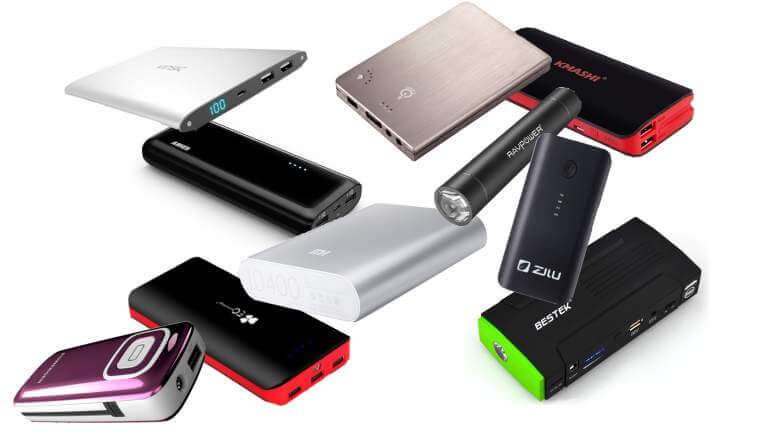 Portable charging is something that is here to say and the reason that I say that is because it's true. Another name for portable chargers is power banks and they literally allow us to charge our devices like smartphones and tablets wherever we are. With that said, the market has taken notice of the rise in the popularity of power banks and that's the main reason why there are so many companies that are now selling them. Along with having many companies selling power banks, it has caused quite a lot of innovation to happen.
The result of innovation has led there to be many types of power banks on the market and that means you have a wide range of power banks to choose from. That is why in this article, I'll be going over the most useful types of portable chargers on the market that are able to provide a superb charging experience while you're on the go.
Built-In cables with a Power Bank
A charging cable is most likely the first thing that comes to mind when you're going to charge your smartphone or any other devices and it makes sense. As each charging electronic that we use requires a charging cable, even Wireless chargers. With that said, power banks are one of those charging electronics where it's most difficult to always have a charging cable with because most of the time we just use a charging cable from other charging electronics such as USB wall chargers; but there are times that you could forget a charging cable at home and then you can't use your power bank.
That is why there are power banks that have their own built-in cables and these ones are very reliable to have because you'll always have a charging cable to use. Of course, it doesn't just stop at a single built-in cable. There are some power banks that have two built-in cables and these ones are able to charge two types of devices such as Android and iPhone or iPads.
There are even some power banks that have built-in cables that also have a USB port that can be used with any charging cable and ones have built-in components for recharging. Built-in recharging parts usually include either the usage of an AC Adapter or a USB Cable.
Rugged Power banks
Power banks that have Rugged build qualities are ones that are able to withstand conditions that normal ones cannot. That's because these types have a structure that is able to withstand drops to the ground and they're also waterproof.
With that said, a power bank is only waterproof when it's not in use and its USB ports are covered by a USB port cover. They're useful not only if you're headed into the outdoors for camping or hiking purposes but also for everyday use. Since the possibility of dropping a power bank or getting water exposed to it are just equally likely.
Mini Power Banks
The power capacity of a portable charger controls the way that you're able to utilize it and also the size of it. That is one of the main reasons that Mini power banks are the ones that most people prefer; as the reason is that they have low power capacities and that usually results with them using only a single battery which means that the power bank itself is very small.
As a result of being so small, these types of small portable chargers are able to fit into your pocket and they can also be held in a single hand for long periods of time. They can literally be taken anywhere. One of the flaws with Mini power banks is that they have low power capacities of 3,000mAh to 5,000mAh which means that they're able to charge smartphones to their full power most of the time.
High Capacity Power Banks
Power banks that have high power capacities are ones that are the most useful in terms of what you can do with their power. Although, not so much when it comes to their size and weight. Since they have power capacities that are within the 20,000mAh to 30,000mAh range, they tend to use many batteries and that results in the power bank being large and heavy. So they're not exactly able to fit into your pocket.
However, for what these large power banks lack with their portability, they're able to make up for it when you actually use it. Since their power capacities are able to charge smartphones, tablets, and many other types of devices to their full power many times over. Not only can they charge devices many times, they can charge many devices at the same time. That's because most of these portable chargers use multiple USB charging ports.
Another thing to know about these highly capable chargers is that they use special charging tech like Quick Charge or USB-C. So if you have compatible devices, then it's best to get a power bank that uses those types of charging technologies.
Power Banks on charging cables
This type of power bank is quite unusual because they're very tiny and even smaller than the Mini power banks that I mentioned before.
In this case, I'm talking about power banks that are so small that they're implemented onto charging cables. The convenient thing about these power banks/charging cables is that all you have to do is plug the charging cable into your device and it'll begin charging as long as the built-in power bank has a power capacity.
Another thing to consider is that these types of charging cables can be used just like any other charging cable such as using them with USB wall chargers or car chargers. The way to recharge these types of tiny power banks on the cable is by simply plugging it into a USB wall charger or any other charging electronic.