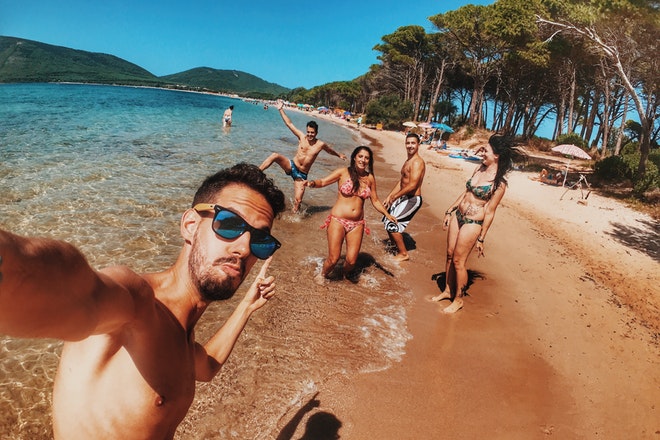 There are very few places on earth that can compete with a beach town when it comes to human traffic numbers. Beaches never get a chance to breathe, holiday season, or not; you will always see crowds of people flocking in large numbers to bask in the sun and play with the sand. This makes beach towns the ideal place to run a business.
If you live in a beach town and are looking to start something, a business to supplement your income, the following are some of the killer ideas you can try.
However, before starting any of these businesses, it's important to register them with the state. Check out this
SmallBusinessHQ INC Authority vs LegalZoom
comparison guide to learn about the top business formation agencies that can help you with the registration process.
Boat and Jet Ski Rentals
When people flock to the beach, they usually have three things on their bucket list; swimming, surfing the waves, or battling the sea with a jet ski. It would help them a lot if there were a convenient rental shop for hiring boats and jet skis. You can set up a rental shop and make mad money by renting out boats and jet skis. Another related idea you can implement is constructing a drive on boat floating dock to provide anchorage to boats and jet skis at a fee. This kind of business could have very high returns in the holiday season.
A Fishing Supply Shop
Fishing is another common activity pursued by people out to have a good time in beach towns. If you live close to a large water body like the sea or a lake, start a fishing supply shop that stocks fishing gear; Some of the items you can stock up on include fishing rods, hooks, bait, fishing boats, life-jackets, and many others. You can choose to either sell or rent them out. If you are a good fisherman yourself, you can offer fishing lessons at a fee to anyone looking to learn something new.
Food Shack
People will always get hungry, especially when they are involved in intense activities like swimming and basking in the sun. The trip back to the hotel may be too long; something convenient, like a small food shack that serves snacks that can be fixed quickly, would do very well in such an environment. All you would need is get the necessary approval from relevant authorities, and you are good to go.
Airbnb
Most people who own beach houses only use them about three times a year, during vacations. Rather than leaving the house to collect dust, how about you turn it into an Airbnb abode and make money renting it out to people looking for a place to stay when they visit the beach. Beach houses have been found to do so well on Airbnb, thanks to the high demand for them. On average, beach houses cost about $400 a night on Airbnb.
A Gift Shop
Visitors from abroad love collecting souvenirs from every place they visit. You can take advantage of this by setting up a gift shop that stocks all kinds of items that can not be found anywhere else easily. They could be totems, pieces of art, jewelry, and many others. Things that hold sentimental value and can be given as a gift. If art is your expertise, then you stand a better chance of success if you can create customized gifts like quick paintings.
Beach Photography
As much as smartphones have taken over the photography world, there are still some people who love to have their photographs taken by a professional photographer as well as getting them framed. Open a photoshoot booth close to the beach and help beachgoers create unforgettable memories. You can even create artificial backgrounds to ass some flair to the images. You will need a photo printer nearby to produce images instantly.
Ice Cream Stall
Nothing goes down better with the summer heat than ice cream. After spending hours in the sun, the only thing in people's minds is to get something cold, and since beer cannot be consumed by everyone, ice cream is the ideal thing to have. You will need considerable space that will house freezers and ice mixers. Stock up on all flavors, especially those that are loved by kids, as they will be your biggest buyers.
Boat Cleaning Services
Areas adjacent to the beach never lack opportunities. The likelihood of beach town residents owning boats and jet skis is very high. Boats, like cars, also need to be cleaned and maintained, a task that is impossible if you do not have the skill and the facilities to do it. You can start a boat cleaning business in your residential property, on a dock, and you could be raking in cash within no time. Setting up a cleaning business will require significant investment since you will need special equipment to pull off the job.
Massage Parlors
A deep massage after battling waves is the perfect ending for a busy day. If you are a licensed masseuse, you can set up a massage parlor near the beach and offer your services at a fee. Spice things up by combining that with yoga. You can save upon rental costs if you have a huge house. All you will need is to repurpose the rooms you are not using into your official points of operation. However, you will need to clear with the relevant authorities.
Conclusion
Opportunities are there to be taken, and no place creates more of that than a beach town. That is the reason why beach houses cost a lot. However, that does not mean anything can work. It all depends on how good you are in the planning and whether you have the expertise to run the business idea you may have. If you have the funds and the right plan, then nothing should stop you from turning your idea into reality.