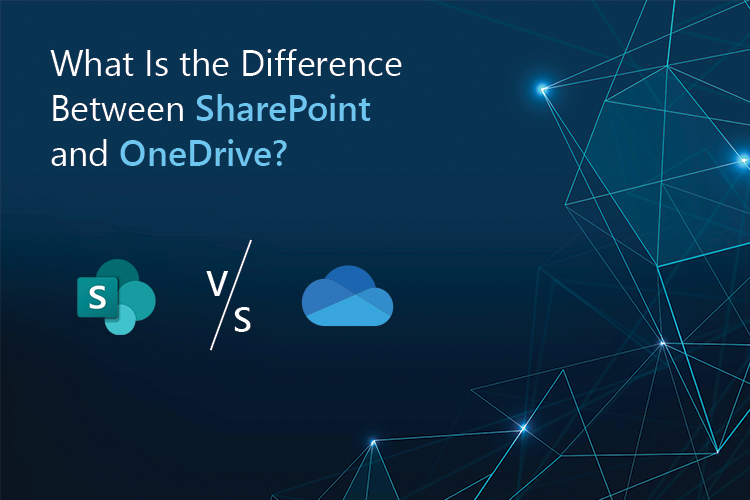 The world is changing quickly as technology becomes more integral for every small and big business. And with the introduction of cloud technology, businesses are thriving at the pace of changing world. 
The epic change or so-called technological revolution followed the introduction of cloud computing power. Cloud computing has become the most common word today in the world of technology. Understandably so, as the cloud opens limitless opportunities for businesses to grow. 
However, as businesses are embarking on the cloud quickly, the most common questions among organizations are:
Are SharePoint and OneDrive the same?

What are the differences between

SharePoint

and OneDrive? 
We have all the answers to these questions. Moving forward in this blog, we will answer the critical question arising in today's world of technology and define SharePoint and OneDrive before diving into differences. 
So, let's roll on… 
SharePoint is the cloud-based online file, document, and data-sharing platform customized and integrated with several devices and applications so that users can share all electronic records, data, news, and resources seamlessly with anyone, anytime, anywhere. 
SharePoint empowers collaboration among employees. SharePoint provides an intuitive, user-friendly, and agile platform for all employees to share files, documents, and news to keep themselves engaged and connected with the organization. 
With SharePoint, your business data, reports, and documents are secured with solid and comprehensive built-in cloud-based security, protecting your Business from cyber threats and attacks. 
Long story short – SharePoint is a document and data-sharing platform developed and built to enhance employee collaboration, engagement, and connection. 
Like on social media platforms where users can share pictures, videos, memes, and news, similarly on the SharePoint platform, employees can share data, documents, news, reports, and photographs to enhance collaboration, quick sharing of files, and increase transparency and productivity of Business securely and safely.  
What is OneDrive?
OneDrive is a unique, individualized cloud storage platform where users can securely organize, store, and securely maintain their documents, files, pictures, and videos. 
OneDrive allows access to your stored data on the cloud to edit, alter, and manage it from anywhere, anytime. Additionally, if you lose your data accidentally, you can get back up from your OneDrive seamlessly if your data, photos, and files are stored in the OneDrive cloud. 
Moreover, OneDrive also provides the agile feature of sharing your documents, data, and photos seamlessly from the OneDrive cloud to collaborate with your friends, colleagues, and families in real-time to enhance collaboration and productivity. 
OneDrive offers 1 TB cloud space to store your files and do your best work with the best tools of Microsoft 365 securely; moreover, Users can use the mobile scanner to scan files, docs, and photos stored in OneDrive can have an additional vault to get extra protection on important and crucial information and data.  
With the ability to later upload data and files to SharePoint for collaborative work, OneDrive is an excellent alternative to using flash drives, personal drives, or your PC's hard drive at work.
Moreover, OneDrive offers two versions OneDrive for personal use and OneDrive for Business.  
OneDrive for Business enables organizations' users to store files, word documents, records, and files in a shared OneDrive that they have access to and regulate who has access.
With OneDrive's seamless and secure sharing, the organization's productivity enhances and increases collaborative work.  
With the definition above, you may wonder if both are cloud-based storage products and can share files seamlessly with anyone from anywhere. Moreover, they both are driven and developed by Microsoft.
So, the point is SharePoint and OneDrive are the same? The straightforward answer to this question is "NO." 
OneDrive is a platform where users can seamlessly store and share files, data, and documents securely, whereas SharePoint has the same feature to store and share files. Still, SharePoint has much more features than storing and sharing.  
So, let's discuss their differences in detail, explaining comprehensive distinctions between SharePoint and OneDrive.  
1
Storage – Personal vs Collaborative
One of the most crucial points to cover when contrasting OneDrive with SharePoint is storage. Both solutions are agile for storing your data and documents, but what if you're working on a word document and aren't quite ready to share it with everyone on your team? Or what if you want to make your document public but only want to share it with a select group of people? The easiest and safest way to store your word documents is on OneDrive. Moreover, OneDrive, you can retain your document on your computer and grant access to those you wish to have control over it.
Conversely, SharePoint allows you to store and share your files and documents on a single platform with all your employees. To improve collaboration and speed up work, all other employees and management can review the work and provide their thoughts. As an illustration, if you are working on a project and need help from a coworker, you can share your file on the platform built on SharePoint and receive support effortlessly and in real-time from your coworker.
OneDrive is a controlled cloud platform that exclusively grants ownership to the file or document's owner. If the owner wants to grant access to others, they may give that access to the person with whom they wish to share the file.
A site owner controls the SharePoint site, and all documents and materials are managed locally. You can only gain access to a site by being added to a SharePoint group by the site owner. 
3
Security – The Encrypted enterprise-level security
OneDrive and SharePoint both employ comparable techniques for safeguarding shared data. Users of OneDrive and SharePoint can rest easy knowing that their precious assets, such as files, documents, and data, are safeguarded by a worldwide workforce serving over 140 countries, thanks to the security features of both platforms.
Thanks to tight compliance and laws, users may be guaranteed that their data is protected both in transit and at rest. It won't ever get into the hands of unauthorized parties.
Microsoft also makes it straightforward to restore libraries or files to a previous state if the user accidentally deletes them or loses them during an assault. Both also come with compliance tools to help you follow the law.
However, OneDrive is granted one extra layer of protection to secure and protect users' crucial and vital data and files. In modern business, solutions like DMS are popular to secure and protect private and essential files inside the organization. 
OneDrive assists in providing access to share files, data, documents, and reports securely within and outside the organization; however, OneDrive lack many of the other features that are included in the SharePoint platform. 
SharePoint, with its intuitive dashboard, keep user stay connected with the teams. Moreover, employees can share pictures, celebrate birthdays, exchange wishes, mark dates in calendars, share tasks, and notify seamlessly to all employees with one click on the central gateway connected to business sites through the SharePoint platform.
5
Document and Resource Management System
The document management system in OneDrive has unique account capabilities within the firm's account, whose owner is precisely the business, where employees or users can create and keep private documents before sharing them with other members of the organization. However, to share the file with a team, the user or employee must have access to work or school OneDrive, as Microsoft teams cannot integrate with a personal OneDrive platform.  
On the other hand, SharePoint users can seamlessly share all original documents like news, feeds, and articles on the business SharePoint wall. The user does not require any sort of permission. The platform aid employees in finding the shared document quickly and seamlessly accessibly, making the working environment more productive and valuable. 
Choosing one from OneDrive or SharePoint is difficult. As both are developed and built under the umbrella of Microsoft. With immense security, protection, and seamless sharing capabilities, it is tricky to choose one. 
Any company's finest software choice is the one that has broad support. Microsoft 365, which delivers both OneDrive and SharePoint abilities from the cloud, maybe your choice if you trust the security of the cloud and would want the added benefit of having Microsoft handle your software upgrades. 
However, OneDrive and SharePoint have their own abilities and powers. Organizations can go aboard with any of one or both to make their business operation smooth and seamless.
The organization, however, should look at its requirements and needs within the enterprise and opt for one that is more beneficial and advantageous for companies' development and growth.  
Final Thought's
Businesses today are coping with the explosion of digital systems and working with a litany of technology to make their business more modernized, and tech intensify. 
Integrating technology like OneDrive and SharePoint can reshape the organization with more productivity, transparency, and agility. However, organizations need SharePoint consulting services to drive an organization with the technology of SharePoint Online. 
However, to embark on OneDrive for business, organizations need a OneDrive license to get started. Nevertheless, getting in touch with an experienced and versatile SharePoint development services provider can aid your firm with developing the SharePoint platform as well as with a OneDrive license.