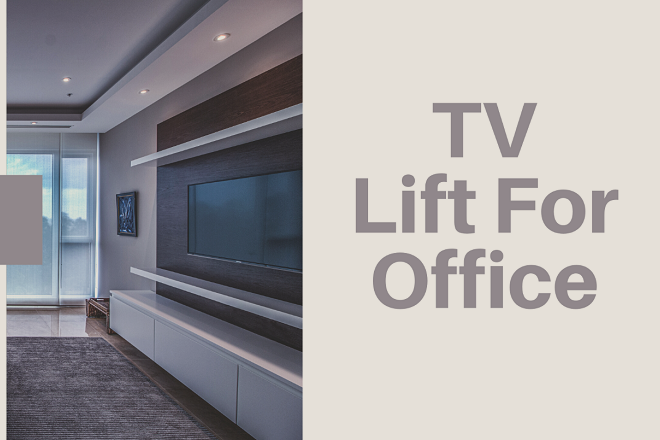 Just a couple of years ago, motorized lifts for a TV were considered luxury. They were expensive and, to tell the truth, not very convenient. Now, the situation has changed drastically. Pop up TV lifts are becoming an inseparable part of any advanced home office. This device also has many advantages especially if there is not much space:
It allows saving space. Just imagine that you can move the TV out and in when you need it without clogging your office space.
Motorized TV lifts look stylish. Pop up TV lifts modernize any of your space, and for an office, they look just stunning.
They protect your TV from dust. Motorized TV lifts are especially useful to protect a TV from tripping if you have kids or pets around.
You don't need to rearrange your office completely if you have decided to get motorized TV lifts. It is important if you want to make some modifications to the interior that is already available. Select a solution that doesn't break the interior and install it.
If you are just starting to furnish your office, installing pop up TV lifts is a good idea, too. In this case, you can select any solution that you like.
Popup TV Lifts: Components
While the designs of TV lifts might differ, the principle of work is the same. They all contain:
A smart device to control your TV lifts. It is also called a lifting actuator;
A metallic frame construction. It supports your TV;
A switch, to handle the frame.
So, the basic idea is the same doesn't matter what design you prefer.
How to Select Your Pop up TV Lifts
Pop up TV lifts are not cheap. That's why it is important to select the best option. Before purchasing the item, check whether:
They are of the needed size: measure the cabinet you are going to install the TV lifts in. We would recommend adding 2-3 inches more to the depth if you are going to install ceiling lifts. It will allow you to utilize the space more efficiently.
Their capacity is enough to support your TV. It shall be able to lift your TV. Buying heavy TV lifts is not reasonable either. In a heavier device, a powerful motor should be used. It will use more energy than needed to lift your TV. Therefore, it is important to select TV lifts that have adequate capacity for your needs.
They work smoothly and silently. You don't want to have a device that produces a lot of noise every time you use it.
They look nice. If you are investing in an expensive item, you want it to complement the office decor rather than break it.
The device shall cost reasonably. Even though you count on its efficient and long operation, you don't want to spend all your savings on it. any item, including the TV lifts, shall be affordable.
These are the basic requirements. They will contribute to your decision. However, it is up to you only what you will consider and what else requirements you will add.
How to Install TV Lifts
Some people prefer doing everything on their own. Installing your popup TV lifts might be still quite challenging though. To do it properly, you shall consider several important moments.
Make sure the wall where you are installing your TV lifts can support the weight of both the lifts and the moving TV. To fix the TV lifts, special studs are needed. They will fix the device reliably and protect it from falling.
Further, check what you are going to do with cords and cables. You might leave them just hanging around. In such a case, there is not much to worry about. But if you want them to be hidden, check whether you can hide it in the wall or in the furniture where you are installing the TV lifts. You might need to call a specialist to assist you with it.
Final Thoughts
Motorized TV lifts have been an expensive device for most households. Now, however, technology made it affordable for many people. Motorized TV lifts change the way you work and have rest. They provide your office with a modern look and the needed comfort.