You have a beautiful garden area, but you are looking for a seating set that will fit in aesthetically and still be appropriate for outdoor conditions? Looking for outdoor furniture is pretty much the same as when you are furnishing your home. There is just one little thing. It needs to be outside all the time.
Occasionally exposed to sun, rain, snow, or hurricanes. But mostly to rain, rain is the main enemy. However, it is hard to find furniture that is 100% waterproof, and the difference among materials plays a key role. So before you order that beautiful set, make sure you are familiar with the features of outdoor furniture materials.
Outdoor Furniture Material Options
Just like indoor, your outdoor furniture can be made from all the same materials like wood, metal, etc. But if you are planning to leave it outside uncovered during the entire season, under the sun in summer, without a roof or some type of a gazebo, you have to pay better attention to its features. Here is the list of the materials that are frequently used and their ups and downs.
Wood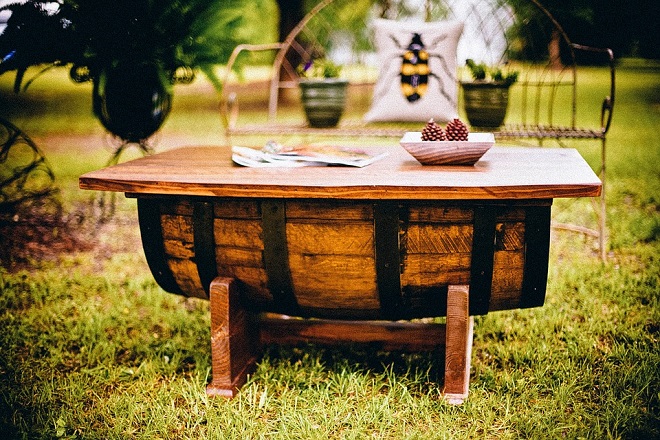 With our first pick, we have to with a natural outdoor furniture material that suits any garden area or patio like a dream, and that would be, of course, wood. However, although they are all beautiful, they are not all capable of standing against the weather.
Some sorts, for example, cedar and fir, are often used for these purposes because they are cheap, but they are not durable. Hardwoods, on the other hand, are more expensive, harder to shape, but they can serve you well for decades if you take good care of them.
Although you can find outdoor sets from woods from endangered forests, we advise you not to shop them. Here are some of the best woods that are durable and great for outdoor conditions:
Teak
Ipe
Shorea
White Oak
Eucalyptus
Metal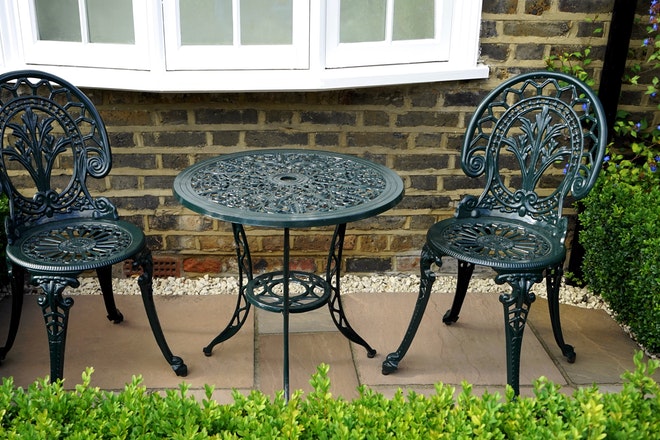 Another excellent outdoor furniture material is the most durable and strongest material you can find for outdoor furniture. Due to its features, it is easy to create various complex designs and beautiful metal art furniture. It looks great when combined with wood, and you can add some colorful cushions to make it more comfortable. However, the only drawback is that if you leave it on the sun, it is going to heat up so much that you cannot touch because it burns. Also, it can be hard to move it around, and they are prone to corrosion and rust. Metals that are frequently used for outdoor furniture are:
Stainless steel
Aluminum
Wrought iron
Plastic and Resin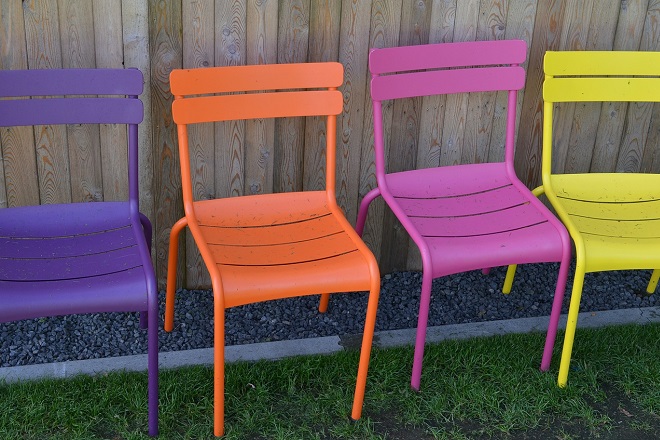 Synthetic materials are also frequently seen in garden sitting areas; they are cheaper, easy to move, and pretty resistant to weather and time. They come in all colors, shapes, and sizes, and some even mimic the appearance of wood. You can find them in any style because they are so easy to produce and even easier to maintain. However, some types are not prone to fading when they are exposed directly to the sun for days. Types can consider are:
Synthetic resin
Recycled plastic
Other Materials
Not so frequently, we can see outdoor furniture materiallike concrete, for example, incorporated in some contemporary and minimalist outdoor area. It can be a cool base for a table with a glass top, or a curvy lounger covered with a pad. Tempered glass is also used as a topper for dining or coffee tables. Some people also use high-pressure laminate, which is a durable material, and antibacterial. However, if it comes in contact with water, it is prone to swelling and cracking.
How to Maintain Outdoor Furniture
It all depends on the type of outdoor furniture material; some are very convenient and easy to maintain while others are not. Maintaining is essential if you want your items to last and still look brand new.  For example, plastic, you can just wipe the dirt off or shower it with water using a garden hose, that is it. Your wooden items can get a fresh honey glow if you add a layer of oil or lacquer, which also protects the material.
Cushions and pads usually deteriorate quickly, and they always get stained, you have to wash them frequently, they lose their loft height over time, etc. So no matter what you do, you will have to replace them sooner or later. But better them than the furniture.
The Worst Enemies of Outdoor Furniture
No matter how much you try to cover your furniture when it is raining, moving it inside or under a roof, there is always the danger of some of the following factors:
Mold and mildew
Rust and corrosion
Warping and cracking
Fading
Heat retention
The Bottom Line
No matter what type of outdoor furniture material you opt for, we are sure you will spend many days out on the sun, drinking coffee, having breakfast, or reading a book, and just relaxing on your new garden set. Keep in mind that it is easy to customize items from all materials with cushions and pads, so you can have a new color scheme or style every spring.