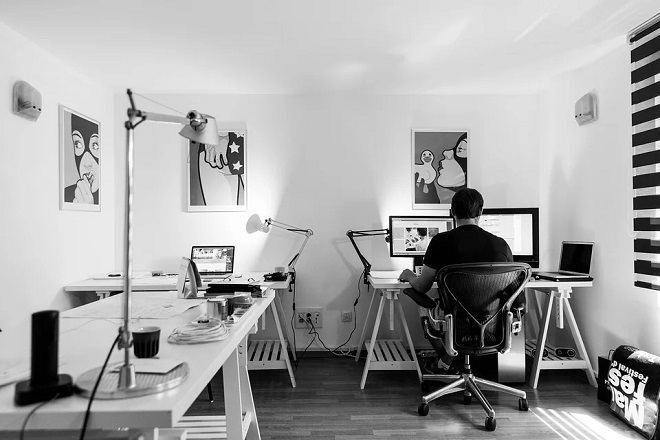 When someone has purchased a property, there is often a room or two that may not be fully utilised.  Deciding on what to do with that room can be quite a mystery as people will not want to waste it and put it to good use. Converting a bedroom to a home office is something that is extremely popular, and you will find that most 4 or 5-bedroom houses have done just this. With flexible working becoming far more appealing in today's world then it is even more important that people in the home have the facility to work smoothly in the house with the correct facilities. Here are some of the points that should be considered.
Flooring
As the office room should be isolated and treated differently from a bedroom then it should reflect as much as possible what an office environment would look like.  You would very rarely see carpets in offices (which you may see in other areas of the home) and these usually have floors installed. This also allows for the ease of cleaning in this area and movement of furniture and chairs (as these would leave marks on carpets).  The installation of the flooring can be completed by using vinyl click floors that would give the authentic look.  These click vinyl flooring options can be purchased in a pack that makes the job far easier to install.  If this is the route you decide to go down, make sure that you do not overlook the importance of underlay and how this could affect the overall quality of the flooring installation outcome.
Furniture
It is more than likely that you will require a computer, laptop and possibly a printer to be installed into the office. In this case, the appropriate furniture should be purchased in order to keep these items in place.  The wires that can come from computers, screens, printers and scanners can ruin the "look" of the office if these are not installed in a thoughtful way. There are cable tidy gadgets that can support this to make these cables be as organised as possible.  Some of the equipment that can be purchased can also be wireless which could help with this dilemma.
Connectivity
Business nowadays will struggle to operate without the internet and with this will require a reliable wi-fi connection.  When the internet in a company is disabled, it is amazing how this directly affects the ability for a company to operate.  This could be the same issue for you if you do not have the appropriate wi-fi connections in the home. There are many different internet companies that operate wi-fi services and when selecting this, you should not immediately go for the cheap option.  Research the connectivity and reliability of the company to make sure that they will give you the reliable connection you need to be able to work effectively from the home.
Make sure to consider these factors when setting up your home office.