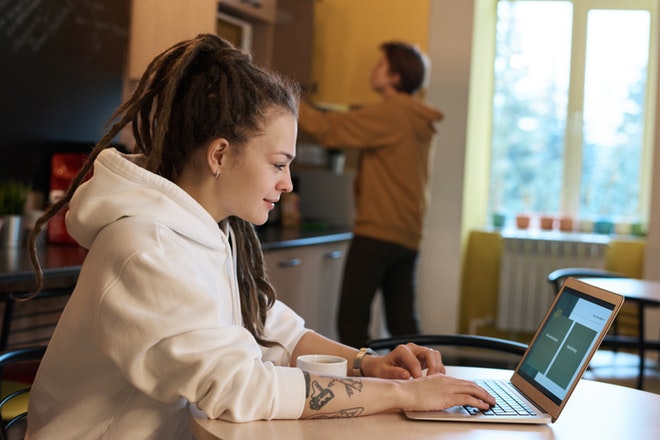 Did you know that PC sales hit a record by selling high since the covid-19 pandemic has hit the world? By selling more than 302 million desktop PCs and laptops in 2020, it has seen growth by 13%, the most since 2014.
Increasing shifts in online education and work from home are the main reason behind this.
So now, suddenly everyone is aiming to own at least one PC to help them get by the work pressure.
This is again a growing concern for the consumer because there are several laptop brands that claim to sell the best laptops. Finding a good one among them that meets their needs and also fits under the budget is like finding a needle in the haystack.
Also, a laptop that works great for one might not be the same that someone else might require. Going by word is not the wise choice one should make in this category.
6 Things to Consider Before Buying a New Laptop
So, what are the important factors you should keep in mind while buying a new laptop? Don't worry there aren't too many. If you keep only these 6 things in mind, it will make your process easier for buying a new laptop. Let's see those:
After buying a laptop, you are going to spend hours on it, continuously tapping on the keyboards. So, make sure the keyboards are comfortable enough to support them.
Now that being said, it should not be too comfortable that after certain use, they squish back into the cell. Because, if that happens, it creates unnecessary hindrance during work. Many times, it also happens that the prints of the keyboards wipe off after a few uses.
So, if you are buying a laptop online go down and read customer reviews about it. Check if the keyboards have a comfortable layout and good space around the navigation keys.
If you are someone that doesn't understand anything about what intel core series should be on a laptop. Then don't worry. Ideally, all intel iCore processors offer the best performances when it comes to multitasking on laptops.
Still, if you want, intel Corei7 will be the best CPU to choose for best performance. Laptops running on icore9 are even more powerful but they come with an increased cost. So, if you have a bigger budget, choose that.
Work from Home and online education also has led to another thing: Using fewer pens and more tabs. So, if you are going to buy a laptop for any of the above-mentioned reasons, it should at least have 8 GB RAM.
Because more RAM will help to run several applications at the same time, and the data to be quickly accessible to the system.
It will also help the Wi-Fi to run faster, so you won't have to go through the hassle of explaining connectivity issues in the group chats all the time.
Hard drives are still mostly used for storage purposes, but with more thin and light laptops coming in the market, using the hard drive feels more bulky, slow, and produces noise and heat.
A solid state drive (SSD) on the other hand, runs silently and can be fitted in a way that doesn't add too much weight or look bulky in the laptop.
So, stick to an SSD, if you love high speed which in turn is also helpful while loading more programs and data into the system.
If you are going to be spending endless hours sitting in front of the laptop, then buy one that has a better screen. By that, I mean check out 3 things, resolution, panel type, and size. If you are spending more, then go for laptops that have higher resolution screens.
But if you have no idea about it. Buy Asus laptops, all of their screens are able to display content in full HD, which guarantees a premium experience for the users – even if it is just for watching tv.
Certainly, you don't want to buy a laptop that needs to charge 24 times a day. Battery power varies from system to system. It also depends on the brightness of the screen, how much content is consumed, playing graphic-intensive games.
So, before buying any laptop, do not forget to check the battery life the laptop provides. If you're buying online, then customer reviews will again be of great help. Do check them out.
Over to you…
Now that you are aware of what things you should keep in mind, go ahead and buy a good laptop for yourself or your loved ones.